The family of Archie Battersbee have submitted an application to the European Court of Human Rights (ECHR) to hold off on withdrawing his life support.
The 12-year-old has been in a coma after he was discovered collapsed in the family home in Southend.
Speaking exclusively to Sky News, his mother, Hollie Dance has said that she has been contacted by doctors in both Japan and Turkey who say they have medical interventions that will help him recover.
She continued, saying: "We are very relieved. We are having to battle every decision with the hospital.
"We now hope and pray that the ECHR will look favourably on the application. We will not give up on Archie until the end."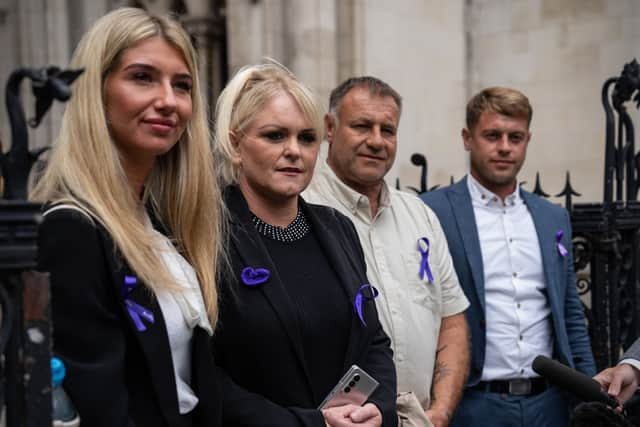 What was the online 'black out challenge' that Archie took part in?
According to the Centres for Disease Control and Prevention in the USA these so-called blackout challenges have resulted in the deaths of more than 80 people.
The challenge encourages individuals to hold their breath until the blackout.
The concept was first heard of back in 2008 but with the popularity of TikTok amongst younger people, it has reemerged again in recent years.
What are the timeline of events that led to the Supreme Court?
7 April - Archie found unresponsive at home at home and is taken to Southend Hospital
8 April - Archie, still in a coma, is transferred to The Royal London Hospital
26 April - Barts Health NHS Trust begins High Court proceedings asking for Archie to undergo brain stem testing
13 May - Mrs Justice Arbuthnot rules brain stem test to be carried out
16 May - Brain stem function tests try to be administered by specialists, but cannot be carried out as Archie did not respond to a peripheral nerve stimulation test
25 May - A hearing is held to determine whether he should have an MRI scan. Archie's parents do not give consent.
27 May - The court approves further MRI scans, to be carried out at the end of the month.
6 - 8 June - A final hearing is held, to hear evidence on whether his life support should remain in place.
13 June - The High Court in London concludes Archie is 'dead' based on MRI results - and states life-support treatment could end.
20 June - Archie's parents Hollie and Paul ask Court of Appeal to reconsider Archie's case.
29 June - Court of Appeal rules a new hearing that determines Archie's best interests should take place
11 July - New evidence given in high court
15 July - Mr Justice Hayden rules that Archie's life support should end.
25 July - Three Court of Appeal judges support ruling stating that life support can end
28 July - Supreme Court will not intervene in case, supports Court of Appeal ruling
29 July - Family make application to the United Nations (UN)
30 July - A UN committee writes to the UK Government asking for a delay in the removal of life support so they can consider the case
31 July - Government calls for an urgent hearing to review the case
1 August - Court of Appeal refuses appeal to postpone life-support withdrawal until UN can hear the case
2 August - Supreme Court reject application calling for permission to appeal Court of Appeal ruling
3 August - Archie's parents appeal to the ECHR.
3 August - Alistair Chesser, chief medical officer for Barts Health NHS Trust, says "we will make no changes to Archie's care until the outstanding legal issues are resolved".