London weather: will there be a UK heatwave in August 2022? Here's what the Met Office says
Rumours predict weather in the UK may exceed 30C, just weeks after the hottest heat wave in recorded history in the UK
Watch more of our videos on Shots! 
and live on Freeview channel 276
Visit Shots! now
Rumours are starting to surface of a potential heatwave arriving in London, just mere weeks after the capital experienced its hottest day in recorded history.
The potential heatwave, that could hit later this month, comes just days after the UK experienced its driest July since 1935, with harrowing images of reservoirs and lakes bearing barely any surface water, some completely bare.
With the weather in London being largely underwhelming since temperatures reached above 40C for the first time in history, with many craving the hot weather once again.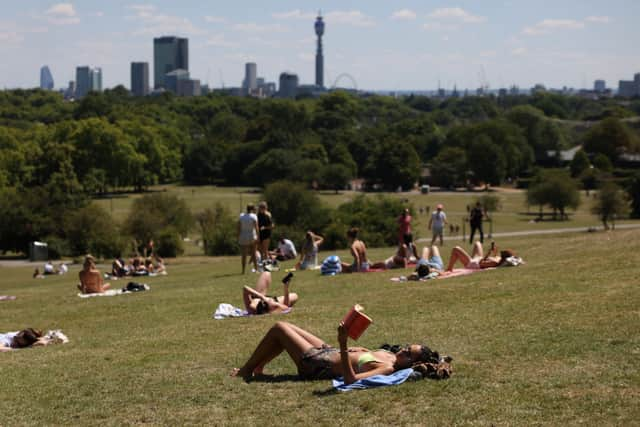 Will there be a heatwave in London?
Nothing in the immediate weather reports suggests that there will be a heatwave in London, but temperatures will reach 28C on Tuesday, 3 August.
The long range weather forecast, provided by the Met Office for 7 August to 16 August also confirms this, as it says: "Most places are likely to see mainly settled weather at the start of this period, with a mix of cloud and sunny spells across the country. Likely staying cloudy in the north on Sunday, with outbreaks of rain or drizzle as well as some sunny spells possible.
"However, the settled conditions are likely to spread into northern areas over the start of the week, reducing the chance of rain. Temperatures are generally above average, and often very warm or even hot in central and southern parts.
"Further into the period there is still the chance of some periods of organised rain in the north at times, but generally the dry weather is likely to persist across the country. Temperatures remain above average widely, with further spells of very warm weather possible."
Another long range weather forecast, this time for 17 August until the 31 August also seems to dispel any rumours that a heatwave is on its way, as it says: "The settled weather from the start of August is expected to continue at the start of this period, however occasional bouts of more unsettled weather are likely from roughly the middle of the month.
"These increase the likelihood of thunderstorms, especially in the south and west. Temperatures near normal to warm, but very warm and humid at times in the south."
Of course, predicting the weather over a long range is tough, even with all the tools at the Met Office's disposal, as the weather has proven that it can be quite unpredictable in London.
What is a heatwave?
Most people may believe that a heatwave is simply a period of very hot weather, but it is infact a lot more in depth than that.
The Met Office has a set of requirements that if met, the period of weather can then be classed as a heatwave.
On the official Met Office website, they state that in order to be classified as a heatwave, "A UK heatwave threshold is met when a location records a period of at least three consecutive days with daily maximum temperatures meeting or exceeding the heatwave temperature threshold. The threshold varies by UK county."