On Friday morning, a hosepipe ban was in place for parts of Hampshire and the Isle of Wight, which will start at 5pm.
Will there be a heatwave and a hosepipe ban in London? Here's what the Met Office says.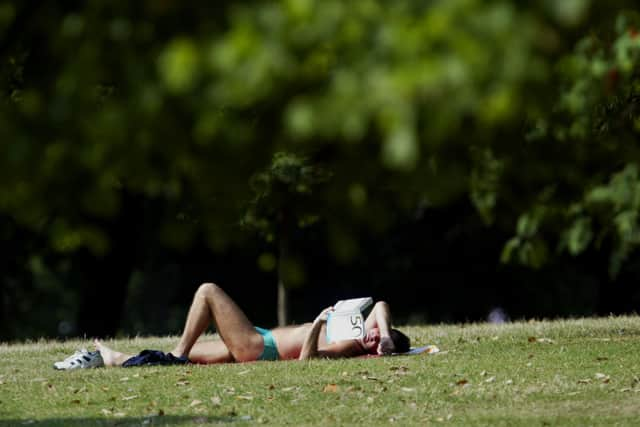 Will there be a heatwave in London?
The Met Office says that 'hot weather is on the horizon' with London set to experience high temperatures next week.
The UK threshold for a heatwave is described on the Met Office website as: "when a location records a period of at least three consecutive days with daily maximum temperatures meeting or exceeding the heatwave temperature threshold."
The threshold for a heatwave temperature differs by county, with some areas in the southeast having a threshold of 28C, while areas to the north and west have a threshold of 25C.
With this in mind, London is set to experience three consecutive days of a minimum of a peak temperature of 28C, with Tuesday, 9 August peaking at 28C, Wednesday 10 August peaking at 29C and Thursday, 11 August also having a high temperature of 29C.
So, in short, next week London will experience a heatwave.
Will there be a hosepipe ban in London?
Thames Water, who serve around 15 million people in London and the Thames Valley has warned that London could indeed face a hosepipe ban due to a long period of dry and hot weather.
The supplier said that demand for water had reached its highest level for 25 years, after one of the driest years in history.
They continued saying that underground water levels had now fallen below average for the first time this year, with a spokesperson saying: "The recent heatwave and extreme heat resulted in extremely high demand, some of our highest for over 25 years".
What does a hosepipe ban mean?
If and when a hosepipe ban is introduced, it means that you can't water gardens, fill swimming and paddling pools, clean cars, walls, windows and patios.
What is the long-range weather forecast for the UK?
From 9 August to 18 August they say: "Most places are likely to see a fair amount of settled weather throughout this period.
"Cloudy at first in the far north and northwest, with some outbreaks of light rain possible. Mostly dry elsewhere with long sunny spells, especially across the south.
"Generally warm, and locally very warm or even hot in central and southern parts.
"Winds light to moderate for most, but fresh to strong in the far northwest, and becoming breezy near south and southeastern coasts.
"Further into the period there is still the chance of some periods of organised rain in the north, but generally the dry weather is likely to persist across the country.
"Temperatures remaining above average widely, with further spells of very warm weather possible."
For 19 August to 2 September they say:
"Occasional bouts of more unsettled weather are likely for this period. These will bring outbreaks of rain and also increase the likelihood of thunderstorms, especially in the south and west. Temperatures near normal to warm, but very warm and humid at times in the south."