London, like the rest of the nation, is being gripped by a gruelling heatwave which is causing widespread disruption.
On Friday, 15 July, the Met Office upgraded the initial amber alert for extreme heat in London to red, the first time one has ever been issued in the UK and also the most severe an area can receive.
The weather has been so hot, that Network Rail has issued a 'do not travel' warning for various parts of the country.
But with today being the hottest part of the heatwave, will it beat the existing record in the UK?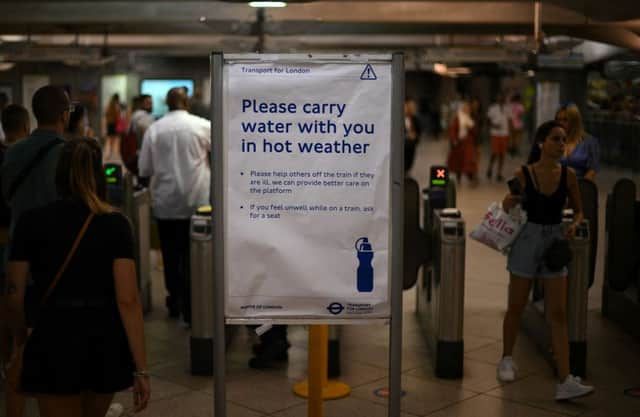 How long is the heatwave going to last?
In the capital, we are now in day three of the heatwave, which started at midnight on Sunday morning.
The whole of Sunday, July 17, was given an amber alert for heat, with the red alert being active from Monday morning lasting until 11:59pm on Tuesday evening.
What is a heatwave?
The UK heatwave threshold is described on the Met Office website as: "when a location records a period of at least three consecutive days with daily maximum temperatures meeting or exceeding the heatwave temperature threshold."
What can we expect from a red warning for extreme heat?
A red weather warning, According to the Met Office means 'An exceptional hot spell on Monday and Tuesday leading to widespread impacts on people and infrastructure. '
Here's what you can expect:
Population-wide adverse health effects experienced, not limited to those most vulnerable to extreme heat, leading to serious illness or danger to life. Government advice is that 999 services should be used in emergencies only; seek advice from 111 if you need non-emergency health advice.
Substantial changes in working practices and daily routines will be required
High risk of failure of heat-sensitive systems and equipment, potentially leading to localised loss of power and other essential services, such as water or mobile phone services
Significantly more people visiting coastal areas, lakes and rivers, leading to an increased risk of water safety incidents
Delays on roads and road closures, along with delays and cancellations to rail and air travel, with significant welfare issues for those who experience even moderate delays
What is the hottest temperature ever recorded in London?
With the heatwave in full flow, people are referencing the 1976 heat, but you do not have to go back that far to find the hottest temperature recorded in London.
Today has smashed the record for the hottest temperature ever in London, as a temperature of 40.2C was recorded at Heathrow, the UK's busiest airport.
It beats the previous hottest temperature ever recorded in the capital, which was back in 2019, as Kew Gardens, located in Richmond, reported a temperature of 38.7C.
Today is the second time the UK has experienced hotter temperatures than the record of 38.7C, as a temperature of 39.1C was recorded in Surrey, before the Heathrow airport temperature beat that, meaning the record, which has stood for three years, was broken twice in the same day.