Around 25 firefighters tackled a grass fire the size of around two football pitches - where a barbecue caused another blaze just days earlier.
Four fire engines rushed to Wanstead Flats near Capel Road in Newham, east London, on Thursday where around one-and-a-half hectares of grassland was ablaze.
Footage of the scene showed smoke billowing from the dry shrubland as flames rapidly spread across the grass and engulfed more and more of the land.
The ground was left charred black by the fire as the height of the flames continued to rise and spread across a footpath.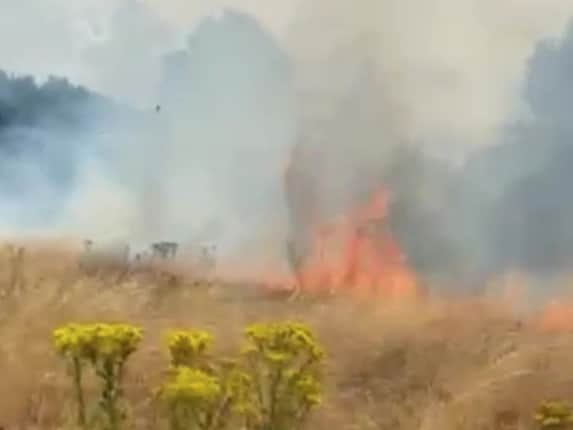 After being called at around 11.45am, the inferno was under control around two hours later, the London Fire Brigade said.
There were no reports of any injuries and the cause of the fire is being probed by investigators.
The LFB's control room took 23 calls about the fire.
On Sunday, fire crews dealt with another blaze on Wanstead Flats caused by a disposable barbecue.
Around 60 firefighters tackled another grass fire seven miles away in Dagenham, east London, where around six hectares of shrub and woodland were alight. The fire was brought under control in just over an hour.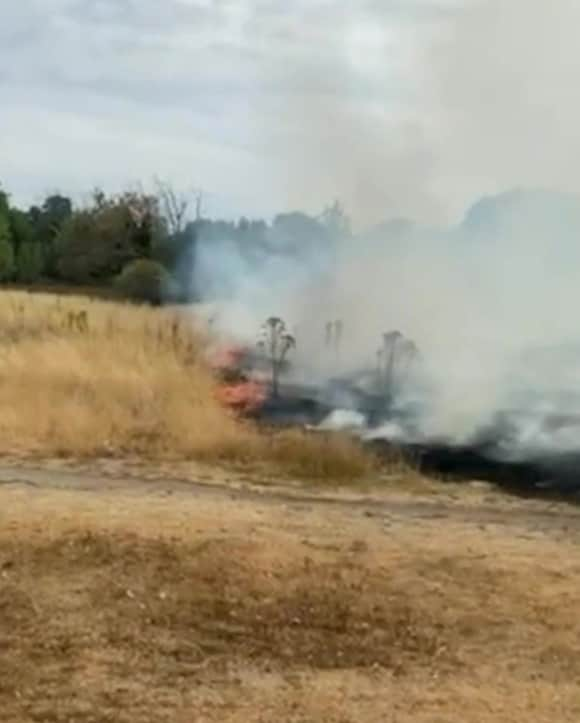 This week grass fires broke out in Havering, Thamesmead, Enfield and Hayes as the heat continues to cause problems across the capital.
Last weekend was the busiest for the LFB since the Second World War due to the high number of fires around London, as record temperatures hit 40C.
A spokesman for the LFB advised today: "Don't have barbecues in parks, public spaces or on balconies.
"Clear away bottles, glasses and any broken glass to avoid them magnifying the sun and starting a fire.
"Dispose of smoking materials such as cigarettes safely- don't drop cigarettes on dry ground and don't drop them out of car windows, as they may land on dry grass and lead to a fire.
"Disposable barbecues that have been discarded and abandoned can still end up causing a fire as they will continue to retain heat after use – they need to be put right out and cooled before being thrown away."