Video, Waterloo: Van driver tries to move Just Stop Oil protesters off the road
Just Stop Oil activists held a slow march at Waterloo, where a motorist is filmed trying to intervene.
Watch more of our videos on Shots!
and live on Freeview channel 276
Visit Shots! now
A van driver snatched banners from Just Stop Oil protesters and tried to stop them blocking a road on Tuesday (April 25).
A frustrated driver got out of his van and tried to shepherd protesters off the street, before police stepped in.
The protest ended shortly afterwards, while further slow marches were held in Westminster, including around Trafalgar Square and Pall Mall.
Just Stop Oil spokesperson Tony Harvey, a retired telecommunications and electrical engineer, said: "His perspective is he just wants to get to work and 'who are these annoying people on the road?'.
"Like so many people, he doesn't grasp the climate emergency that we're in and 'business as usual' is just going to lead to large swathes of the world becoming uninhabitable - 40-degree heatwaves like we had last year in London, in the South East.
"That's his prerogative but we've got to keep going because 'business as usual' is just death - it's just death for so many people in the world."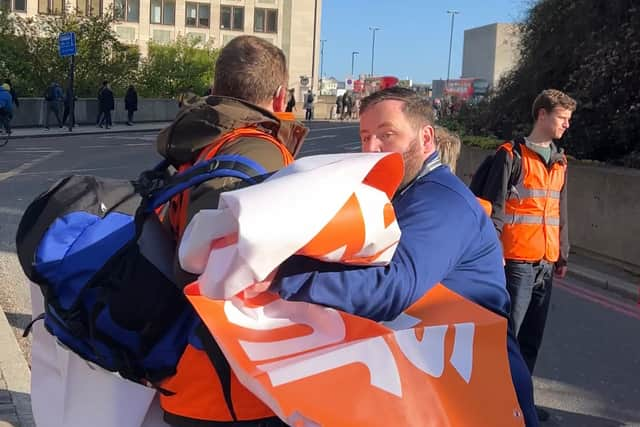 A Met Police spokesperson said: "Police were quickly on scene and attempted to engage with protestors and manage any disruption. No arrests were made. Police continue to monitor the situation."
They added: "At approximately 8.15am, a motorist stopped his vehicle at the Waterloo roundabout and snatched banners from protesters. Officers quickly responded and gave words of advice to the driver. No allegations were made.
"We would urge members of the public not to intervene and we are aware and understand their frustration caused by the disruptions."
One of those marching today, Kate Logan, 38, a solicitor and mum of two, from London, said: "Time is running out. Ordinary people know this, but our government keeps licensing new fossil fuels. They are writing a death sentence for millions. I spent years signing petitions and campaigning for change via the 'usual' methods, to no avail, civil resistance is now our only option.
"I want my children – and all children – to grow up safe and fed. Taking nonviolent action towards this aim feels like the responsible thing for parents to do right now. The old system is being propped up by corrupt politicians and billionaire oil executives. They won't change unless disruptive pressure from ordinary people forces them to."