Ukraine war: 'My dad refuses to leave, he believes he has to protect our home', Londoner says
LondonWorld spoke to Kseniia, a Ukrainian citizen born in Mykolaiv now living in London, about her family's ordeal.
Watch more of our videos on Shots!
and live on Freeview channel 276
Visit Shots! now
More than four million people have fled, the United Nations said, with the speed and scale of the displacement unprecedented in Europe since the second world war.
We asked what it is like living in London as a Ukrainian citizen and seeing the invasion unfold, how her family has coped and what she hopes the British government will do next.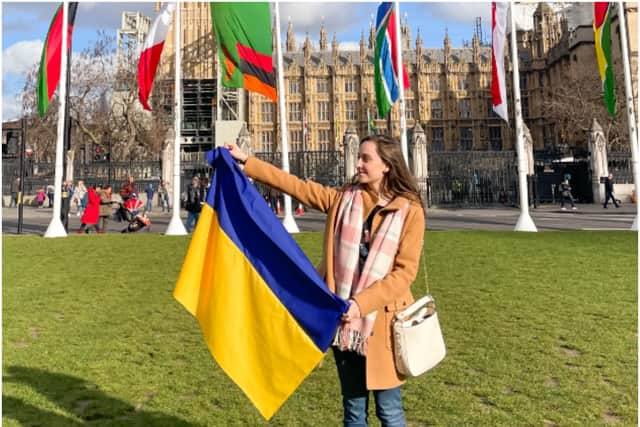 How Kseniia and her family have been impacted by the Russian invasion
Kseniia, 26, said the Russian invasion affected her family from the beginning with them being forced to drive back to their hometown from a holiday as the invasion began.
She said: "On the day of invasion, my family were on a skiing holiday in western Ukraine.
"They had to drive back to Mykolaiv (south of Ukraine) during the Russian attack as they couldn't just leave everything behind and escape to another country."
She said that after the first week of war her family managed to get her 14-year old sister to Slovakia where Kseniia met with her and took her back to London.
She said: "I think the turning point for them was the news of the Russian army starting the attack on a nuclear power station.
"My mother and grandmother decided to go to western Ukraine after the second week of the invasion as they didn't want to leave their home - but when the bombings reached Mykolaiv closely they had no choice."
She added: "They have now returned to Mykolaiv as my mother wanted to be with my dad during these hard times.
"My grandmother also wanted to be at home rather than in another part of Ukraine as she believes it helps her mentally to be home where everything is familiar."
Kseniia said that her sister has been very resilient moving away from her family home, finding it "interesting to see how this generation reacts to the events."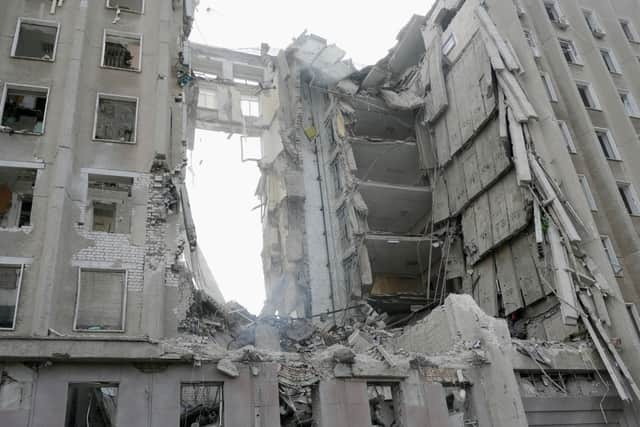 "She takes it day by day, the only time she did cry is when I met her in Slovakia and when we stayed there for one night she did say it's strange not to hear all those noises of explosions outside," she said.
Kseniia added: "On the first day in London she was smiling, and it made me feel happy as well.
"It gave me hope that it will be over soon and that people will have the right to live under a clear sky again."
What the current situation is for Kseniia's family in Ukraine
Kseniia said that her father is still in Mykolaiv, volunteering everyday by transporting goods such as food and medicine to help citizens.
She said: "He refuses to go to another city as he believes he has to protect our home.
"I want to think and believe everyday that he is safe, but the reality is that he is not."
Kseniia said that nine people were recently killed on the street from the recent Russian bombing in Mykolaiv.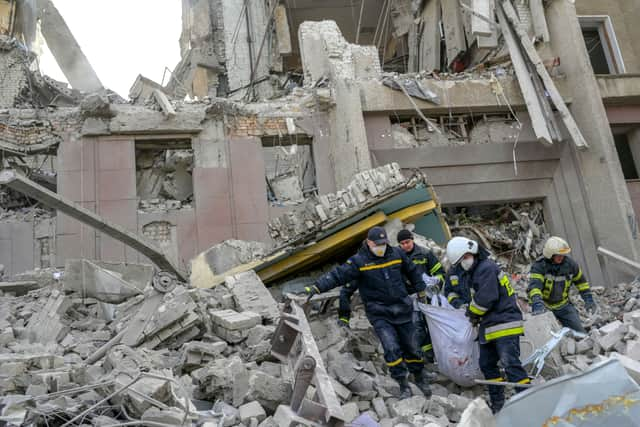 She said: "They target civilian houses, there is military equipment left on the children's playground.
"Mykolaiv hasn't been targeted as much during the first week of the invasion but recently the situation has worsened."
On Tuesday 29 March the Russian army bombed a building in the centre of Mykolaiv "where up to 100 people were working and 17 are now confirmed dead," Kseniia said.
"They're still trying to find people under the ruins, and that explosion also hit the student creativity centre where me and my classmates used to go for school events," she said.
Kseniia said that her mother is a cafe owner in Mykolaiv, and has since reopened her business to keep the economy going.
She said: "When I talk to my friends and family today, they feel so proud of their country.
"They feel proud that they aren't giving up, they feel proud to volunteer, and give blood."
She added: "Putin wanted to break the country but in fact he did the opposite.
"The spirit of our nation is strong like never before."
What is it like being a Ukrainian citizen living in London right now?
Kseniia said she was "in shock" when the invasion first started and still refuses to believe the reality of the situation.
She said: "Being in London, I did see the worrying news early on but I didn't expect the war to happen in the modern world.
"Even my family living in Ukraine and hearing the terrifying news about Russian tanks approaching the border - they didn't believe in war as well."
"They thought it was just another way of the Russian government to scare the civilians," she added.
Kseniia said that as a Ukrainian living in London she does all she can to support her country from afar.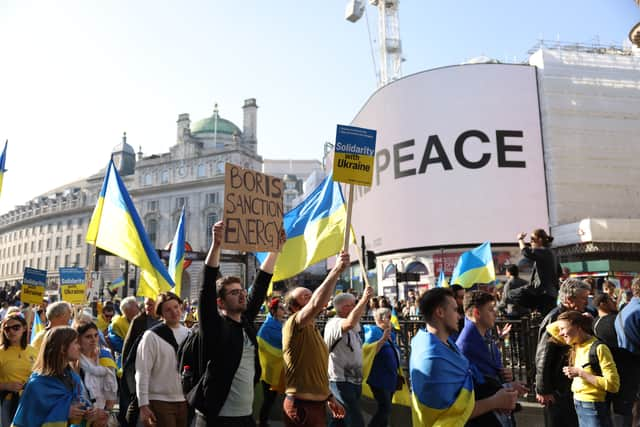 She said: "I go to the protests to raise awareness, demand change and support my country from a distance.
"I've never seen so many Ukranians flags around the world, on TV, social media, newspapers - the amount of support we're getting from the international community is enormous and gives us hope."
What is your reaction to the Russian invasion?
Kseniia shared her anger at Russian TV channels feeding its people with "propaganda and lies."
She said: "At the start of the invasion my mother was calling her relatives and telling them that Russian soldiers were attacking civilian houses and she saw it with her own eyes.
"The relatives' response was that they didn't believe it because their TV channels told them that Russia is on a 'saving mission' and there is no threat to civilians."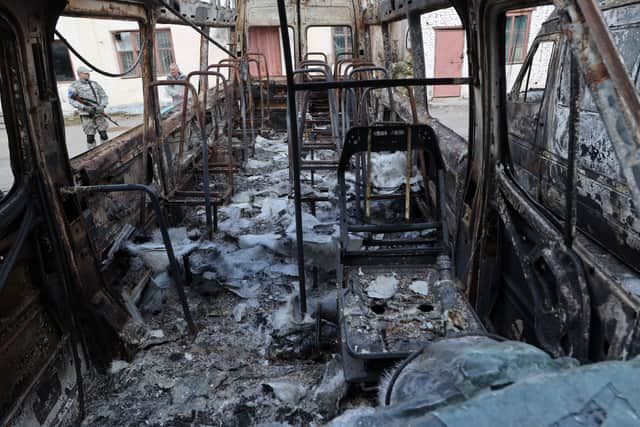 She added: "The Russian government has crossed all the lines possible.
"They are killing children, bombing hospitals, schools, shooting the civilian houses and we have no idea what else they can do."
How do you feel about the British government's response?
Kseniia explained how grateful she and Ukrainian citizens are for the "enormous support" the British government has shown.
Speaking about the visas and refugee situation, she said: "It's great to see that there has been a new route established, meaning UK families can now host the refugees and receive support from the government."
"However, personally this didn't help my situation," she said.
"My sister is here on the UK visitor visa which she had from the start of the year, and because I'm here on the working visa without permanent residence status I can't get my sister any benefits as a refugee," she added.
She said the financial support the UK government has given is "crucial" but more needs to be done to end the war.
She added: "I think Britain needs to do everything possible to stop the war.
"Even if it includes military, more sanctions or even helping with the decision to close the sky over Ukraine."
A message from the editor: