My bike is a heavy, slightly battered blue Trek Singletrack. Its name is Mounty. It's not a pretty bike, but I love it.
First, it was my dad's. He rode it through France and insists that it is a "rare frame". Now, the bike is mine, adjusted to my height with a series of motley components, like Frankenstein's monster.
When I worked in an office every day, I'd used Mounty to cycle to work a couple of times a week. I still use it regularly to commute around London.
For me, cycling is often the fastest, cheapest way to get around. Sometimes, on a quiet, sunny day, it is a pleasure. At others, stuck behind a bus, perhaps, it is hell.
As much as I enjoy riding Mounty, there are factors that prevent me from making all my journeys by bike: the weather; not having somewhere safe to lock it; not knowing directions for where I'm going.
For longer commutes, it is a hassle to bring a change of clothes and shoes to avoid arriving sweaty, and even for shorter journeys, I don't always want to plan my outfit based on what it's most comfortable to wear on a bike.
There's the aggravation too. The close passes; being cut up by impatient drivers; being driven into (this has happened twice) and, at times, verbal abuse.
As I have chugged up Archway Hill time and time again, I have noticed e-bikes ascending with ease – and bringing a greater variety of cyclists to the road. E-bikes work by activating a motor when you pedal, which propels you forwards. The assistance can also be turned off, allowing to use the bike without it.
The e-bike, be it a Lime Bike or a sleek Van Moof, is quickly becoming part of London's furniture. Quietly, I have wondered: would an e-bike change my life?
I tried the Volt Pulse LS, determined to find whether an e-bike could tempt me to make all my journeys by bike.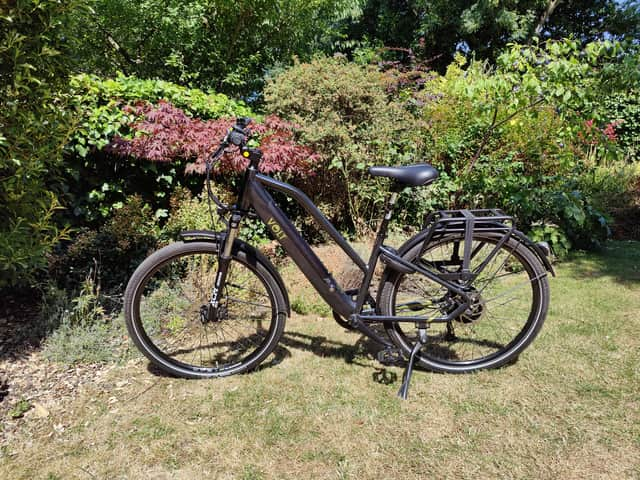 About the bike
The Volt Pulse LS is a hybrid e-bike designed for use on road and light off-road routes. With a low bar, rack, mudguards and built-in front and rear lights, I used this bike for commuting. There are a few things to mention:
Weight: 24.8kg (21.5kgs without the battery)
Maximum speed with electrical assistance: 25km per hour (15.5 mph)
Gearing: Shimano 8 speed Alivio
Time taken to charge: 3-4 hours
Distance on a single charge: 112.7km (70 miles), depending on power usage.
Price: from £2,074
There are four power modes – Low, Normal, High and Power – which are controlled by a unit on the handlebars. I found that I spent most of my time in the Normal setting while I was on the flat, raising it to High or Power while I went uphill.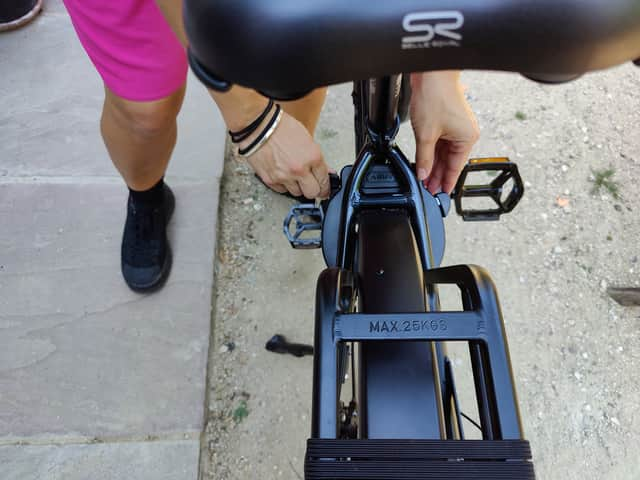 Using the bike
My first trip on the bike was to a friend's birthday party, about 14km away in Hackney Wick.
This was exactly the kind of journey I would never have made on Mounty: I wanted to look nice, I didn't want to arrive sweaty, and I'd already done some exercise earlier on.
Usually, I'd bomb down Holloway Road to get there – the fastest and easiest route, but by far and away the most unpleasant.
This time, because I had the electric assistance, I opted for a quieter route which adds in a spicy little hill. This time, I cruised up it without breaking a sweat.
As soon as you push off on the Pulse, the electric assistance tunes into gear, and the 25kg bike springs into motion with relative ease. I noticed that this made my journey more relaxed: it took the sting out of getting caught at traffic lights or having to stop for a car to pull out, simply because it was so much easier to start riding again.
It was comfortable too. The saddle is fat and plush, and the 5cm tyres mean that riding the bike is a little bit like driving an armoured tank: you can ride over potholes and crunch over suspicious debris on the road with peace of mind.
For me, the positioning was fairly upright, which made it almost impossible to put any real power through the pedals. It requires considerably less effort to ride the Pulse than a normal commuting bike – I'd consider it equivalent to walking – and therefore, I was able to sit back and enjoy the ride.
And enjoy it I did. Crucially, riding an e-bike is fun. You don't feel the attrition of a headwind or the weight of a pannier, and you can take pleasure in the best parts of travelling by bike: feeling the wind in your hair; being outside.
This is not a bike for speed, but it'll comfortably get you wherever you need to go. My average speed was fractionally slower than usual for commuting, but on the flip side, Power mode got me up the hill on the way home in record time, all without drawing a deep breath.
Assistance on the bike meant that I felt more comfortable taking up space on the road, particularly when going uphill. Sometimes, a car or bus behind you can force you into the gutter, but I felt more confident knowing that I could hold a reasonable speed with little effort.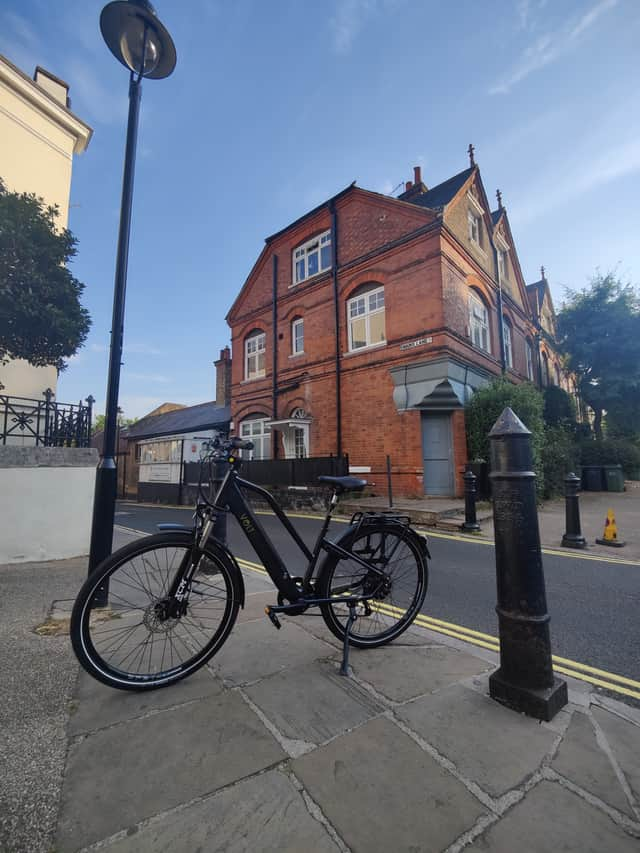 As an experiment, I took the bike up Swains Lane, which hosts the annual Urban Hill Climb, to see how it would fare. If you're not familiar with Swains, it's North London's steepest hill, culminating in a cruel 20% gradient.
I took the initial steady section at a leisurely pace, enjoying the views of Highgate Cemetery. The 20% section is still daunting, but this time, I whirred upwards with so little exertion that I was actually forced to laugh. I even overtook a cyclist on his road bike doing hill reps.
The trick, however, is to keep pedalling. For a hill like Swains, the bike needs to be in a low gear, even on the Power setting. If the legs stop spinning, the bike will stop moving – and it'll take a lot to get started again.
With the bike, distances begin to shrink. It feels as though the whole city is walking distance away, just because it's so much less effort (and money) to get there.
If I owned the Pulse, I'd use it as a commuter bike – but it could easily be taken out for a ride, or even ventured off-road.
Things to consider
That said, there are some considerations if you're thinking of buying an e-bike. On the downside, it's extremely heavy to carry – even without the added weight of locks and a pannier. It would be difficult (but not impossible) to take the bike on a train, for example, if you were commuting to London or wanted to take it out elsewhere.
Storage is also a problem. Given the value of the bike, I wouldn't want to house it outside permanently, which meant that I lugged it up and down four flights of stairs to use it. Whilst this is just about bearable with Mounty, it was hellish with the Pulse. Once inside the flat, the bike also takes up quite a bit of space.
The value of the bike also weighed heavily on me when locking it. There is an in-built nurse lock on the Pulse's back wheel, which comes with a connecting chain. I took an additional D-lock to secure the front wheel and frame, and felt slightly anxious about leaving it locked for long periods of time. You'd need to be careful about where you choose to park it, and good locks are a necessity.
Like all e-bikes, the battery is not unlimited. With a 70-mile capacity, which is higher than many competitors, this is not the bike for a long-distance ride. Likewise, if you were to use it for all your transport, you'd need to remember to charge it – because let me tell you, you don't want to be riding it around without assistance.
There's also the price. At over £2,000, the Pulse is in line with competitors, but it's a considerable investment. That said, an annual travel card covering all six zones costs £2,812, so it may earn your money's worth in under a year of use.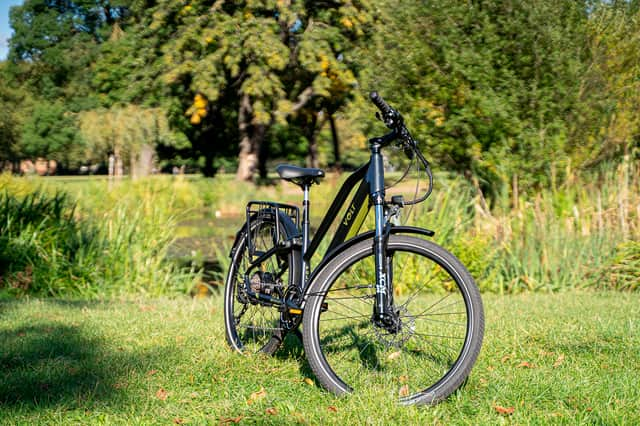 Conclusions
E-bikes are on the rise, and with good reason. According to data from Lime Bikes, 2.4 million e-bike rides were completed in London in 2021 – double that in 2020. By 2023, the Bicycle Association anticipates that e-bike sales will triple.
In March this year, TfL announced a 4.8% increase in fares – the biggest annual rise in a decade. Combined with steadily rising fuel prices and a mounting climate crisis, the impetus to look to alternative, greener forms of transport has never been greater.
For me, the beauty of the e-bike lies in the fact that it makes cycling so much more accessible to people of different ages and fitness levels. E-bike usage helps to replace car journeys, cutting down on traffic – and obviously, that's a good thing for the environment.
Clearly, though, e-bikes can't solve many of the problems with cycling in London single-handedly. It won't fix dangerous driving, traffic, or the fact that many of London's cycle lanes and low traffic neighbourhoods are often poorly connected, despite increased investment.
Using the Pulse LS was a revelation. Now, it's time for London's cycling infrastructure to catch up.