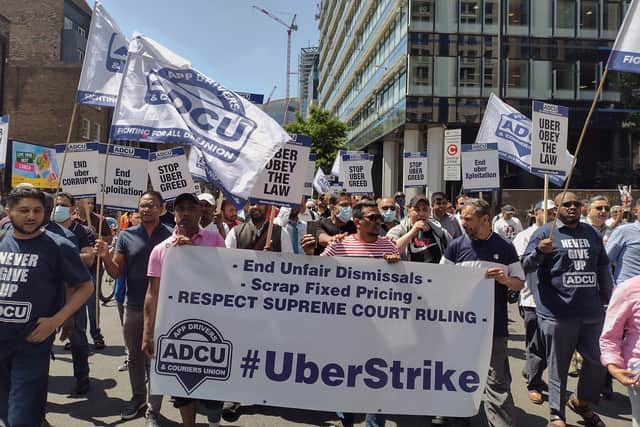 The ADCU is also inviting the public to join a demonstration at Uber UK head office at Aldgate Towers between 12noon and 2pm.
Will I be able to get an Uber in London today?
Not all Uber drivers are members of the ADCU so Londoners will be able to use the app today - however it may take even longer than usual.
Union members are urging other drivers not to use the app - so passengers might find their trips keep getting rejected.
The ADCU is also asking Londoners to avoid crossing the "digital picket line" until midnight.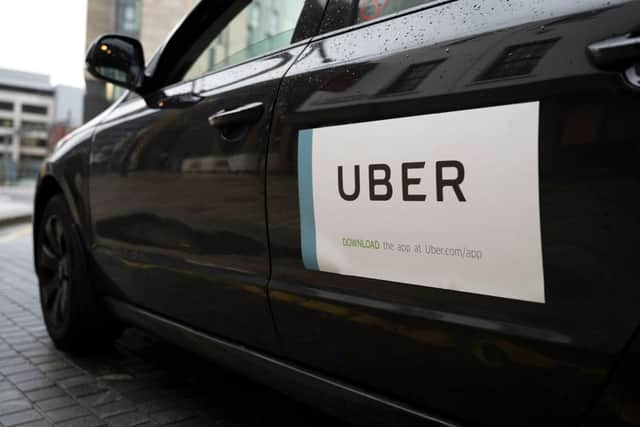 Why are Uber drivers striking in London?
The union is demanding increased pay and conditions for its drivers and measures to address issues raised in the Uber files.
The data reveals how Uber flouted the law, duped police, exploited violence against drivers and secretly lobbied governments across the world.
In response to the Uber Files revelations, Uber says it has fundamentally changed since 2017, after Dara Khosrowshahi became CEO.
However, the ADCU has branded this a "lie."
"Uber certainly has become more slick and less brash in its PR, but the brutal exploitation of workers and political graft has only intensified," a spokesperson said.
ADCU said Uber has not gone far enough, questioning the company's response to a landmark ruling last year by the supreme court, which found drivers were not self-employed contractors but workers who were entitled to rights such as minimum wage and holiday pay.
The union said Uber was interpreting drivers' working hours as lasting from the cab's dispatch to dropping off a customer.
Instead, the period should include waiting times, which the ADCU claimed accounted for up to 40% of drivers' working period.
Fares should also be increased to £2.50 a mile and 20p a minute, with Uber's commission capped at 15%, the union said.
The ADCU is also calling for an end to alleged "unethical" political influencing in the UK, and for Uber Executive Board member Pierre-Dimitri Gore-Coty, convicted of complicity in operating an illegal transportation service in France several years ago.
What is the ADCU saying?
James Farrar, ADCU general secretary said: "Uber's intense political influencing continues apace while the government yet again delays long promised employment legislation to curb excesses of the gig economy.
"Uber has even gone a brazen step further beyond run of the mill lobbying to even hire elected officials to senior management roles in the company.
"Because nothing has changed, we have no choice but to strike and take to the streets.
"We ask the public to support us, not just for our sake, but to stand against the corrosive effect Uber has on our democracy, the rule of law and the integrity of our regulatory bodies."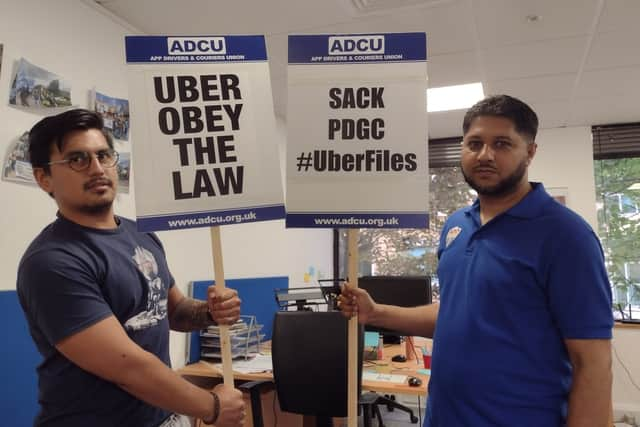 Yaseen Aslam, ADCU president said: "Uber is desperate to whitewash away the Uber Files revelations as sins of the distant past, but management behaviour is as egregious now as ever it was.
"Uber continues to defy the Supreme Court ruling to deny drivers their full rights to minimum wage and holiday pay for all working time.
"In making partial settlement in the wake of the landmark ruling, Uber took advantage of vulnerable drivers, already impoverished by the pandemic, to pressure them to settle for far less than what was really owed and to surrender their statutory rights."
What has Uber said about the London strike?
‍An Uber spokesperson said: "The ADCU represents a tiny proportion of active drivers on Uber.
"For over a year now, GMB Union has served as the voice of drivers in the UK following our historic recognition agreement which helped secure new worker protections including holiday pay and access to a pension plan.
"With demand up following the pandemic, Uber drivers are earning more than ever – in the first quarter of 2022, they earned on average £29.72ph, including holiday pay, when actively engaged on the app.
"The combination of higher earnings, new protections such as holiday pay and a pension and trade union recognition in the UK has led to more than 10,000 new drivers signing up with Uber in recent months."