TfL pay-per-mile and £1 bus fares: Call for government and transport authority action on car use
Centre for London has called for 'carrots' and 'sticks' to encourage people to give up their cars.
Watch more of our videos on Shots! 
and live on Freeview channel 276
Visit Shots! now
Emission-based parking permits and pay-per-mile road user charging are among the suggestions by a London think-tank to help the capital meet its 2030 carbon emissions target.
Detailing incentives and disincentives national government, Transport for London (TfL) and local authorities are empowered to implement, the researchers suggest it is "policy packages", comprising both "carrots" and "sticks", which are likely to prove most effective.
Initiatives the think tank recommends could be grouped together range from offering a more generous scrappage scheme and highlighting the cost of driving, to freezing public transport fares.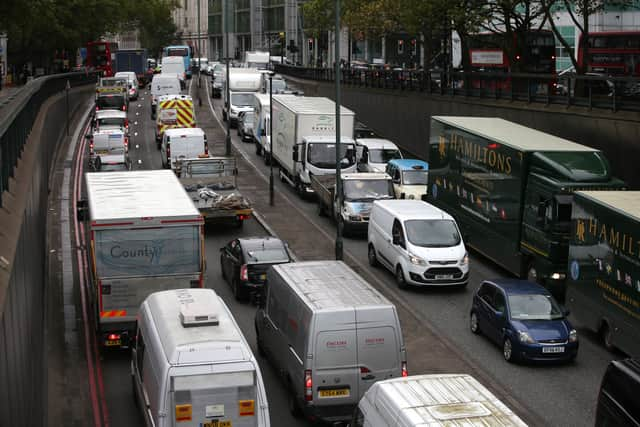 "Financial incentives are useful policy levers to encourage active and sustainable travel," says the report. "In London, there are already many in place which make driving and owning a car quite expensive.
"Moreover, national government, local authorities and TfL have introduced financial incentives to positively reward people using active travel and public transport, making those modes of transport attractive.
"Our research found that policy packages are more effective than standalone policies. Whilst there is widespread acknowledgement amongst policymakers (and academics) that policy packages are more effective, they aren't always easy to implement."
These range from doubling fuel duty and including electric vehicles in the congestion charge, to introducing a pay-per-mile road user charging scheme and £1 bus fares.
Oriane Nermond, research manager at Centre for London, said: "There's no silver bullet idea to get people to give up on their car. But combining different policies into a coherent package can help to ensure that every Londoner has an affordable alternative to driving.
"All levels of government need to work together to help make sure people know about existing alternatives to owning cars, and how much they cost."
Seb Dance, deputy mayor for transport, said: "Helping Londoners to make more journeys by active travel and public transport is a top priority for the mayor and key to cleaning up London's toxic air and protecting the health of Londoners.
"As well as taking action to clean up our air, the mayor has invested hugely in improving both London's transport network and its walking and cycling infrastructure. He introduced the Hopper fare and froze TfL fares for five years.
"Over the past 18 months we've seen the opening of the transformational Elizabeth line, the extension of the Overground to Barking Riverside and the completion of the Bank Station Capacity Upgrade project. The mayor has already committed to adding one million more kilometres to our bus network in outer London, and the new proposed Superloop could add a further four million.
Tim Thomas, head of transport, infrastructure and policy planning at Barking and Dagenham-based BeFirst, said: "In areas like Barking and Dagenham the pandemic and the cost of living crisis have had a big impact on the way people travel. Car use and ownership in the Borough is still rising despite London-wide trends toward active travel.
"We welcome this report and the ideas around mobility credits, free bike hire, car clubs and testing new flexible demand-based transport systems focused on the needs of local people.
"We encourage the mayor, government and the transport industry to look at this report and take action to enable people to make more sustainable transport choices."
A Department for Transport spokesperson said transport in London is devolved, and so comes under the remit of the mayor and TfL.