TfL London Overground renamed: Ian Wright Line, Goblin Line and other suggestions
TfL has allocated a total of £4m in its latest budget to rename each of the six London Overground lines.
Watch more of our videos on Shots!
and live on Freeview channel 276
Visit Shots! now
From Gospel Oak to Upminster, Hampstead to Clapham, the six London Overground lines cover some of the capital's most varied and historic spots.
When asked about the decision to allocate money towards the renaming of the lines, a TfL spokesperson said: "The mayor's manifesto set out his intention to explore renaming routes on London Overground, to give each individual route its own name and make the network easier to navigate.
"Following the pandemic we are able to take this work forward and are currently assessing the options.
"Money has been set aside in the budget to take this work forward."
Some of the Overground lines already have alternative names in use.
Others, however, will likely require a bit more work.
To give TfL a helping hand, we have put together suggestions as to what we believe each of the lines should be called.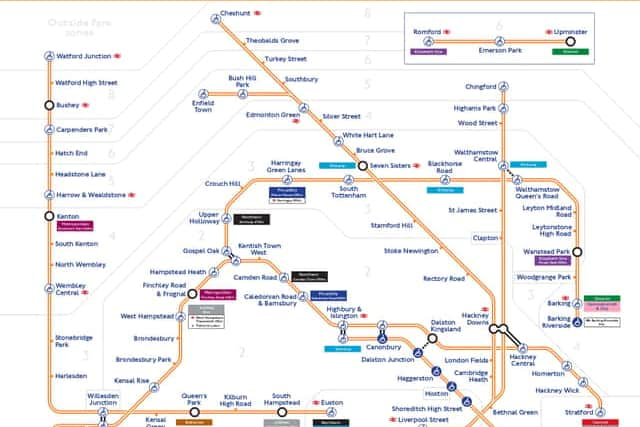 The Goblin line
Gospel Oak to Barking Riverside
Given the Gospel Oak to Barking Riverside line already has its own snappy nick-name, having been lovingly referred to as the Goblin for some time now, we back this as a sensible option. If it ain't broke?
The Ian Wright line (or the Wright line)
Highbury and Islington to New Cross/West Croydon/Crystal Palace/Clapham Junction
We toyed with the Viera line, but had to go with the footballer who found the most success at two ends of the sprawling Highbury and Islington to New Cross/West Croydon/Crystal Palace/Clapham Junction route: Ian Wright. The great man scored 117 goals for Crystal Palace before moving on to Arsenal, where he bagged 185 goals in 288 games. Need we say more?
The Harlequin line
Euston to Watford Junction
Here, we are again looking back to look forward with our choice of name for the Euston to Watford Junction line. For a brief period in the late 20th century, while operated by Network SouthEast, the route was branded as the Harlequin line, apparently after the stations of Harlesden and Queen's Park. It makes sense, and should be brought back.
The Wild line
Liverpool Street to Chingford/Enfield Town/Cheshunt
Cambridge Heath, London Fields, Stamford Hill, Bruce Grove, Bush Hill Park; just some of the stops on the Liverpool Street to Chingford/Cheshunt/Enfield Town line which are named after various forms of grass and woodland. We considered the Green line, but thought there could be some confusion with the District line. Maybe.
The Parlour line
Perhaps we are getting carried away with our football references, but it is hard to look past the Romford Pele, Ray Parlour, for the three-stop Romford to Upminster line in Havering. A local councillor, David Taylor, has started a petition requesting it be named the Liberty line, due to Havering's status as a Royal Liberty. Which makes sense. We, however, would like to see it paying tribute to Mr Parlour and his connection to the area.
The Olympia line
Stratford to Richmond/Clapham Junction
We saw this on Twitter, and we liked it as an alternative for the Stratford to Richmond/Clapham Junction line. Not only does it run through the Olympic Park in east London, it also serves Kensington Olympia out west. Perfect.