DLR: TfL plan for two new stations on the Docklands Light Railway
Transport for London (TfL) hopes to complete an extension of the line in the early 2030s.
Watch more of our videos on Shots! 
and live on Freeview channel 276
Visit Shots! now
Two new railway stations could be built in London after TfL pitched a case to the Government for an extension of the Docklands Light Railway (DLR).
Under the proposal, the line would be extended from Gallions Reach, with a new Beckton Riverside station on the north side of the River Thames and a new Thamesmead station on the south.
A strategic outline case has been put together, detailing the "transformative effect" the project could have on the area. It will now be considered by the government.
TfL says the extension would facilitate 25,000 to 30,000 new homes in Greenwich and Newham. In addition, TfL proposes new bus routes between Woolwich and Abbey Wood via Thamesmead, connecting the area to the Elizabeth line.
TfL is working with Greenwich and Newham councils, as well as three major landowners: Thamesmead Waterfront (a joint venture between Peabody and Lendlease), Abrdn (formerly Aberdeen Standard Investments) and St William (a Berkeley Group company). TfL says there has been engagement with Homes England, the Department for Levelling Up, Housing and Communities (DLUHC) and the Department for Transport (DfT).
Mayor of London Sadiq Khan
The mayor of London, Sadiq Khan, said: "Since 2016, I'm proud to have started a record-breaking 116,000 genuinely affordable homes and, in recent years, we have also completed more homes of all types than at any time since the 1930s. But, the demand for housing in London continues to grow, and I'm determined to unlock the infrastructure needed for the capital's growth.
"Extending the DLR would unlock huge opportunities for London. It would support tens of thousands of new homes, deliver new transport connections, and boost the economy - supporting the creation of thousands of jobs. Investment in our transport network is key to building a better, fairer, more prosperous London for all."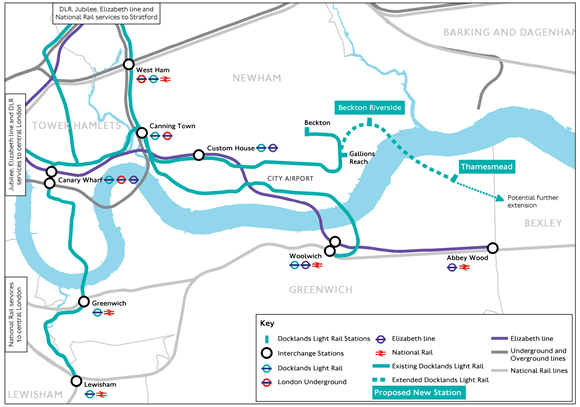 'Building on Woolwich Arsenal extension'
In a statement, TfL said: "The DLR extension to Thamesmead would build on experience from 2009 when the DLR was extended to Woolwich Arsenal tunnelling beneath the River Thames, with housing growth following in areas including Woolwich, Canning Town, Pontoon Dock and West Silvertown.
"With significant growth pressures on London and the South East, transport and housing infrastructure must keep pace with demand. Forecasts suggest that London's population will have grown significantly by 2041, and that there will be at least an additional 800,000 jobs in the capital, which will create the need for more housing.
"Providing the infrastructure for this growth is vital to ensure viable alternatives to cars, helping Londoners to access public transport and preventing congestion which could have a negative impact on air quality, public health and economic performance. Investment to support growth and regeneration is therefore one of TfL's capital investment priorities, alongside asset and rolling stock renewals and upgrades, decarbonisation and mitigating the delays to HS2."
The authority said the investment would support growth and job creation across the country, as well as supporting the creation of up to 10,000 jobs.
"While a key part of this work will be to identify options for maximising local and regional sources of funding, as well as driving cost and creating efficiencies, the scale of the projects mean that some degree of Government support will be required," TfL said.
"Funding for the feasibility work has been provided to date by a partnership of private and public sector bodies with an interest in regenerating the area. The strategic outline case reflects this work and the scale of opportunity at Thamesmead and Beckton Riverside. To support the further feasibility work and build a strong business case, the partnership has committed to further funding contributions itself, alongside requesting further Government contributions.
"A further £6 million is being raised by TfL and the Greater London Authority as well as other partners, and partners welcome a conversation with Government on the project's future. This includes progressing to 'outline business case' stage and securing the consent required to deliver the transport infrastructure. The aim is to agree an affordable solution by 2025, in order to enable construction to begin as early as 2028 and opening the DLR extension to customers in the early 2030s."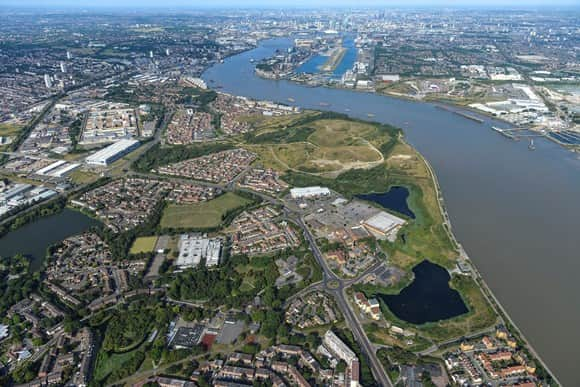 'Unique opportunity'
London's transport commissioner, Andy Lord, said: This is a unique opportunity that we should not miss out on, with policy support in place at all levels, led by the Mayor of London, to deliver transformational regeneration and up to 25,000 to 30,000 homes over 30 years. By extending the DLR from Gallions Reach to Thamesmead via Beckton Riverside, we can deliver two new accessible stations, connect two major growth areas and four development sites in one go, bringing more housing, retail, leisure activities and unlocking more of London for those who live, work or visit the city.
"We've seen what can be achieved with investment in public transport bringing transformational change over the past few years with the Elizabeth line, the Northern line extension to Battersea and the London Overground extension to Barking Riverside. This Strategic Outline Case is the next step on the way to making this scheme a reality."
Greenwich
Cllr Anthony Okereke, Leader of the Royal Borough of Greenwich, said: "This marks a significant milestone in our efforts to regenerate Thamesmead and create sustainable, low-carbon homes. The extension to the DLR will unlock the area's potential, helping to address the pressing need for new housing in Royal Greenwich and Newham. The Elizabeth line has helped to stimulate significant growth and investment in Woolwich and DLR would do the same for Thamesmead, enhancing the quality of residents' lives and connecting local people to jobs across London. We're delighted to be working with the partnership to deliver our vision for Thamesmead, and we hope the Government will share that vision."
Newham
Mayor of Newham Rokhsana Fiaz OBE said: "The DLR extension, with a new station at Beckton Riverside is a game changer. It will support the transformation of Beckton Riverside into a sustainable and vibrant new neighbourhood and town centre in Newham, which is a borough redefining London. From Gallions Reach to Thamesmead, the new DLR station will connect two exciting Opportunity Areas in London and support our long-term plans in building a fairer Newham. Along with our ambitious investment case to government to expand Stratford Tube station, which is a major transport connection for the capital and a major infrastructure priority for TfL, we are showing how we are unlocking new opportunities between east and south east London. Beckton Riverside in Newham will include up to 10,000 new genuinely affordable housing our people can afford, and the high-quality new green infrastructure will positively impact our communities in both Newham and Greenwich, as well as all Londoners."
Lendlease
Lendlease's managing director for development in Europe, Bek Seeley, speaking on behalf of the Thamesmead Waterfront Partnership, said: "The breadth of opportunity and economic potential that this scheme offers is enormous. Thousands of new homes and jobs can be created; but for that to happen transport connections need to be improved for existing and new residents. It's a vital part of the long-term regeneration of Thamesmead led by Peabody, which will bring thousands of new homes and jobs within reach of the heart of London."
Abrdn
Brian Kelly, senior real estate development manager at Abrdn, said: "abrdn is pleased to be a part of this important private/public cross-borough opportunity at Beckton Riverside and Thamesmead. The key intervention of a new DLR line between Thamesmead and Beckton has potential to unlock two of the largest brownfield sites in London. Securing the delivery of the new DLR connection brings with it a significant opportunity to complement and enhance the amenity and social well-being of the existing communities as well as delivering much-needed new homes, a new district shopping centre, local industry, employment, and high quality green space. Aiming to improve social and environmental outcomes for the existing community and potential residential communities at Beckton Riverside aligns with our goal of investing in the future of the built environment."
Berkeley Venture
Alison Dowsett, chair of Berkeley Ventures and spokesperson for St William, said: "This is a fantastic opportunity to unlock the full potential of Beckton Riverside and Thamesmead, delivering much needed new homes, parks and employment opportunities in these priority areas for levelling up."
New DLR trains
TfL is introducing 54 new trains to replace the 33 oldest trains in the current DLR fleet, some of which are more than 30 years old. The Department for Levelling Up, Housing and Communities has funded 11 of the extra trains which will help improve the frequency and reliability of services and support population and employment growth across the network. These will be introduced from 2024, with the whole fleet in place by 2026.
Department for Transport
A DfT spokesperson said: "We continue to engage with Greater London Authority on the business case to develop Thamesmead and Beckton Riverside, and are carefully reviewing proposals."