London cycling: More traffic lights needed say campaigners as bike boxes 'routinely encroached' by drivers
London Cycling Campaign (LCC) says bike boxes "don't really add a lot to cycling safety", and that they have little impact on cycling numbers.
Watch more of our videos on Shots! 
and live on Freeview channel 276
Visit Shots! now
A London cycling group has called for an increase in cycle-only traffic signals to improve safety on the capital's roads, while slamming the ineffectiveness of bike boxes.
According to the Highway Code, rule 178, motorists, including motorcyclists, must stop at the first white line if the lights are amber or red, "and should avoid blocking the way or encroaching on the marked area at other times, eg if the junction ahead is blocked".
The rule continues: "If your vehicle has proceeded over the first white line at the time that the signal goes red, you must stop at the second white line, even if your vehicle is in the marked area. Allow cyclists time and space to move off when the green signal shows."
If motorists are caught incorrectly entering a bike box, they can be fined and given points on their licence.
When asked by LondonWorld how many fines had been issued in the last few years, the Met Police said it does not hold such data on its own, and that it is grouped within a wider 'contravening automatic traffic signal' category.
A Freedom of Information (FOI) request found 22,210 such offences were recorded in 2022. However, it is unclear how many of these relate to motorists caught entering ASLs.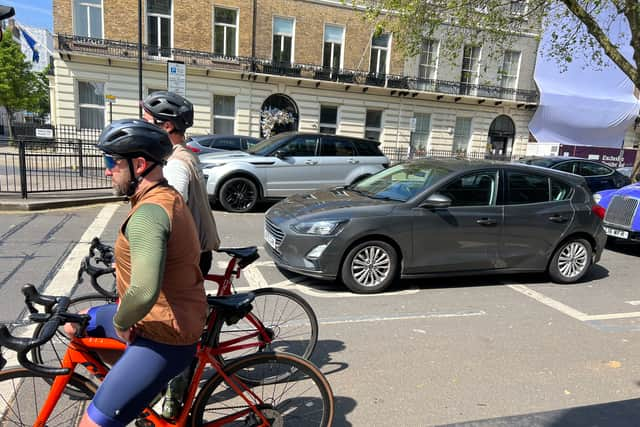 How effective are bike boxes?
Mr Munk said that while the Highway Code is clear on bike boxes, they are "routinely encroached" by drivers in London.
"They don't provide any protection for those cycling if you arrive on a green signal and they can encourage those cycling to stop in the very worst position to be anywhere near a lorry with restricted vision," he said.
"Their use is discouraged now in both London and national cycling design guidance – because they will get hardly anyone more cycling and they don't really add a lot to cycling safety."
Instead, Mr Munk said London needs more signals specifically for cyclists, ensuring drivers turning left do not go at the same time as people cycling ahead, for example.
"If we want safe cycle routes used by lots of people, we need fewer bike boxes. But in the meantime, better enforcement of them would be good."
Mr Munk added at junctions with such signals, there should typically be a physically separated cycle lane, rather than a bike box.
"The other option is to reduce motor traffic levels and turning movements to an extent that physical separation is not needed," he said.
Safety 'at the heart' of any changes to cycling network
The responsibility for London's road network is shared between Highways England, the 32 London borough councils, the City of London Corporation and Transport for London (TfL), which has spoecific responsibility for 'red routes'.
Asked whether an increase in cycling-specific signals is being considered, a TfL spokesperson said: "Walking, cycling and public transport are the most affordable and sustainable ways of travelling and we're determined to ensure people across the capital can walk and cycle safely and easily.
"All cycleways built by TfL follow robust design standards, which set out a variety of methods to improve safety for people cycling at junctions. This can include advanced stop lines and low-level signals that give people cycling an early start to help them get ahead of motorised traffic at junctions, where there is capacity at the junction to accommodate this."
Separate protected lanes and cycle-only signals, they added, are installed "where there is space to do so".
"London's cycle route quality criteria and design standards continue to ensure that safety is at the heart of any change we make on our road network to support cycling," they said.
The Met Police was also approached, but declined to comment.