Huge flames raged as a mammoth fire broke out at a car garage in Southall.
Shocking footage shows the moments after the blaze erupted, with terrified mechanics trying to escape.
The flames are already the size of the building and smoke is billowing into the air.
Pots of oil, which eventually caught fire, can be seen lying next to cars.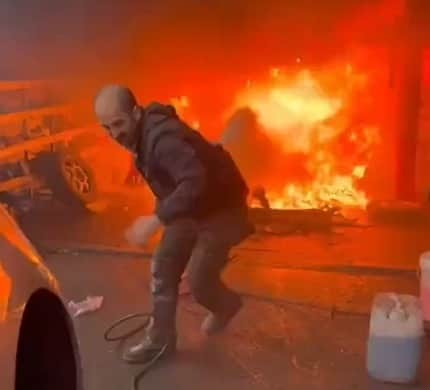 The smoke could be seen from Hayes and Hounslow all the way to Heathrow Airport, while the blaze burned for several hours.
Dozens of people had to be evacuated after the car garage in Tachbrook Road, Southall, Ealing, caught ablaze.
Londoners took to social media to post dramatic shots of smoke billowing up into the sky.
The London Fire Brigade said 30 people had to be evacuated and urged residents to keep their windows closed and avoid the area.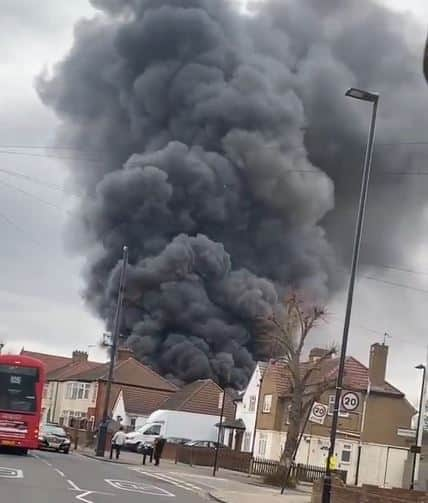 However the emergency services said there were no injuries reported.
The single-storey car garage caught alight shortly before 12noon, as well as an adjoining storage area and several vehicles.
A container of oil also caught fire.
Three cylinders - which can explode when exposed to heat - were removed before the brigade arrived, and firefighters cooled them.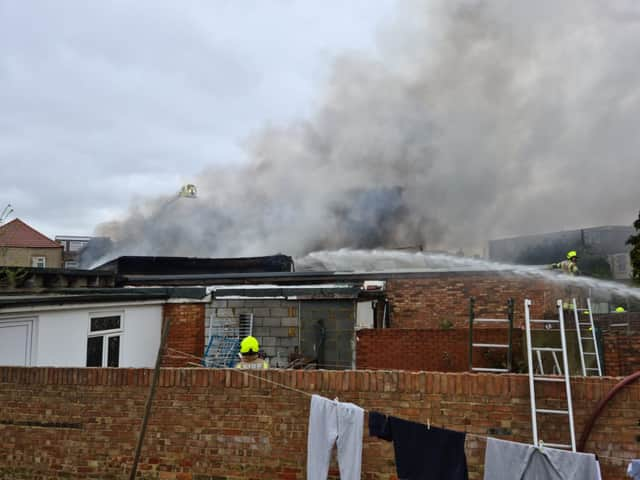 Ten fire engines and 70 firefighters tackled the blaze from 11.45am onwards, and the LFB said it was under control by 1.50pm.
A 25-metre cordon has been put in place, and station commander Graeme Hunter said there would be some disruption in the area.
He said: "The fire produced heavy smoke, which was visible for miles.
"We urged residents in the area to close their windows and doors.
"There is some disruption to traffic, so we encourage people to avoid the area whilst crews continue to work to make the scene safe."
Min Dhariwal was visiting family in nearby Leamington Road.
He said: "I spoke to a woman who said the back of her home faces where the fire started.
"She said the smoke was 'unbearable' and forced them from their homes."
The LFB said the cause of the fire was under investigation.