The President, who replaced Donald Trump in office, has opted for a different mode of transport to Westminster Abbey, as he took himself and his wife in a motorcade.
The likes of France president, Emmanuel Macron and New Zealand's Prime Minister Jacinda Arden, along with many other prominent figures have travelled to the funeral in a fleet of buses.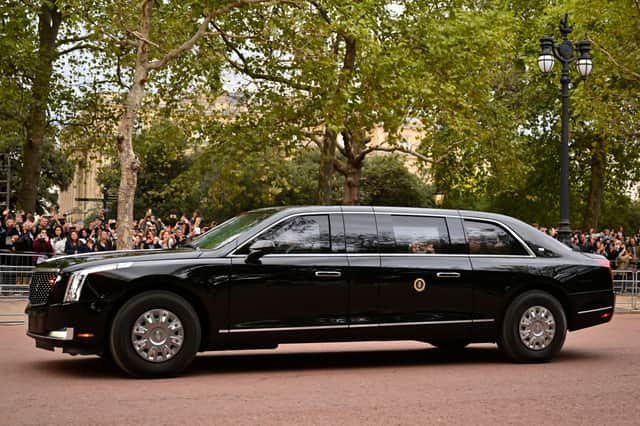 But, Biden chose to travel via an armoured car, which is appropriately named 'the beast'.
The motorcade came to a grinding halt outside a Pret A Manger coffee shop in Central London, as the world leader experienced a problem that plagues many Londoners on a day-to-day basis.
Despite the minor problem, Biden was seen waving to members of the public, many of whom were shocked to be in the presence of the US president.
Biden wasn't stuck in traffic for long, as a Met Police Escort Group whizzed past the armoured limousine to clear the traffic ahead.
The 46th president of the United States has since arrived at Westminster Hall, ahead of Her Majesty's state funeral.
Presidential state car 'The Beast': All you need to know
The Beast, more formally known as the Presidential state car is the official state car for the president of the United States.
Before Franklin D Roosevelt's administration introduced the 'sunshine special' - the first presidential state car to be built to United States Secret Service standards, presidents drove around in unmodified cars.
The car remained largely the same, but underwent a massive change when John F Kennedy was assassinated. The presidential state cars frequently allowed the president to ride uncovered and exposed to the public.
His assassination sparked a huge change to the car, making it more secure for future presidents.
By 2008, the presidential state car had five inch thick bullet proof glass, and was sealed with its own environmental system.
The current model of presidential state car is a unique Cadillac that debuted on September 24, 2018.
It was first seen during a trip to New York, and weighs around 15,000-20,000 pounds, and can seat around seven people.
It also stores the blood of the president if a medical issue arises.