Thousands of people are set to pay respects to Her Majesty as she begins her period of lying-in-state at Westminster Hall, six days after she died at Balmoral.
It will be the Queen's final resting place before her state funeral next week, after periods at St Giles' Cathedral, Holyrood Palace and Buckingham Palace.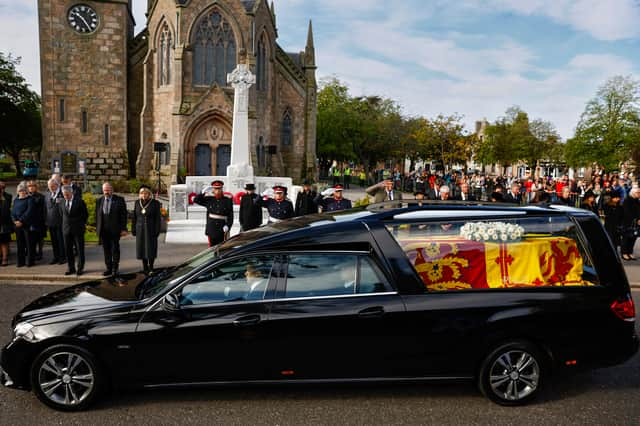 The queue is expected to stretch for miles, with those queuing bracing for waiting times of up to 30 hours.
The Department of Culture, Media, and Sport (DCMS) has provided a live queue tracker, to make people aware of travel information and how long the queue is.
A tweet on the official twitter account of the DCMS says: "We are now sharing updates on the queue length to attend Her Majesty The Queen's Lying-in-State.
"Follow DCMS on YouTube, Twitter and Facebook (/dcmsgovuk) for latest information, including where to join"
How long is the queue?
According to the live tracker, the queue is currently 2.5 miles long. The nearest landmark is London bridge and the DCMS advise people travelling to check the TfL for all the latest travel information.
Under the Youtube link, the DCMS says: "Watch this page for live updates showing the end point of the queue to attend Her Majesty The Queen's Lying-in-State"
How to queue to see Her Majesty lying-in-state
People descending to London to queue and pay respects will have to join the back of the queue.
The location of the back of the queue is obviously subject to change..
When you have reached the back of the queue, you will be issued a coloured and numbered wristband.
Wristbands are specific to each person joining, and are non-transferable. Your wristband will be checked along the route.
Having a wristband is important during the queuing process, as it will allow you to leave the queue to go to the toilet, get refreshments etc.
When does the Queen's Lying-in-state end?
People will be allowed to enter Westminster Hall from 5pm on Wednesday, 19 September. It will be open 24 hours a day until it closes at 6.30am on Monday, 19 September, four-and-a-half hours before Her Majesty's state funeral.
What can I not take with me when visiting the Queen lying-in-state?
The Met Police has released a list of items prohibited from entering Westminster Hall.
Bags larger than 40cm x 30cm x 20cm in size, bags or rucksacks with expandable compartments, bags or rucksacks with multiple pockets or complex openings, solid-sided bags, or bags on wheels.
Flasks or water bottles, except clear water bottles. Clear water bottles must be emptied of their contents before you enter the security search point at the Palace of Westminster.
Food and liquid of any kind. Any food or liquids must be consumed in the queue or disposed of before you enter the security search point at the Palace of Westminster.
Flowers or other tribute items (including candles, soft toys and photographs). These items cannot be taken into or left in the Palace of Westminster. Floral tributes only should be taken to the dedicated floral tribute area in Green Park.
Sharp items, including knives, Swiss Army knives, scissors, cutlery and screwdrivers.
Personal defence equipment or any object that could be used as a weapon and/or compromise public safety, including personal defence sprays.
Paint sprays, padlocks, chains, climbing gear, and dangerous or hazardous items.
Fireworks, smoke canisters, air-horns, flares, whistles, laser devices, and other items that could be used to cause a disturbance or noise.
Banners, placards, flags, advertising or marketing messages, and other similar items that could be used to cause a disturbance.
Coolers, hampers, sleeping bags, blankets, folding chairs and camping equipment.
Non-foldable pushchairs.
Any other items as directed by security staff or police.