Sadiq Khan says Humza Yousaf's victory as First Minister is a 'source of pride' to all minorities
Humza Yousaf has become the first person from a minority ethnic background to lead Scotland's highest office.
Watch more of our videos on Shots!
and live on Freeview channel 276
Visit Shots! now
The former Health Secretary was on Monday elected to replace Nicola Sturgeon as leader of the SNP, beating rivals Kate Forbes and Ash Regan in a bitterly contested race.
He has become the first person from a minority ethnic background to lead Scotland's highest office - something he said his grandparents, who were immigrants, would not have been able to imagine.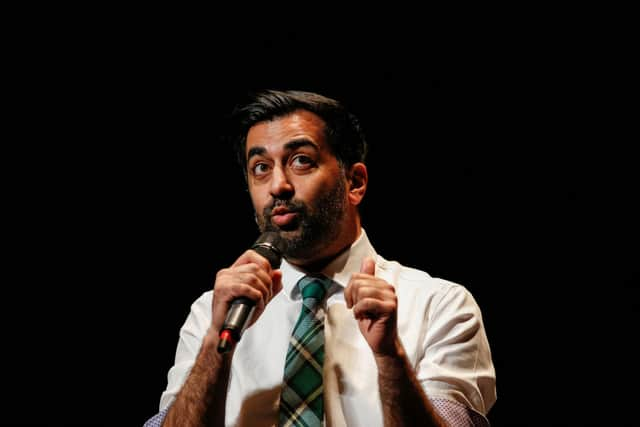 Speaking at an event on Tuesday, the mayor was keen to congratulate Yousaf.
"The fact that you can have the First Minister of Scotland, somebody who's an ethnic minority, somebody who is an Asian minority, somebody who is a Muslim from Pakistani heritage is a source of pride to me.
"The fact that our Prime Minister is of Indian origin and of Hindu faith, it shows that in our country we don't just tolerate difference, we respect it, celebrate it and we embrace it.
"The reality is Rishi Sunak and Humza Yousaf are role models for children who know with a bit of hard work and a helping hand you can achieve anything."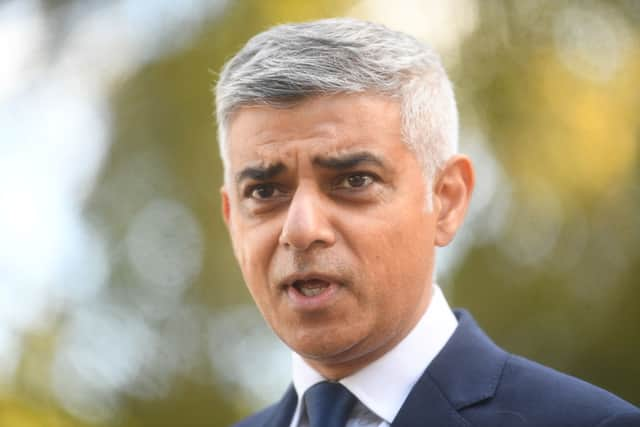 Giving his pitch to the Scottish Parliament before the votes were counted, Yousaf pledged to continue to ensure Scotland is a "positive progressive voice on the world stage" - saying that the country's "best days lie in front of us".
He insisted he would never "shy away" from tackling the "big issues", and said his government will always listen to what's best for the people of the country.
"I will place no limits on the ambitions that we have, collectively, for ourselves and for our country," he concluded, to which he received a long applause in the chamber.
One of the MSPs who voted to elect Yousaf as First Minister was his predecessor Nicola Sturgeon, who confirmed her support for her former colleague on Twitter.
She announced that she had sent her formal letter of resignation to King Charles III and departed Bute House after eight years in office, writing that her next stop was "Scottish Parliament to vote proudly for Humza Yousaf as Scotland's sixth First Minister."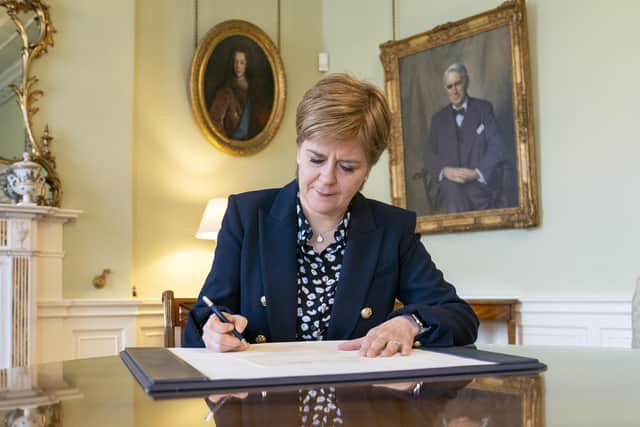 In a statement released earlier on Tuesday (28 March), Sturgeon also remarked: "Being First Minister of the country I love has been the privilege of a lifetime.
"As the first woman to hold this office, I am proud to demit it knowing that no girl in our country is in any doubt that a woman can hold the highest office in the land.
"My congratulations go to Humza Yousaf who, subject to parliamentary process and appointment by His Majesty the King, will become the first person from a minority ethnic background to lead our country as its First Minister – and in doing so will reiterate the powerful message that it is a role that any young person in Scotland can aspire to."
Yousaf's SNP leadership race opponents - Kate Forbes and Ash Regan - also stated their support for their party's new leader, despite their acrimonious clashes during fiery hustings debates.
Forbes wrote on Twitter: "My heartiest congratulations to Humza Yousaf, our new SNP leader and Scotland's next First Minister. I'm delighted for him, wish him all the best, and will back him as he leads our party and our nation to better days."
Regan added: "Congratulations to new SNP Leader, Humza Yousaf. It was a lively contest, I wish him well, and I back him as he leads our party - and I would encourage everyone to get behind Team SNP."
However, not everyone offered this level of support - with some opposition parties already calling for an election. Scottish Labour leader Anas Sarwar, while putting himself forward for First Minister, argued that Yousaf is "not enough" for Scotland.
"We do not need to settle for mediocrity," he continued. "Scotland needs more than a continuity candidate."
Yesterday, after Yousaf was confirmed as leader of the SNP, he commented: "Humza Yousaf has inherited the SNP's woeful record, but he has not inherited Nicola Sturgeon's mandate. We need an election."
Meanwhile, Douglas Ross, leader of the Scottish Conservatives, also argued that a change is needed as he accused the SNP of being "consumed by the debate on independence" rather than by the issues that "matter" to the country.
Looking ahead to Yousaf's time in office, Ross urged the new First Minister to "abandon his divisive plans to push independence relentlessly as the self-styled 'first activist'."