Crowds gathered around the Winston Churchill statue at first chanting: "Who built the NHS? Migrants built the NHS," and "Refugees are welcome here."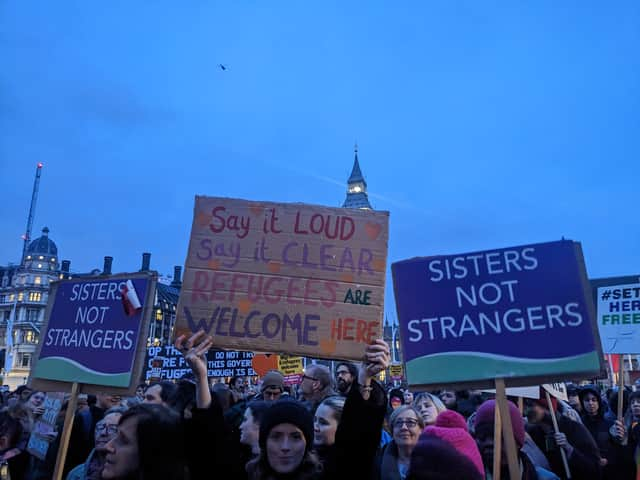 The aim is to "stop the boats", referring to small boats used to ferry people across the English Channel, where they could then seek amnesty.
Asylum seekers currently have a right to remain in the country to have their cases heard.
More than 45,500 people crossed the Channel on small boats to the UK in 2022, compared with 28,000 the year before.
Meanwhile, more than 160,000 people in the UK are waiting for decisions on their applications for asylum.
Following a debate which lasted more than four hours in the House of Commons Labour's amendment seeking to block the Illegal Migration Bill was defeated by 249 votes to 312, a majority of 63.
The protest was supported by the Fire Brigades Union, the Muslim Association of Britain, human rights charities and opposition MPs.
Several speakers addressed the crowds, standing on top of a fire engine.
SNP MP Stephen Flynn said: "The Tories talk of invasions, they talk of swarms, they talk of hundreds of thousands of people, millions of people, billions of people wanting to come to these Isles.
"They're lying, it's as simple as that.
"They're trying to beat down on people who they should be offering a helping hand to. Shame on them."
Labour MP, Nadia Whittome, told the crowd: "We've got to tell those Tory MPs sitting in the chamber of the House of Commons right now to stop the dehumanising, denigrating, disgusting rhetoric that they use to talk about refugees.
"People arriving on our shores, they're not an invasion, they're not queue jumpers, they're not criminals, they're not illegal. They're people just like you and me."
Green MP, Caroline Lucas described the policy as "poisonous, performative politics at its worst.
Quoting the British-Somali poet Warsan Shire she read: "No one puts their child in a boat unless the water is safer than the land, unless home is the mouth of a shark or the barrel of a gun."
MP for Hackney, Diane Abbott echoed some of Gary Lineker's sentiments saying: "The rhetoric and language around this bill is indeed reminiscent of Germany in the 1930s."
Lineker had been taken off air by the BBC for a few days, following a tweet comparing the bill to 1930's Germany.
The decision to take Lineker off air caused backlash with pundits including Alan Shearer and Ian Wright refusing to appear on Match of The Day.