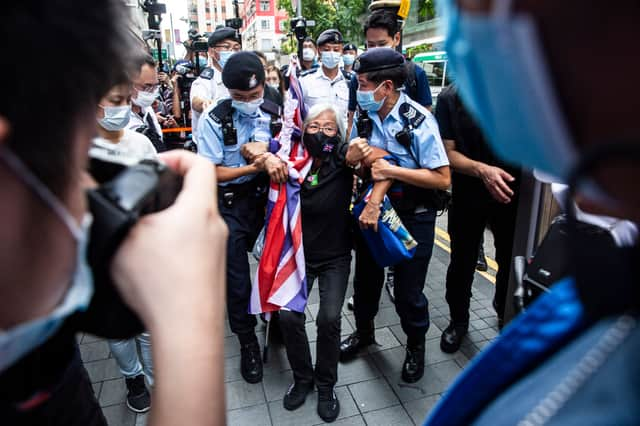 A Hongkonger, who moved to London after China passed its strict national security law in her country, says she can now "breathe freely" since coming to the capital.
Lily Wong * had a good life in Hong Kong, working as an administrator, but when Beijing passed its new authoritarian laws she knew she had to leave.
China's national security law, which was implemented on 30 June 2019, punishes protestors and reduces the former British colony's autonomy.
"I left Hong Kong because the situation has changed. Since 2019, everything has completely changed. Hong Kong is not the Hong Kong I was born and raised in anymore," the 61-year-old told LondonWorld.
"Today in Hong Kong all of our freedom has been taken from us, freedom of speech, freedom of writing, freedom of protest- everything.
"Personally I don't want to live in such a country. I want people to speak freely, to have a free mind. This was why I decided to leave."
Hong Kong was a British colony from 1841 to 1997, when the UK handed the country back to China.
The country was promised fifty years of self-administration and was governed under the "One Country,Two Systems" agreement.
This allowed Hongkongers to enjoy certain freedoms which were prohibited on mainland China. These included freedom of speech and assembly and to have an independent judiciary.
However, China's new security laws changed things.
"Up until 2019, we lived very happily and since I was born in Hong Kong, I got very used to the freedom that the British government gave us," Wong * explained.
"In 2019, an 180 degree turn occurred. The Chinese government started to control us. They took our freedom, they broke their promise rapidly."
"Before, I could criticise the government, but now I can't say anything.
"If you say something they don't like to hear, you will be in trouble.
"If you are a person of interest, they watch you.
"The worst thing is I don't know where the red line is. If I knew where the line was then I would know what to avoid saying, but they keep moving the line anywhere they like.
"I can keep my mouth shut if I know the regime but you don't know when you've crossed the red line.
"I don't think life will ever return to normal in Hong Kong.
"The Chinese Communist Party (CCP) knows their control of Hong Kong will have a big loss on the finances of the country and will impact how the world sees them, but they don't care
"The CCP only cares about power in the government. They have to secure their power."
The national security law has prompted the British government to allow almost three million Hong Kong residents to live and work in the UK through a special visa program.
Holders of British National (Overseas) or BNO passports, which were issued to Hong Kong residents before 1997, can apply for this special visa that puts them on a fast track to settlement and citizenship.
Wong* chose to come to London as her sister lives here and she attended university in the capital.
"Last year Boris Johnson gave Hong Kong nationals passports. That's why I can live here and work here.
"Having my sister here in London is a great comfort to me and I am familiar with the city. I come to visit every year and I studied here twenty years ago.
"I can breathe freely in London and I can talk freely.
"A lot of my friends have already left and some already are planning to leave. Not everyone will come to the UK. Some of my friends and family have gone to Australia and Canada.
"At the moment I feel like I can travel back to Hong Kong freely, but we don't know what will happen in the future."
In the first quarter of this year 34,300 people applied for the UK's special visa, according to Britain's immigration department.
*Lily Wong is a pseudonym given to protect the interviewee."