A former Tory London councillor - who took a selfie with Boris Johnson - was among a group of protesters haranguing Keir Starmer over false claims he "failed to prosecute Jimmy Savile".
The incident occurred as Labour leader Sir Keir and MP David Lammy were surrounded by a crowd yelling "traitor" and other slurs while they walked past the New Scotland Yard building, in Whitehall, near the Houses of Parliament last night (Monday, February 7).
Will Coleshill, a former Enfield borough councillor who now leads anti-lockdown group Resistance GB, was filmed accosting the politicians, in footage taken at just after 5pm.
Mr Coleshill, described as 'Willsy' filmed the encounter for the group's YouTube channel, where he is described as co-editor-in-chief and "on the ground reporter and researcher".
He is pictured wearing a Conservative Party rosette and smiling with Boris Johnson in selfies dated from 2018 posted on his Facebook page, which describes him as a teaching assistant.
The protest group also falsely accused the leader of the opposition of failing to prosecute paedophile Jimmy Savile in his former role as Director of Public Prosecutions (DPP).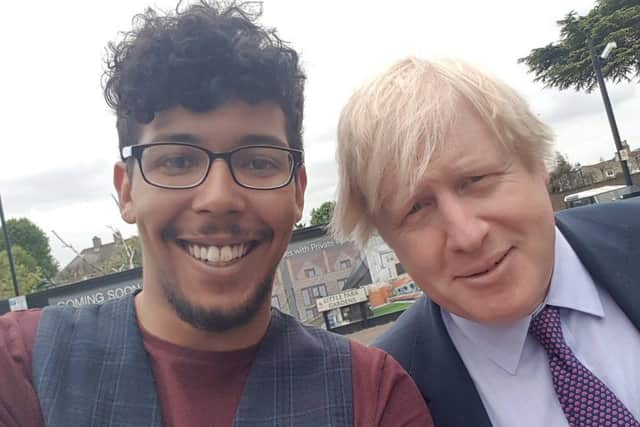 It follows prime minister Boris Johnson wrongly claiming in Parliament last week that while in the role Sir Keir "used his time prosecuting journalists and failing to prosecute Jimmy Savile".
The remarks have been widely condemned by Labour and some Tory MPs but Mr Johnson has so far declined to apologise.
He was rebuked in the House of Commons today (Tuesday, February 8) by speaker Sir Lindsay Hoyle, who said it was "inappropriate", adding: "Words have consequences."
As DPP, Sir Keir apologised on behalf of the service for the fact that the rank sexual offender was not prosecuted during his lifetime - but the claim Starmer was personally responsible has been discredited, and is known to be spread by extreme right groups on social media.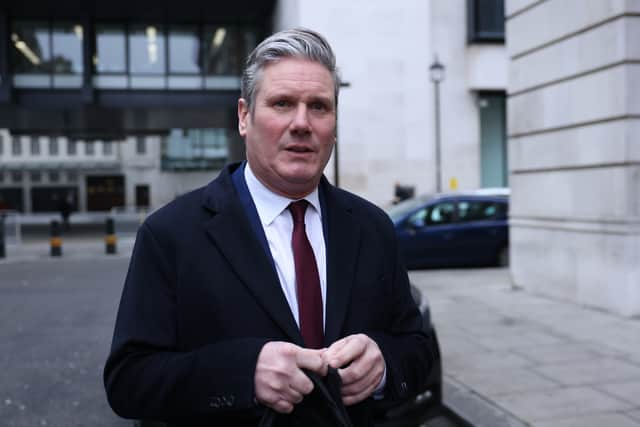 During the incident, Met Police officers bundled the opposition leader and the shadow foreign secretary into a car away from the hostile protestors.
And a force spokesperson said a man and a woman had been arrested at the scene after throwing a traffic cone at a police officer.
In October last year, he videoed himself demanding of Mr Gove: "How do you justify the illegal lockdowns that have been pushed on this country?".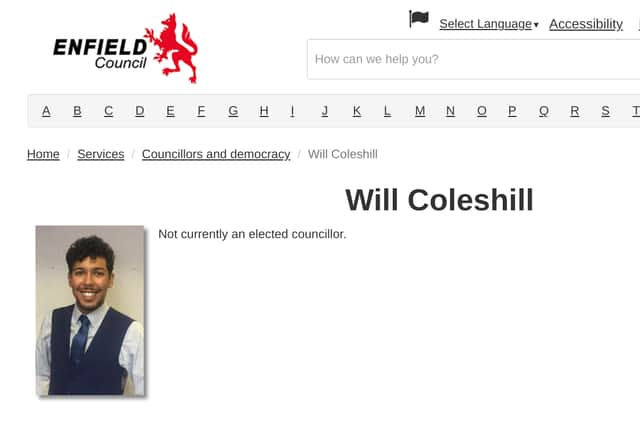 A bio on a Twitter profile from his former role states: "Conservative Councillor for Bush Hill Park. Associate Shadow Cabinet Member for Edmonton. Enfield Young Conservatives."
The Enfield Independent reported he was suspended as a councillor and party member in 2018 after making racist remarks about "mass migration" targeted at another councillor.
A comment on Resistance GB's Facebook page, signed by co-editor Laura, reads: "He left the Conservative Party because he realised they were not fighting for the good of the country as he wrongly assumed.
"He then became a journalist and is now exposing government criminality."
There is no evidence to support claims Covid-19 lockdowns were illegal, while polls show the British public overwhelmingly favoured measures to protect life during the pandemic.
In a tweet, Labour MP Helen Hayes said: "I heard this from my office. Even at a distance it sounded vile, angry and full of hate.
"It is the dangerous consequence of a Prime Minister who is willing to tout a conspiracy theory to deflect from his own mess."
The member for Dulwich and West Norwood added: "Johnson is a disgrace. Credit to David and Keir for their calm dignity."
The prime minister wrote on Twitter that he condemned the "absolutely disgraceful" behaviour and thanked the police for "responding swiftly", adding: "All forms of harassment of our elected representatives are completely unacceptable."
A Met Police spokesperson said: "Shortly after 5.10pm, a man who had been surrounded by a group of protesters near to New Scotland Yard, was taken away from the scene by a police car.
"A man and a woman were arrested at the scene for assault of an emergency worker after a traffic cone was thrown at a police officer.
"They have been taken into custody."
Mr Coleshill and Resistance GB have been contacted for comment.