The Podcast Show returns to London this week, with thousands of visitors and stars from around the world.
The two-day show is at Upper Street's Business Design Centre on May 24-25, with live evening podcast recordings taking place at venues around Islington.
Big names on the bill include Katherine Ryan, Emily Maitlis, Jon Sopel, Nish Kumar, Adam Buxton, Alice Levine, Nick Grimshaw, Elizabeth Day, Fearne Cotton, Roman Kemp, Ashley Flowers, Patricia Bright and Russell Tovey.
Independent podcast creators will feature, as well as industry experts and trade stands from the biggest names in media, such as Acast, Amazon Music, Wondery, Sky News, The New York Times, The Athletic, Audioboom, BBC Sounds, Global, Spotify and Audible, as well as tech firms including Veritone, Dolby, Sennheiser, and Sony.
The Podcast Show - 'We're super proud of what we're building'
Creative director Tom Billington previously worked at the BBC for 13 years as a producer and then editor across the music stations, and launched podcasts for shows. He also ran the new music platform BBC Introducing and the idea for The Podcast Show came when he was working with founder Jason Carter on BBC Introducing Live.
The 2022 Podcast Show was the first, after a delay from 2020 for obvious reasons. During that time the podcast industry saw massive growth, no doubt in part due to people's change in habits.
Last year television journalists Emily Maitlis and Jon Sopel attended and discussed their new podcast with Brexitcast/Newscast creator Dino Sofos, whose company Persephonica was producing it. Having made the gamble of leaving the BBC, The News Agents has since become a huge number one smash.
"It's the creative freedom that people have got within it - that's the beauty, that's what's attracting people to podcasts," Billington told LondonWorld. "Emily Maitlis and Jon Sopel are slightly different because they've gone to another big brand in Global, but many will just do it themselves, independently set themselves up because they've got the community and fanbase to do it. They can make an extra living out of it, in addition to their core business."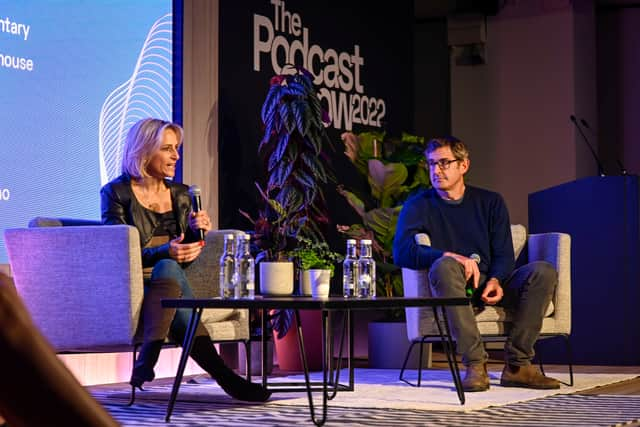 He said the show is hugely exciting as an international event for London: "We've got nearly 6,500 people here and nearly half of those are flying in from outside the UK to be at the event. This is the biggest representation of the global podcasting industry anywhere in the world. To have that on our doorstep - what a gift, what a thing for the industry in the UK...We're super proud of what we're building and what that means for the industry."
Live evening shows range from the Arsenal Fan TV's The Invincible Podcast ("It could have been a different story if they had won the league by this point, which we thought they were going to when we booked them...") to Adventures From the Bedroom of African Women Podcast: "A sold-out show, tonight, flying in from Nairobi, from the Middle East, from LA - a podcast company which is based remotely, all around the world.
"It's amazing. It's bringing all these different elements from all over the world, in different genres, all together here for a week."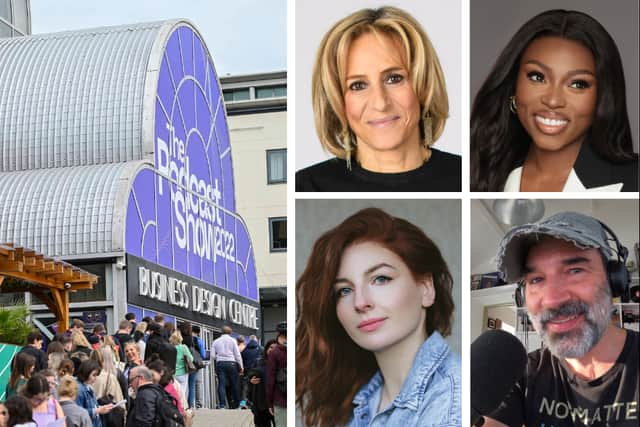 Podcast Show 2023 highlights
Along with industry figures, stars making an appearance include Katherine Ryan (Telling Everybody Everything), Russell Tovey (Talk Art), Dan Schreiber (No Such Thing As A Fish), Paul Chowdhry (PudCast), Luisa Zissman (LuAnna), Ashley Flowers (Crime Junkie) and Nick Grimshaw (Dish). Adam Buxton (Adam Buxton Podcast) will be in conversation with broadcasting legend and podcaster John Kennedy (Tape Notes).
Sessions from YMU Entertainment will feature Giovanna Fletcher (Happy Mum, Happy Baby), Raphael Rowe (Second Chance) and Gabby Logan (The Mid•Point).
Nish Kumar will discuss his new podcast, Pod Save The UK, and Emily Maitlis and Jon Sopel return. Roman Kemp will be interviewing Sam Thompson and Pete Wicks (Staying Relevant), and Adeola Patronne and Mariam Musa (Pressed).
Candice Brathwaite and Coco Sarel (hosts of Closet Confessions) will take part in a discussion hosted by Chanté Joseph (host of The Guardian's Pop Culture with Chanté) on why podcasts are the ideal space to bare all and lose your inhibitions.
At a dedicated space to support Black podcasters - +44 (from Amazon Music) Presents: The Black Podcast Creators Meetup - attendees can join Zeze Millz and David Whitely (Sideman), the show's creator and the Amazon Music UK Black music lead Dellessa James, and content creator Chuckie Online in a Q&A.
Amazon Music, Wondery, Women & Podcasts and UKAN will present The Women Podcast Creators Meetup, providing opportunities for attendees to connect with fellow female creators. Speakers include Sarah Meffert (Senior Podcast Manager, Amazon Music France), Charlotte Pudlowski (Louie Media), Rhea Chedid (Spotify) and Laura Blake (Head of UKAN).
The Podcast Show Live
The Podcast Show Live is a week-long festival, promoted by TEG Live Europe, taking place from May 22-28.
Shows on stage will include Rockonteurs with Gary Kemp and Guy Pratt, talking punk at the Screen on the Green; Adventures From The Bedrooms Of African Women; 13 Minutes to the Moon; The Girls Bathroom; Should I Delete That?; Brown Girls Do It Too; Kermode & Mayo's Take; and Tape Notes Live with Adam Buxton.
Venues across Islington include the Union Chapel, Islington Assembly Hall and The Business Design Centre.
How to get The Podcast Show tickets
Tickets need to be bought in advance for The Podcast Show Live events.
Tickets will be available on the door for The Podcast Show, from May 24-25, at The Business Design Centre in Upper Street.