Molly-Mae Hague is reportedly set to tie the knot in a Disney inspired ceremony after Tommy Fury gets down on one knee.
The fight took place just days after the couple welcomed their first child Bambi. A source close to Molly-Mae has since told Heat World that now seems like the "perfect time" for the pair to get engaged after meeting almost four years ago on ITV's Love Island.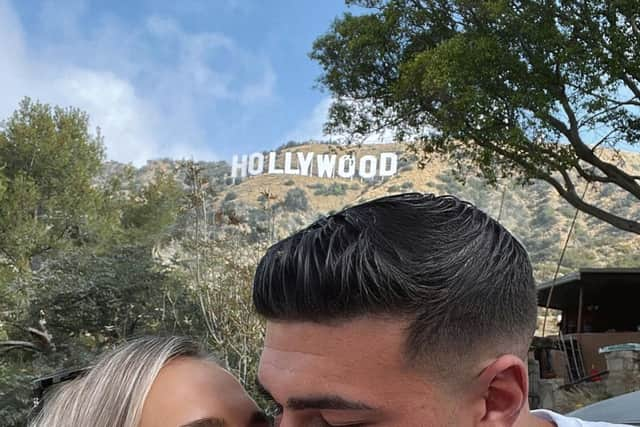 Tommy won his fight in Saudi Arabia in a split decision and returned to the UK just under £3.8m richer - which will come in use as the couple have great plans for their big day.
The insider said: "Molly wants to book a castle somewhere in the UK, where they'd have a banquet from a Michelin-star chef, performances from famous musicians, and a spectacular fireworks display. It's all going to cost at least seven figures.
"They also want it to be about their fairy-tale love story with Bambi playing a big part of the ceremony. They're huge fans of Disney, so Molly will be wearing a princess gown and arrive in a horse-drawn carriage. She wants the full Cinderella experience."
Tommy, who was greeted with a party to celebrate his win, has been praising his girlfriend Molly-Mae and has described her as "an amazing mother" after she looked after Bambi on her own whilst he was at training camp.
Molly-Mae has admitted that the couple have had some "tough times" recently behind closed doors as the pre-fight pressure impacted their family life.
Despite Tommy's glorious win, the boxer was keen to return home saying: "I just want to support my family. I've got a little girl now and I just want to make sure she is happy".
In a heartfelt social media post, Molly-Mae spoke about how proud she was of Tommy's achievement and posted: "DADDY'S HOME… The good guy doesn't always finish last, I am so proud of you".
Molly-Mae also posted an adorable black and white photo of her and Tommy on the couch as they cradled their little one.
Fans took to Instagram to congratulate the pair and to compliment Molly-Mae on the support she has shown her partner:
One posted: "You are a testament to Tommy's victory Molly. The support, the ethic, the love and belief".
Another commented: "Time for special time now 🥹🤍 all so proud of you both 🫶🏼 Bambi has the best parents. Love you both so much".
Fans have been keen to find out the couple's engagement plans too.
One eager fan said: "It's time to make Molly a Fury now, ring 💍 time".