Online Safety Bill UK: Former Love Island star Sharon Gaffka says messages make her 'scared' to do her job
"Every day, I am the recipient of unsolicited images, threats of sexual violence and misogynistic abuse online."
Watch more of our videos on Shots!
and live on Freeview channel 276
Visit Shots! now
Former Love Island star and Refuge ambassador Sharon Gaffka says the "level of violence" in some of the messages she receives online has left her feeling "scared" and "anxious" to do her job.
A bill to establish a new way to regulate online content, including abusive messages, bullying and pornography is being debated in the House of Lords.
The Online Safety Bill is currently at the start of its committee stage and campaigners hope it will establish a new way to regulate online content.
"With my line of work it's expected to receive some comments from people but sometimes the scale and level of violence in some of the messages I receive makes me sometimes scared to do my job or anxious to do my job," Gaffka told LondonWorld.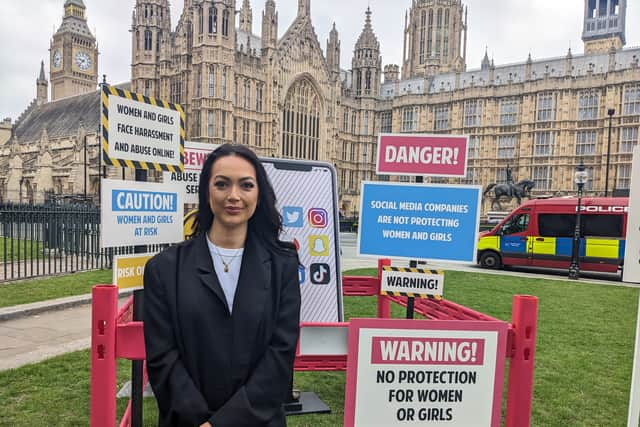 "Every day, I am the recipient of unsolicited images, threats of sexual violence and misogynistic abuse online.
"For me I don't know that the online messages I'm receiving are from somebody who lives at the top end of Scotland miles and miles away from me or if they are from somebody who crosses me everyday on the street.
"I would say that my home is the place I feel the most safe but with the way the online world is escalating I don't.
"Today, I hope the government and peers who are now looking at the Bill, will listen to the thousands of Refuge supporters, who have all taken action."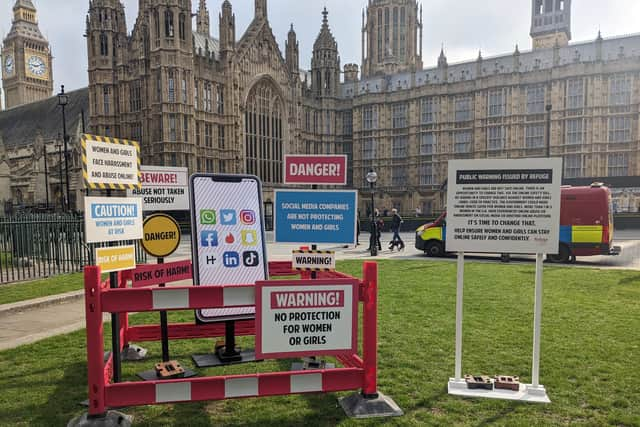 To coincide with the House of Lords debate, domestic abuse charity Refuge installed a "danger zone" opposite the St Stephen's Entrance to the Houses of Parliament highlighting the epidemic levels of online abuse aimed at women and girls.
The installation featured a giant mobile phone to highlight the multiple spaces online where women are at risk of abuse.
Signs around the site warned passers-by of the dangers to women and girls across social media platforms with slogans like 'Warning! No protection for women and girls' 'Caution! Women and girls at risk' and 'Beware! Abuse not taken seriously'.
The TV star is calling on the government to provide better protection for women and girls online.
"As someone in the public eye, I know how horrific online abuse and harassment is, but it's not just those in the public eye who experience this," said Harrison.
"A recent survey by Refuge found that one in three women in the UK has experienced online abuse or harassment on social media or another online platform.
"How can we sit back and allow this to happen? We need to make a change."
"I want women and girls to feel able to be online safely and confidently.
"The solution cannot be for women to come offline."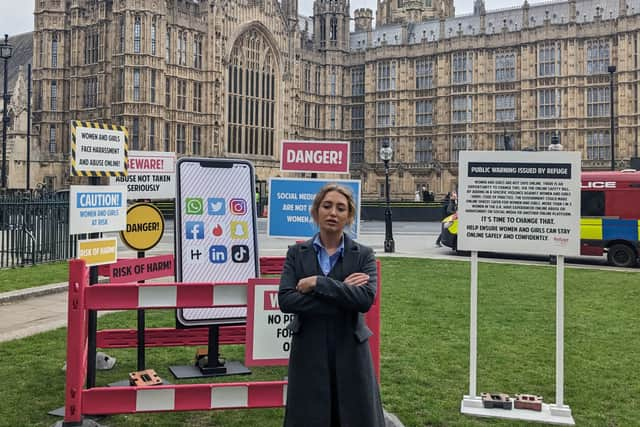 Refuge and sector partners are also calling for a violence against women (VAWG) Code of Practice to be included in the Online Safety Bill.
Refuge says that including a VAWG Code of Practice would mean that social media companies would be given specific guidance to enable them to understand, address and respond to online violence against women and girls.
The charity says tech companies should put systems in place to help prevent perpetrators using online platforms to abuse, stalk, harass, monitor and control survivors.
An amendment has been tabled by Baroness Nicky Morgan, 5Rights Foundation chair Baroness Beeban Kidron, Lord James Knight and Rt Rev Lord Bishop Paul Butler.
Jess Eagelton, policy and public affairs manager at Refuge, said:  "Including a VAWG Code of Practice would be a simple step, but one that has the power to improve the lives of countless women and girls.
"The government has said that it considers VAWG to be a 'national threat', but we simply do not see that being translated into online protections.
"Experts and survivors alike have told us how important it is that social media companies are held to account for the levels of online abuse being carried out on their platforms.
"At the moment, they're marking their own homework and getting away with a shameful response to survivors.
"Something must change if the government is serious about its commitment to tackling online VAWG.
"We are urging the government and peers to support this amendment and add a VAWG Code of Practice to the Bill."