Banking giant Natwest has announced 43 of their branches in Britain will close as technology takes over. Natwest says it is reducing its presence on Britain's high streets to cut costs and as a result of more customers moving to online banking.
According to finder.com, in 2022, an estimated 93% of the UK adult population will be using some form of online banking. This figure was arguably sped up due to the coronavirus pandemic, forcing people to bank from home.
A NatWest spokesman said: "As with many industries, most of our customers are shifting to mobile and online banking, because it's faster and easier for people to manage their financial lives."
This is a move that major banks have been making since the pandemic. Earlier in 2022, Santander and Lloyds banks both closed branches in the UK.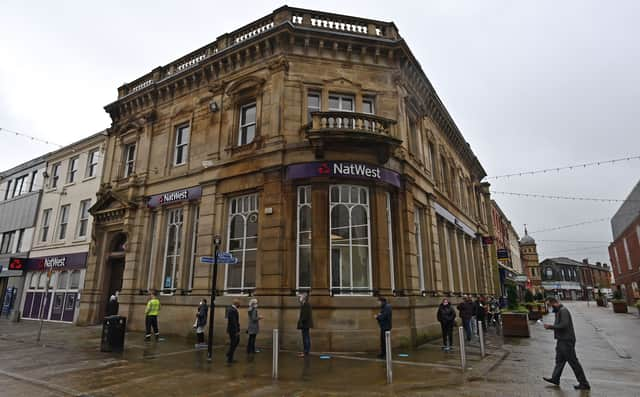 Are any of the banks in London?
Out of the 43 branches to close, three are located in London.
Balham - 128 Balham High Road, London SW12 9AA
Addiscombe - 209 Lower Addiscombe Road, Croydon CR0 6RB
Bloomsbury Parrs - 214 High Holborn, London WC1V 7BF
The Balham branch will close on January 24, 2023. The Addiscombe branch will close on January 17, 2023 and the Bloomsbury Parrs branch will close on January 10, 2023.
Full list of Natwest branches set to close
Here is the location of every Natwest branch set to close in Britain.
Henley-on-Thames
Thame
Cheltenham Bath Road
Ayr
Dundee
Devizes
Beeston
Berkhamsted
St Neots
Cleethorpes
Broadstone
Market Harborough
Clitheroe
Eastleigh
Shipley
Ilkley
Buxton
Glossop
Aberdeen
Southsea
Tonbridge
Sandbach
Waterlooville
Cheadle
Glasgow
Headington
Caterham
Oxted
Coventry Walsgrave Road
Edinburgh
Gerrards Cross
Lewes High Street
Balham
Uckfield
Addiscombe
Stourbridge
Whitehaven
Wetherby
Potters Bar
Bromsgrove
Wokingham
Bloomsbury Parrs
Upper Parkstone