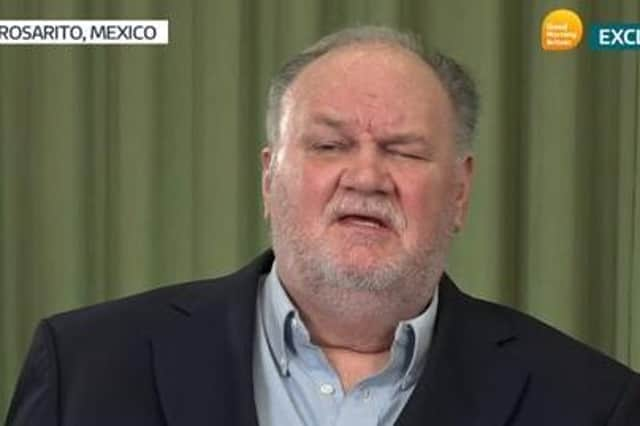 Megan Markle's father spoke to Good Morning Britain live from Mexico on Tuesday morning.
During the interview he addressed a number of things surrounding the four and a half year feud between himself and the Duchess of Sussex.
Mr. Markle branded the feud "ridiculous" and went on to say they should make up "for the sake of the children".
The 77 year-old American was asked about why he thinks Megan and Harry have made the decision to keep him at "arms length".
"I don't know what changed her. She's never been that way before and once she hooked up with Harry she changed," he alleged.
He then went on to discuss the current lifestyle of the young couple who are currently living in California.
"I think Harry has abandoned the Queen, his grandmother, the royal family, the British people and the army. He's abandoned them all," the Duchess of Sussex's father told ITV's Good Morning Britain.
"All he does now is ride a bicycle around the neighbourhood... I don't know if it's much of a life for him either. It doesn't make sense."
Markle went on to add that he has sought legal advice in seeing his grandchildren: "I've been told by several lawyers that grandparents have sued to see their grandchildren and won in California but I'm not going to do that.
"I don't want to involve my grandchildren as pawns in a game, they're not part of the game."
In the past it has been reported that Megan and Harry had reached out to Thomas asking him to stop making public appearances, and discussing the feud.
He responded to questions addressing why he is still going to such public lengths: "I've made it quite clear that until I hear from her, I'll keep doing it," he said.
The interview was met with much criticism, with many asking why Markle is once again seeking a platform:
Magazine deputy editor, Jessica Noah Morgan said: "There's something quite tone deaf about Thomas Markle. Surely you'd know that your daughter has cut you off because you keep bashing her to the press? How can you be that unaware?"
In addition to the social media uproar, multiple viewers made formal complaints regarding Markle's appearance on the popular morning show.
One user wrote: "I see Thomas Markle has crawled out of a hole and is back emotionally abusing his daughter again, on live TV. When will GMB stop giving this disgraceful man airtime?"
With another writing: "I have made a complaint and will be complaining directly to ITV and GMB also. Thomas Markle needs to stop being invited on British telly to bully his daughter who does not live here."