Abdullah Qureshi, from West Yorkshire, was convicted at Stratford Magistrates' Court of carrying out anti-semitic attacks on members of the Jewish community in Hackney.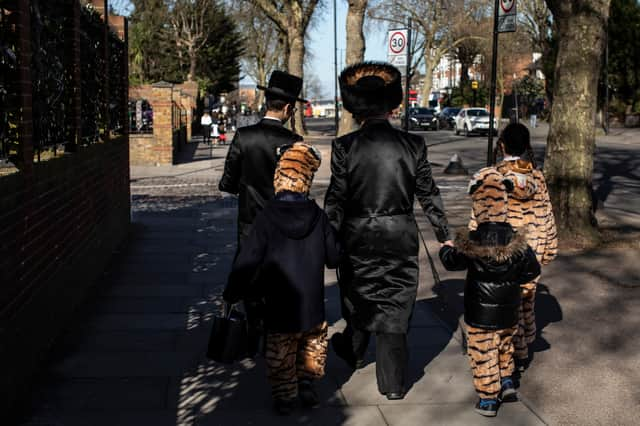 Police received three reports of people being assaulted in Stamford Hill on August 18, 2021. A man was struck on the head with a bottle on Cazenove Road and a 14-year old boy sustained minor injuries when he was attacked. In a statement, the teenager said: "The man said nothing to me and just slapped me and walked away.
"That's not good for me or anyone who is Jewish or anyone else. That must not happen to anyone."
At 8.30pm on the same day, a 64-year old man was hit in the face when he was making his way to the synagogue. Mr Lipshitz suffered facial injuries and fell to the ground, breaking a bone in his foot. He was taken to hospital for treatment.
Qureshi, 30, told Stratford Magistrates' Court "it was just a coincidence" that the three people he attacked were all wearing traditional orthodox Jewish clothing.
He said he had just lashed out after becoming "angrier and angrier" after a row in a shop.
District Crown Prosecutor Varinder Hayre said: "The assaults Abdullah Qureshi carried out were entirely unprovoked and based solely on his religious hatred.
"Mr Lipschitz, continues to suffer pain and dizziness several months after the attack, and the 14-year-old boy was traumatised by the incident and remains fearful when he is in the street.
Qureshi was arrested by West Yorkshire Police on September 2, 2021, at his home in Dewsbury, West Yorkshire. He was recognised following a Metropolitan Police Service appeal.
Qureshi was bailed to appear for sentencing at Snaresbrook Crown Court on Thursday December 8.
Detective Chief Inspector Yasmin Lalani, from the local policing team, said: "This outcome demonstrates that the Met will not tolerate any form of discrimination or abuse. London is an incredible and diverse city and it is completely unacceptable for certain sections of our communities to be subjected to deplorable abuse and harassment."
DCI Lalani added: "I would like to thank Shomrim, the Community Security Trust, Hackney Independent Advisory Group and the Crown Prosecution Service for their support throughout our investigation. Together we have achieved justice for the victims. Our message is clear – we will not tolerate hate crime. Do not come to Stamford Hill to commit offences against our community – we will hold you to account."
If you experience hate abuse of any kind, we would urge you to report it. Officers are ready to investigate offences and support anyone who has been affected by someone else's prejudice, ignorance or violence. Crimes of this nature will not be tolerated.
To report a hate crime, call police on 101, report online or tweet @MetCC. If there is an immediate risk or an emergency situation, always call 999.