The British Museum closed today due to strike action, with workers saying it is a "privilege to work there, but that doesn't put food on your table".
Members of the Public and Commercial Services (PCS) Union have taken industrial action following a dispute over pay.
They join thousands around the country on what has been dubbed "Walkout Wednesday" and will be the biggest day of action in a decade.
Security guard Joseph Mahoney said: "It's a national strike for the PCS over our pay claim. We've been offered 4% and we're after 10%."
He added: "It's a lovely environment, we feel very provileged to work in there - but obviously that doesn't pay your bills, doesn't put food on the table."
Fellow security worker Michael Soper said: "It's been over two years. We had a review, which didn't go very well, and enough's enough. Pay's going down, the cost of living's going up, and it's come to this.
"It's a sad thing. We never wanted it to happen."
Most of the workers striking are security guards or in visitor services, and union rep Samuel David said there are many issues, adding: "We have been really under-paid for a long time."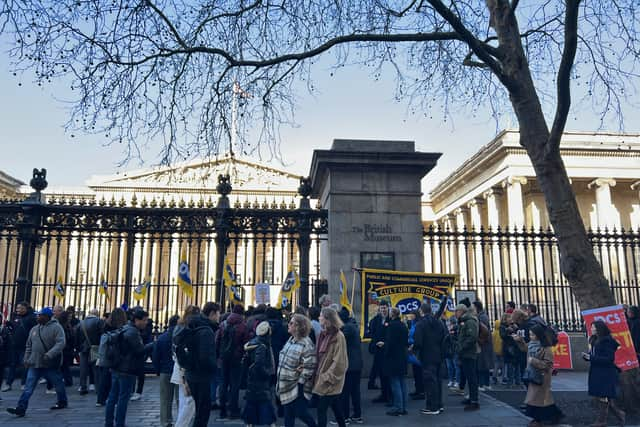 A British Museum spokesperson said: "Members of the Public and Commercial Services Union (PCS) are on strike today as part of a nationwide dispute across the public sector. While this is outside the control of the museum, it does affect our ability to open safely to both our visitors and staff, so we have taken the decision to close the museum today. This is not a decision taken lightly and we apologise for any inconvenience this may cause."
The PCS union also represents civil servants working at the Driver and Vehicle Licensing Agency (DVLA), the criminal courts, His Majesty's Revenue and Customs (HMRC) and the Department for Work and Pensions (DWP).
Further action is planned for February 13-17, during half term.
Around 100,000 PCS members in 123 government departments were preparing to walk out on February 1.
PCS general secretary Mark Serwotka said last week: "We warned ministers that our action would spread if they ignored our demands, and we're good to our word.
"In failing to come to the table with any new money, the government has failed its own workforce – the very people they praised for keeping the country running during the pandemic.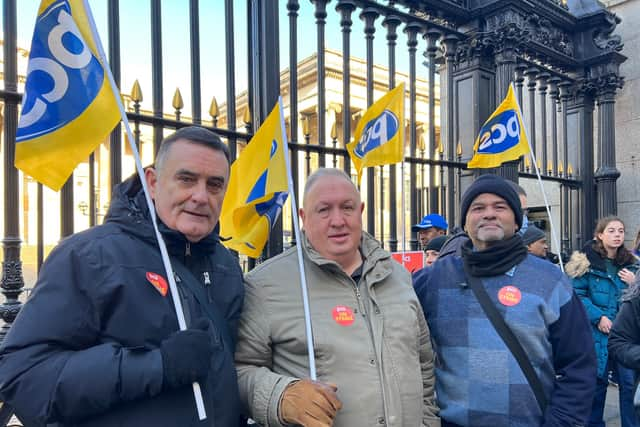 "If the government was serious about resolving the dispute, ministers could resolve it tomorrow. Instead, they're shamefully hiding their heads in the sand, hoping we'll go away. We won't.
"Wednesday will see the largest action by our union in a decade, with 100,000 of our members all over England, Scotland and Wales telling the government they demand a pay rise now to help them through the cost-of-living crisis and beyond."
The Department for Culture, Media and Sport was asked for comment.