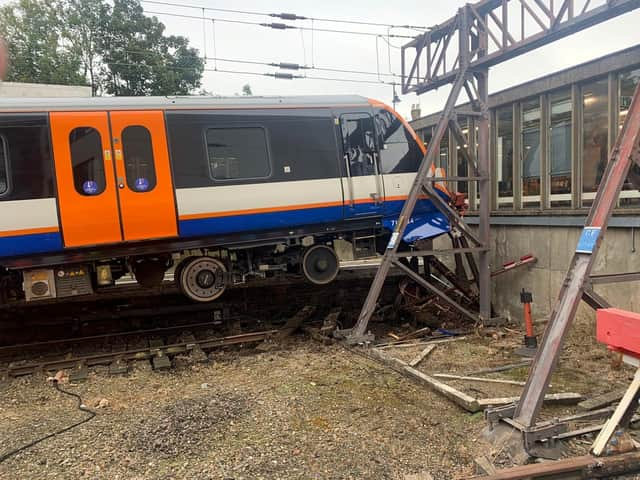 The London Overground crash at Enfield Town this morning. Credit: London Fire Brigade / SWNS
A London Overground train smashed into the buffers at Enfield station, and dramatically derailed, leaving two people injured.
Shocking photos showed the carriage on its side, after it had crashed into the buffers at the end of the line.
Around 50 passengers had to be evacuated from the eight-carriage London Overground train by station staff.
Emergency services attended to the two injured passengers.
The train left Liverpool Street at around 7.45am - right at the heart of morning rush hour - and hit the barriers at around 8.15am.
The crash at Enfield Town station this morning. October 12 2021. Two passengers were injured and 50 evacuated from a derailed train after it crashed through the buffers and nearly hit the station. Credit: London Fire Brigade / SWNS
Pictures taken and shared on social media of the incident show the train angled upwards against the buffers it crashed into, narrowly missing the station building.
A London Ambulance Service spokeswoman said: "We were called at 8.16am this morning to reports of a train derailed at Enfield Town railway station, Enfield.
"We sent a number of resources to the scene: one ambulance crew, an emergency planning officer, a clinical team manager, two incident response officers, medics in cars, and our hazardous area response team.
"Two people were assessed at the scene for minor injuries, but they were not taken to hospital."
Three fire engines and two fire rescue units also attended the scene, and carried out a systematic search of the train to ensure that no other people were trapped.
An overhead shot of the crash at Enfield Town station, north-east London, which injured two passengers. Credit: Robert Likovszki / SWNS
Jim O'Neill, Edmonton fire station commander, who was at the scene, said: "The train had hit the buffers at the station, which is at the end of the line, and gone up over the top of them.
"Firefighters carried out a systematic search of the train to ensure there were no further people on board.
"Crews assisted station staff to make the scene safe and a recovery operation will now be carried out."
A resident who lives in a flat overlooking the station said his family was "scared" when they heard the loud crash and looked out the window to see the derailed train.
Another man who worked nearby described hearing the huge "volume of fire engines and ambulances at the scene" and went to see what happened.
One commuter also told of the "chaos" when he arrived at Enfield Town and was forced to try and catch a train from another station.
The overground services between Enfield Town and Edmonton Green have been suspended as a result of the crash. Network Rail said the service is not expected to resume as it should until 3pm this afternoon.
A spokesman said: "An operating incident at Enfield Town means no trains will run between Edmonton Green and Enfield Town.
The crash at Enfield Town station this morning. The London Fire Brigade and Ambulance Service were called. Credit: London Fire Brigade / SWNS
"Trains will continue to run as normal between London Liverpool Street and Edmonton Green before taking a diversion to terminate at/restart at Cheshunt. We expect this to continue until approximately 3pm."
Rory O'Neill, TfL's general manager for London Overground, said: "A London Overground train had a low speed collision with a buffer at around 8:20am this morning at Enfield Town station.
"Emergency services attended this morning and there will be a full investigation to establish how this happened."