"We're facing a tough time at the moment," said Andy Watson, a junior medical registrar at St Thomas' Hospital in Westminster.
Andy, who has been working for the NHS for the last six years, said younger doctors have been "struggling behind the scenes" for quite some time.
Thousands of junior doctors are currently on a three day strike as part of a dispute over pay and conditions.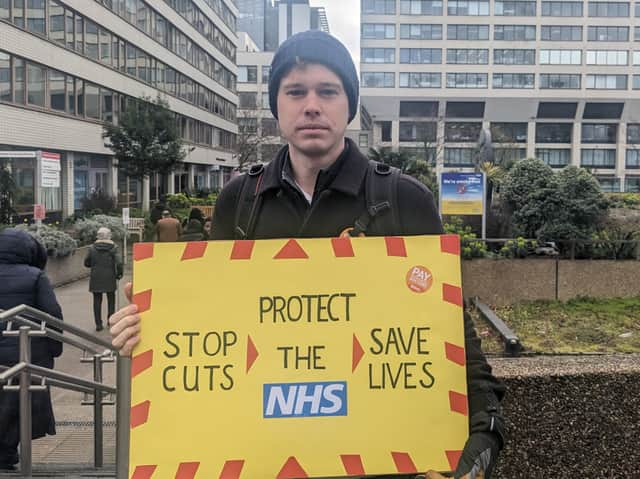 "We're paid very little for the work that we do. The starting salary for a foundation year one doctor is about £14 an hour," said Andy, standing outside St Thomas' on the second day of the strike action.
"They're making life and death decisions, sometimes in the middle of the night and sometimes without a lot of support.
"That's not an appropriate salary for that role and it's probably something that has been ongoing for some time.
"I think it's important that we recognise it and try to draw up some support to rectify it."
The BMA is joined by juniors from the smaller Hospital Consultants and Specialists Association and the British Dental Association this week in its industrial action.
They are demanding "pay restoration" after cuts of 26% once inflation is taken into account since 2008. They said the 35% rise is needed to make up for the 26% cut.
However, along with financial concerns, Andy said he and his colleagues have had struggles with their mental health due to the demands of the job.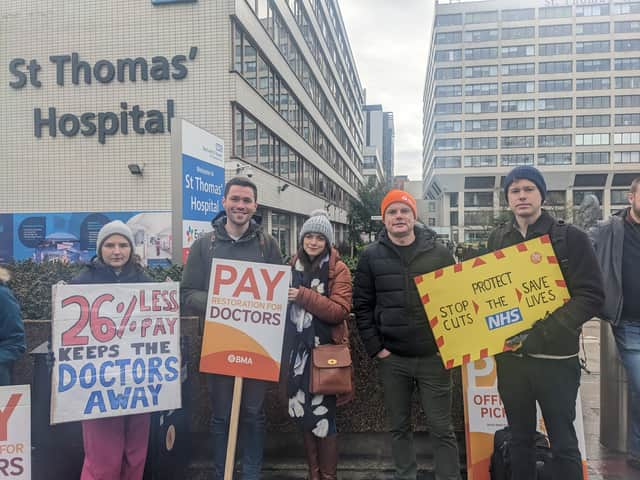 "We mostly love our jobs, we love the highs of the job looking after people and making big decisions that affect the rest of people's lives," he continued.
"The highs are really high and the lows are really low.
"I think lots of people, including myself, have had significant mental health problems and Covid has made that worse.
"I know people have been crying on wards because of the things that they have seen and have been experiencing.
"That's probably pushed us to try and recognise the problem and offer support to colleagues."
Andy also says that many of his fellow colleagues have quit the profession or have moved abroad.
The NHS is currently facing the greatest workforce crisis in its 74-year history, with 9,000 doctor vacancies.
A recent BMA survey revealed that four in 10 junior doctors are actively planning to leave the NHS as soon as they can find another job.
"I certainly have friends and colleagues that have either left for other countries. A few people I know have moved to Australia to work as the pay is better and their working lives are better," Andy continued.
"I also know doctors who have quit and you see them in their lives after medicine and they seem genuinely happier.
"I've certainly considered it."
Rota gaps are another challenge junior doctors are faced with.
"In large teaching hospitals it's easier to fill rotas because people are quite keen to work in these types of centres," said Andy.
"But even at bigger hospitals you can start a shift and two or three of your colleagues are unwell and the rotas have not been filled.
"You might be doing a 13 hour shift and the circumstances are tricky so kind of anticipating rota gaps and trying to plan for them would be helpful."
Improving conditions for doctors working overnight is something else Andy would like to see.
"Just simple things really, somewhere to sleep when you're on a night shift, if you get the chance.
"I've caught 20 minutes of sleep on the floor before, no pillows or anything. It's just miserable.
"Also to have something hot to eat at night, other hospitals I've worked at across London don't have provisions for food and drink out of hours, maybe a vending machine that's broken.
"Access to mental health services would also be helpful."
In England last year, 3,229 doctors resigned from the NHS, with 341 citing burnout as the reason - double the figure a decade ago.
The number of doctors leaving has accelerated rapidly since the pandemic - last year almost 13,000 doctors in the UK gave up their licence - up by 9% on the year before.