Six London boroughs are among the 14 local areas with the highest numbers of deaths among homeless people, figures slammed as "obscene" and "heartbreaking" have revealed.
Shock numbers revealed more than three homeless people are dying every day in the UK, as the true state of the rate of deaths among people without a stable home has been exposed.
Fact finding mission Dying Homeless has found 1,286 people died in 2021 while they were without a home, compared to 976 in 2020 and 710 in 2019 - an increase on 2019 of 80% and 32% on 2020.
This equated to a fatality on average of every seven hours.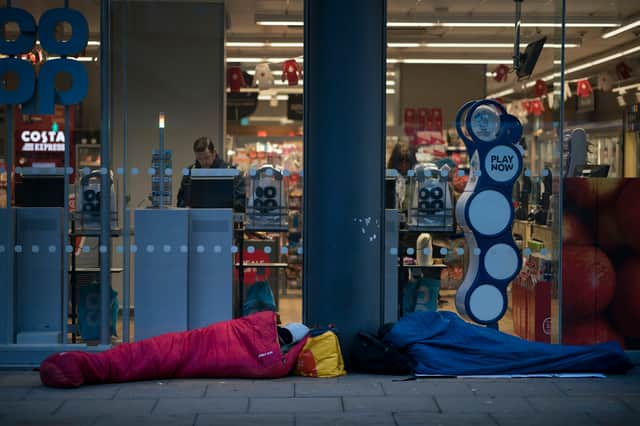 The findings have been described as "heartbreaking" and an "obscenity" by homelessness campaigners, and a "tragedy" by the government.
Of the 14 local authorities in the UK which saw the highest number of homeless deaths, six of these were in London, with the highest number in the capital in Westminster.
It comes after outrage in 2018 when homeless resident Gyula Remes died across the road from the Houses of Parliament, where he had been sleeping rough in a Tube underpass.
His death was the second homeless fatality in that passageway in ten months, and sparked outcry among the public and MPs.
Labour foreign secretary David Lammy MP said at the time: "There is something rotten in Westminster when MPs walk past dying homeless people on the way into work."
According to poverty charity Trust for London "rough sleeping is a serious issue" in the borough, with 2,757 people seen by charity and volunteer staff throughout 2019 to 202.
This is more than 10 times higher than the typical London council area.
Yet the average Westminster house price in January 2022 was just over £1million, figures from the House Price Index and the Land Registry show.
Thirty-three homeless people died in Westminster in 2021, a rise of 15% on the 28 deaths in 2020, and the local authority was the third worst throughout the UK, behind Glasgow and Bristol, the MoH figures found.
There were 19 deaths of homeless people in 2021 in Enfield, and 14 each in Southwark, Kensington and Chelsea, Tower Hamlets and Barnet, all of which had increased compared to 2020.
The only London borough to note an improvement in its figures was Camden, which saw the number of homeless deaths drop from 16 in 2020 to 11 in 2021.
Described as a "devastating increase" by organisation The Museum of Homelessness (MoH) who are behind the project, the scheme charts deaths by Freedom of Information (FoI) requests, news reporting, inquests and members of the public.
Data undergoes strict verification, with each death confirmed by an FoI, coroner, charity or relative, the MoH says.
The rise in deaths is despite the government's 'everyone in' policy led by Baroness Louise Casey during the first coronavirus lockdown, which saw all homeless people given a place to stay to help stop the spread of the virus.
Co-founder Jess Turtle called the findings a "hammer blow" and said: "It's heart-breaking to see so many people dying and to feel so helpless in the face of such a serious emergency.
"Government neglect means things keep getting worse with new provisions for mental health, addiction and social housing failing to make up for previous cuts."
And Matt Turtle, fellow co-founder, added: "Too many people are dying in dangerous accommodation run by unregulated landlords and funded by the taxpayer.
"Our research suggests over 90% of deaths in the cases where we know of a person's situation occurred after they were placed in insecure accommodation."
The MoH is urging the government to reverse its £40m cuts of over a third to discretionary housing payments and end the freeze to local housing allowances, to help with rising rents.
Taxpayer-funded hostels, which receive more than £800m-a-year from the public purse and often "fail to meet their most basic obligations", should also be urgently regulated, they say.
Jess and Matt are also calling for an inquiry into homeless deaths and for mandatory fatality reviews to be brought in in every local authority, to ensure services are learning lessons.
Campaigner Stefan Simanovitz, from homeless charity Take One Leave One, which provides warm clothes to rough sleepers, said: "Today's figures are devastating and heartbreaking and are a damning indictment of this governments failing homelessness policies
"It is an obscenity that we have to do this in a country which is one of the wealthiest in the world."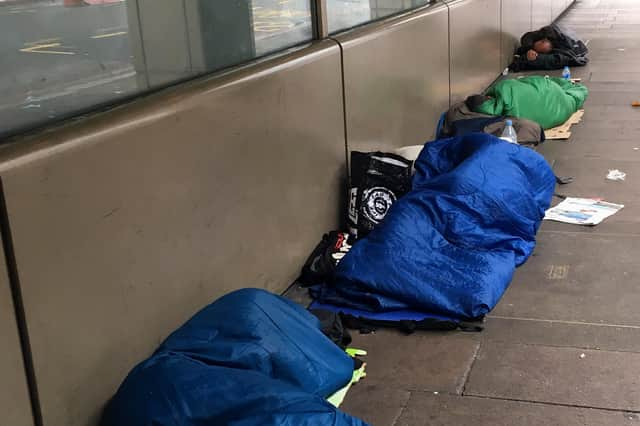 He said the statistics "expose a failure of government", adding: "Homelessness is not something that should exist in this country.
"It's something that we could get rid of - we got rid of it during the pandemic and Finland has got rid of it through their Housing First policy.
"What is needed is a change in policy. But in the meantime, we hope to work with charity shops to ensure that there is a TOLO rail on every high street across the country."
The government says its annual rough sleeping statistics show numbers of homeless people have fallen in every region of England, taking levels to an eight-year low overall.
A spokesperson from the government department of Housing, Communities and Levelling Up (DHCLU) said: "Every death on our streets is a tragedy.
"Our most recent statistics published by the ONS estimated that homeless deaths decreased by 12% in 2020 compared to the previous year.
"Even one death is one too many, which is why councils will receive £2bn over the next three years to support the homeless.
"We also are working closely with the health and care sector to ensure people sleeping rough get the support they need for substance misuse and mental health assessments."
And the figures come the day after the City of London Lady Mayoress' Sleep Out which was held at the Guildhall from 9pm on Wednesday, March 30, raising money for charity the Spitalfields Crypt Trust and highlighting that homeless Londoners experience the worst health inequalities in the capital.