High Holborn: Camden traders face high business rates and home working - 'Now the big brands are leaving'
Traders tell LondonWorld how High Holborn has changed in recent years, and about the struggles faced in a forgotten corner of Camden.
Watch more of our videos on Shots! 
and live on Freeview channel 276
Visit Shots! now
High Holborn is sandwiched between the West End and the City of London and its rents are lower than in those two areas - but still high by any normal standards. Added to which, business costs are rising and Holborn has been particularly impacted by continued home and hybrid working since 2020.
According to Office for National Statistics data, between September 2022 and January 2023 16% of the British workforce still worked entirely from home, with 28% mixing home and office working. At that time 40% of survey respondents had worked from home at some point in the past week, compared with 12% in 2019.
Also faced with the continued rise in online shopping, High Holborn, which is in the borough of Camden, has seen the closure of businesses including the Paul bakery chain, New Look clothing and Boots pharmacy.
'High Holborn has changed'
Danny, who works at a fruit stall outside Chancery Lane Tube Station, has been a Holborn resident for over 50 years. He said high business rates have contributed to making it a ghost town.
"Slowly but surely, it's coming back but the character just isn't the same," he said, adding that Covid "killed everything".
"Before, this store was really busy but now people only come in three days a week and stay at home for the other two so that's ruined it," he said. "I think it's mainly due to Covid but also the ridiculously high rates."
Business rates are set by central government and based on the rental value of commercial properties, which is high in central London. Last November, Jeremy Hunt froze business rates and the chancellor is already facing calls to freeze them once again.
Local councils provide business rates relief for small businesses and Danny called for more support from Camden.
With his fresh produce cheaper than the supermarkets, he said: "This store will be okay but, you know, not taking as much money as it should do."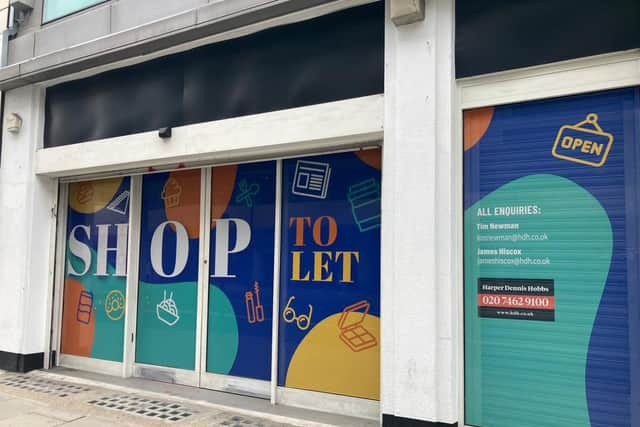 'Not the same'
Alberto is bakery manager at Gail's Bakery, which opened in December. He said shared office workspaces are reopening after Covid, "so lots of new faces have been coming in", but said "things are not quite the same".
"Prior to Covid, we used to get a lot more trade when working from home wasn't a thing. The trade has changed a lot in terms of which days are busiest. Previously, there was a consistent trade from Monday to Friday and now the only busy weekdays are from Tuesday to Thursday."
He said a turnover of businesses is part of being in a city like London.
"This was true before Covid and is even more so now because the supply chain has changed and customer bases dissipated so this has reflected negatively on a lot of businesses in High Holborn," he said.
"It is happening more often and on a larger scale. For example, before it was only happening to smaller companies or startups but now to well-established brands. Not because they are struggling but because a shop in this location is no longer financially viable."
Alberto said there is more the government and the local authorities can do.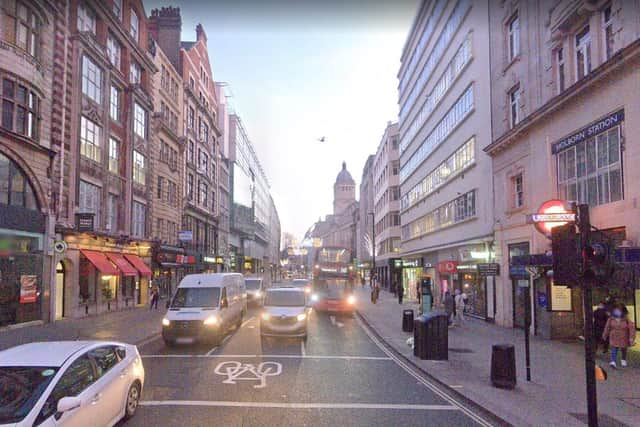 "We definitely need more attention because although we have never been a true retail destination," he said. "We have always had food and retail businesses that have now disappeared and they need to be encouraged to come back."
Schemes where startups are offered short-term and free use of vacant properties have operated in areas like neighbouring Oxford Street in Westminster.
"Something like that could be implemented in this neighbourhood," said Alberto. "The issue is that we are under Camden Council which extends to the north, so their focus might be more on residential areas.
"Rents fell during the pandemic and are slowly climbing back up again so if the council could intervene and offer vacant shops at reduced rates, it would be ideal."
'It's a great place'
Amin, who works at a souvenir shop in the former Boots, at 24-25 High Holborn, is very positive about the area, saying: "It's a great place with good people and customers, so I haven't experienced any issues. School holidays and weekends don't have a lot of customers, but the flow is good during the week due to all the office workers.
"The only thing I would change is that there are so many food shops on the same road, and retail stores suffer more. Being an office-based area, most customers want food items to grab-and-go, so it's not as easy for this type of store."
Camden Council
A Camden Council spokesperson said: "Our high streets play an important role for communities throughout the borough and we are committed to seeing them thrive, especially when we know businesses across the country are facing very challenging times.
"While business rates are set by national government, we remain committed to using the powers that are available to us to provide business rate relief to small businesses and continue to push for business rate reforms as part of our drive to deliver an inclusive and mixed economy in Camden."
Central District Alliance, the business improvement district covering Holborn, was approached for comment.