Indigenous peoples protest against Science Museum's sponsorship deal with part of the Adani Group
The charity Survival International has claimed that the Indian company's coal mines are responsible for destruction of indigenous land around the world.
Watch more of our videos on Shots!
and live on Freeview channel 276
Visit Shots! now
Climate activists and indigenous peoples protested outside the Science Museum urging it to cut its ties with the coal mining company Adani Group.
The charity Survival International has claimed that the Indian company's coal mines are responsible for destruction of indigenous land around the world.
Adani Green Energy, whose parent company is the Adani Group, is sponsoring a variety of exhibitions at the Science Museum, in South Kensington, including on climate change.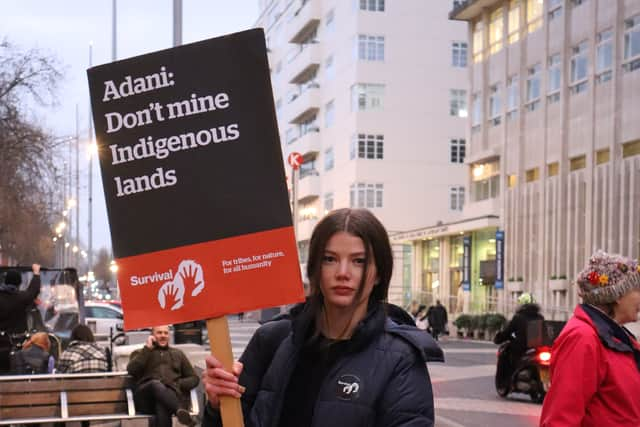 Jo Woodman, senior campaigner at Survival International said: "Indigenous people in India, Australia and Indonesia are desperately saying no to these mines, they do not give their consent.
"The lands are sacred to them, the lands are vital to them and they are saying please stop mining on our lands.
"The Science Museum is not listening to this it's not respecting indigenous people, it's not respecting their rights. It's siding on the wrong side of history with a company that is so heavily invested in coal. I mean it's 2022 and we know, the whole world knows problem with coal.'
Ruby Hembrom, an indigenous publisher from West Bengal, India, told LondonWorld that the Adani Group is "destroying lands, destroying people, destroying forestry".
A group of scientists joined the protest, including Dr Lynn Bjerknes who said that big corporations are still a long way off their environmental promises.
She said: "We need to do it in a social responsible way, a way that doesn't displace the indigenous people and that's currently what is happening with Adani."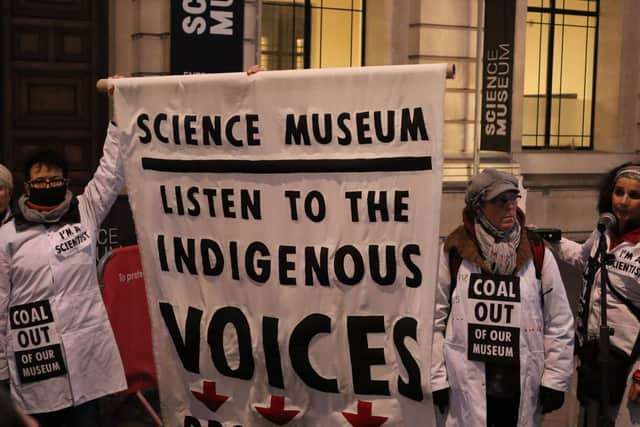 Last month, numerous indigenous peoples wrote a letter to the Science Museum urging it not to continue with its sponsorship with Adani.
It said: "Indigenous communities in all these countries are experiencing land-grabs, repression, the destruction of sacred lands, pollution of air, land and water and, of course, the worsening impacts of climate change exacerbated by burning coal.
"When Indigenous peoples approach the museum with deeply held concerns that their rights are being violated by one of its partners, they must be respected, listened to and acted upon, not dismissed as exaggerated and untrue."
LondonWorld has contacted the Adani Group and the Science Museum.
Previously the museum's chair, Mary Archer, had defended the deal, saying Adani Green Energy was only part of the overall group.
She said: "Each of the businesses is an independent, publicly traded entity with its own board of directors.
"This clear distinction is important, specifically because of Adani Green Energy's potential to have a very positive impact, both in supporting millions of people in India who have currently no access to electricity and in expediting India's transition away from coal.
"Given the enormous expertise and wealth tied up in major energy companies, they need to play a much bigger role in urgent change to prevent a climate catastrophe.
"We believe the right approach is to engage, debate and challenge companies, governments and individuals to do more to make the global economy less carbon intensive."