What are county lines? the meaning of term - as police make series of arrests in drug trafficking crackdown
County lines is where mobile phones are used to supply drugs from large cities to towns and rural areas.
Watch more of our videos on Shots! 
and live on Freeview channel 276
Visit Shots! now
Police forces across the country have been clamping down on county lines crime - a type of drug dealing which often uses children as couriers.
The drug sales are run by so-called line holders and the runners, often young and vulnerable children, deliver the drugs.
During the national county lines intensification week, 1,468 people were arrested in England and Wales, with nearly £2 million worth of Class A drugs seized.
During the operations from 11 to 17 October 2,664 vulnerable people, including 2,209 children, were identified as requiring safeguarding.
However, despite the fact county lines can involve children, sometimes as young as 12 or 13 years old, caught up in the operations - many people don't know what it is or how to spot the signs someone is involved. Here's all you need to know..
What is county lines?
County lines is where illegal drugs, are transported from one area, usually a city such as London, to a smaller city or town.
Those running the county lines are known as the line holders, and often children or vulnerable people are coerced by those in charge into becoming drug mules.
Organised Crime Groups (OCGs) tend to run county lines operations, and often they deploy violence, intimidation and threats in order to get them to comply.
The crime groups often use the rail network in county lines activity, though they also send drug runners by bus, car and have even used the postal service.
According to the National Crime Agency: "The 'County Line' is the mobile phone line used to take the orders of drugs.
"Importing areas (areas where the drugs are taken to) are reporting increased levels of violence and weapons-related crimes as a result of this trend."
As well as exploiting youngsters to become drug runners, the groups often take over the homes of vulnerable people to deal drugs - this is known as cuckooing.
The Met Police describes it as: "OCGs often use high levels of violence and intimidation to protect the 'county line' and control them. One of these forms of control exploits vulnerable people by using their home as a base for dealing drugs, a process known as cuckooing. Dealers often convince the vulnerable person to let their home be used for drug dealing by giving them free drugs or offering to pay for food or utilities.
"Often OCGs target people who are lonely, isolated, or have addiction issues. It's common for OCGs to use a property for a short amount of time, moving address frequently to reduce the chance of being caught."
Who becomes involved with county lines?
County lines is often described as a form of Child Criminal Exploitation (CCE), and a child from any background can be coerced into it.
However, gangs often target particular groups who are more vulnerable.
This can include those in care, with additional mental health needs and children who live in a household where there is domestic abuse.
Often the groups will be friendly towards the young person in order to lure them in, before going on to exploit them.
What have police been doing to tackle it?
The majority of county lines activity originates from London, West Midlands and Merseyside.
In 2018, the number of county lines active was 2000, and the National Police Chiefs Council (NPCC) said that as a result of the work carried out by Merseyside, West Midlands and the Metropolitan Police, combined with the work of the British Transport Police and other forces, this has reduced to approximately 600.
Increasingly law enforcement have made use of modern slavery legislation to charge line holders, not only for drug supply but also human trafficking offences.
This legislation has helped ensure line holders are subject to court orders with strict conditions, often for many years after they leave custody.
National Police Chiefs' Council lead for county lines, Graham McNulty, said: "We are making significant inroads into dismantling violent county lines. The figures speak for themselves: we're stopping abhorrent criminals abusing young people and lining their own pockets in the process."
What are the signs to look out for that someone is involved?
According to the Met Police website, there are several signs which may indicate someone is involved in county lines, they include:
repeatedly going missing from school or home and being found in other areas
having money, new clothes or electronic devices and they can't explain how they paid for them
getting high numbers of texts or phone calls, being secretive about who they're speaking to
decline in school or work performance
changes in emotional or physical well-being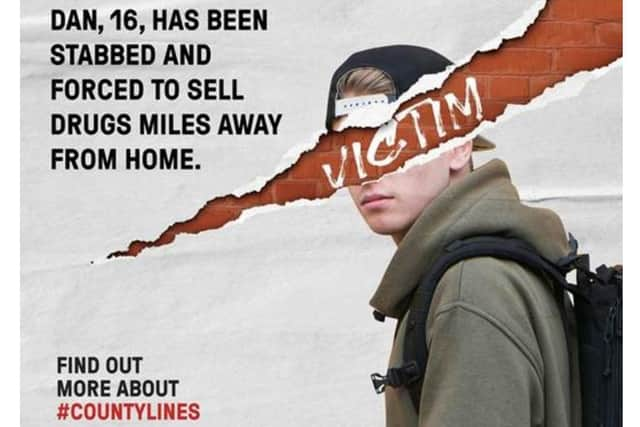 How has pandemic affected those being exploited by drug gangs?
Children's charity Barnardo's has found that during the Covid-19 pandemic organised criminal gangs moved their exploitation of children into busier public places like supermarket carparks, where it was easier to conduct activity during lockdowns without arousing suspicion.
After many months of isolation from trusted adults and with many families struggling to pay bills, gangs have also been preying on these vulnerabilities when targeting young people and entrap them with a promise of "easy" money.
Youth workers and frontline child criminal exploitation (CCE) practitioners also say young people who had been coerced to carry drugs were forced to wear delivery driver uniforms or high vis jackets, allowing them to hide under the disguise of legitimate activities.
Barnardo's interim co-CEO Michelle Lee-Izu said: "Our services are supporting children as young as nine who are being criminally exploited, and we're deeply concerned that without Government action the problem will spiral even further out of control.
"These children are victims and need the right support to help them recover, rather than being criminalised. Yet evidence from our frontline workers shows children and families can experience months of exploitation, fear and violence before help arrives."