Boxer Amir Khan and wife Faryal Makhdoom fear they were "set up" when armed robbers stole the Olympic champion's £72K watch at gunpoint.
CCTV footage shows the moment the crooks targeted the former boxing world champion and his model wife outside a restaurant in Leyton.
The superstar couple had been dining at Sahara Grill in Leyton High Road, Newham, last night.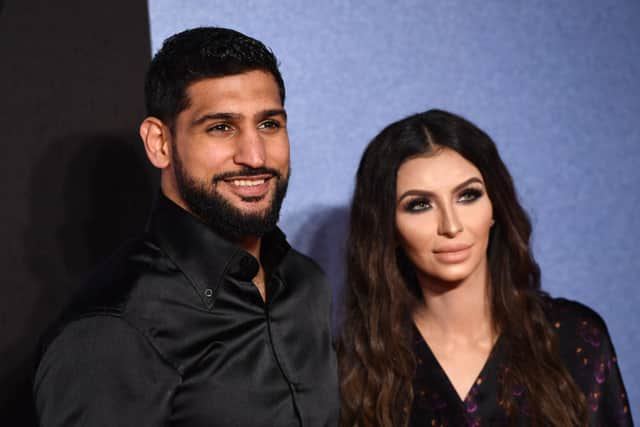 Video footage, revealed by Faryal, shows two men with hoods up and covered faces climb out of a silver Mercedes.
One appears to put something in his waistband - which could have been the gun used to threaten Amir.
They then run down the road, which is when the 35-year-old boxer claims they pointed the weapon in his face and stole his diamond encrusted Franck Muller Vanguard Chronograph.
The pair can be seen rushing back to the car, which speeds off into the night at around 9.15pm.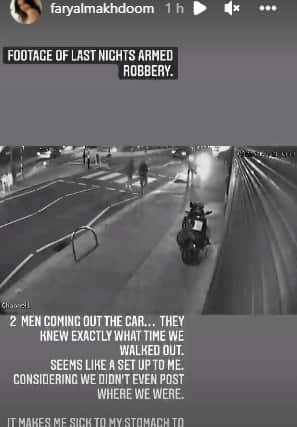 And wife Faryal, 30, has now said she thinks the superstar couple were "set up".
She said: "Two men coming out of the car ... they knew exactly what time we walked out.
"Seems like a set up to me, considering we didn't even post where we were.
"It makes me sick to my stomach to known someone sitting in the restaurant was probably the one plotting this."
Amir previously released a photo the diamond encrusted watch - in attempt to get it back.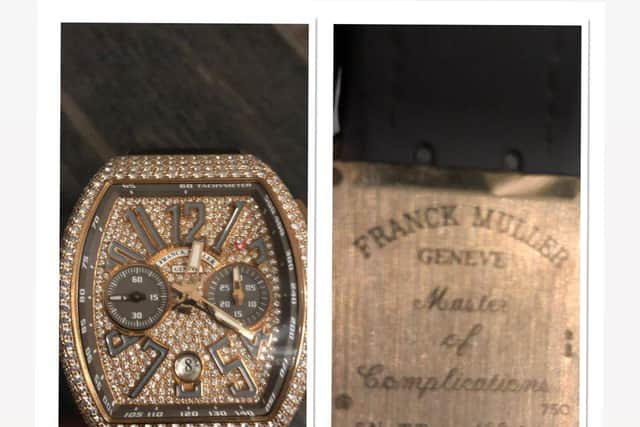 He said: "Just had my watch taken off me at gun point in East London, Leyton.
"I crossed the road with Faryal, luckily she was few steps behind me.
"Two men ran to me, he asked for my watch whist having a gun pointed in my face.
"The main thing is we're both safe."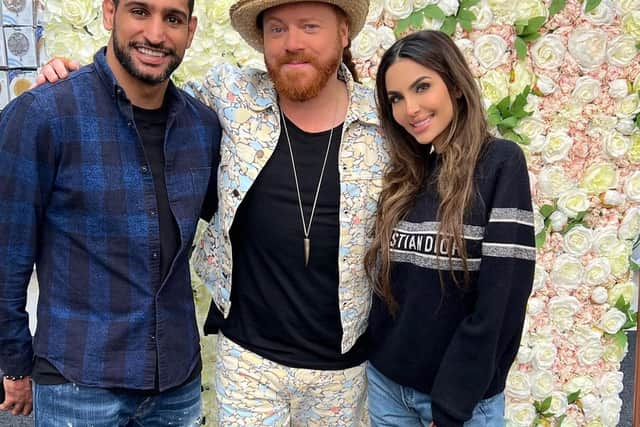 Despite the robbery, the couple appeared in good spirits when filming with Keith Lemon today.
Both uploaded smiling pictures with the ITV2 star to Instagram.
The Metropolitan Police said they were investigating after being called to an incident on High Road, Leyton on Monday at 9.15pm.
"A man aged in his 30s is alleged to have been approached by two males who threatened him with a firearm before stealing his watch and fleeing," a spokesperson said.
"There were no reports of any shots fired or any injuries. Police responded and conducted an area search.
"At this very early stage there have been no arrests. An investigation has begun and police are following a number of enquiries."
The couple, who got married in 2013 in New York, have three children, Lamisah, Muhammad and Alayna.
Khan last fought in February when he was beaten by rival Kell Brook in Manchester.