Sabina Nessa was walking to the pub - just minutes from her home - when she was attacked, police have revealed.
Detectives have now released the route the teacher took, and the timeline of her death, in a bid to get further witnesses to come forward.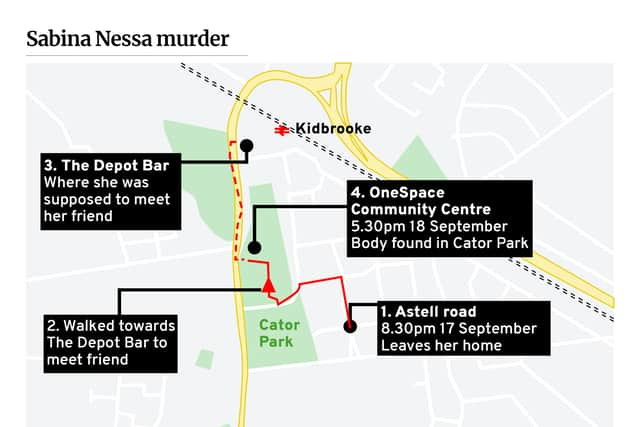 What route did Sabina Nessa take?
Scotland Yard believes that the 28-year-old left her home address in Astell Road, Kidbrooke, near Eltham, just before 8.30pm on Friday September 17.
Ms Nessa lived inside the £1billion regeneration project, which was recently built in Kidbrooke village.
Police understand she crossed the bridge from Astell Road and began walking through Cator Park.
She was thought to be heading to the Depot Pub, on Pegler Square, which is at the north end of the park, by Kidbrooke railway station.
Sabina was due to meet a friend at the pub, but never arrived.
Detectives think she was killed while walking through Cator Park.
Her body was found by a dog walker at 5.30pm Saturday September 18, covered by leaves near the OneSpace community centre - which is in the middle of the park.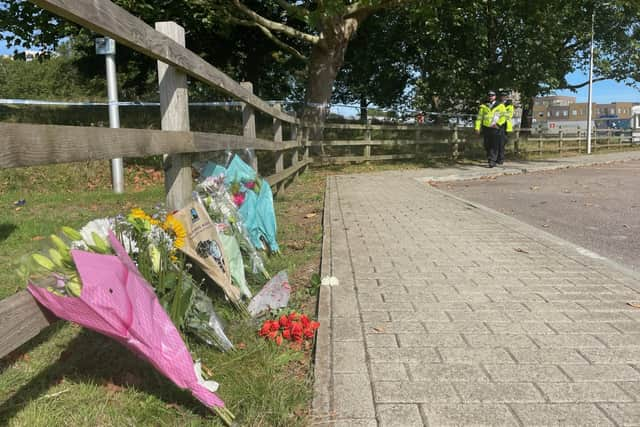 What are the Metropolitan Police saying?
Det Insp Joe Garrity is leading the murder investigation - and has appealed for further witnesses.
He said on Thursday morning: "Our investigation is making good progress and specialist officers remain at the crime scene carrying out intensive searches and enquiries.
"We are incredibly grateful for all of those who have so far come forward and spoken to us but we believe there are still others out there who may have information that could help.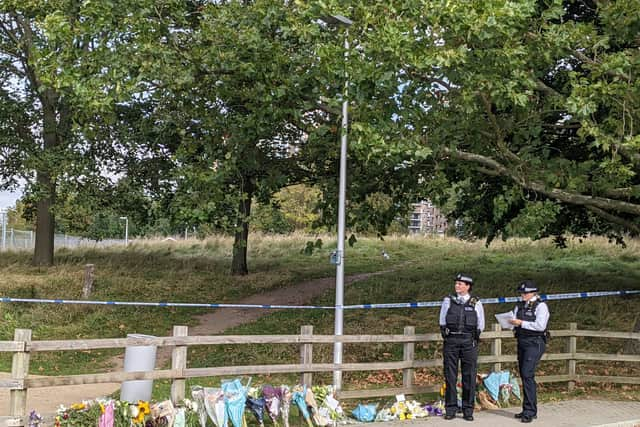 "If you think you saw Sabina or any suspicious behaviour in or around the park on Friday evening please speak to us.
"Sabina's journey should have taken just over five minutes but she never made it to her destination.
"We know the community are rightly shocked by this murder – as are we – and we are using every resource available to us to find the individual responsible."
Anyone with information should call the incident room on 0208 721 4266 or Crimestoppers completely anonymously on 0800 555 111.
Has anyone been arrested?
A man in his 40s was arrested on suspicion of murder, but has since been released under investigation.
A post-mortem examination carried out at Greenwich Mortuary on Monday, 20 September was inconclusive.
When is the vigil in Sabina Nessa's memory?
It further asks: "Please join the Kidbrooke community as we pay our respects.
"A candlelight vigil is planned.
"Please feel free to bring your own candle."
The group shared the vigil on Twitter and added: "If you can't join in person, please light a candle at 7pm on your doorstep.
"It's deeply sad and shocking when something like this happens in your community.
"Thank you to all the women in the Kidbrooke community for organising this vigil."
A spokesperson for the Reclaim the Streets told LondonWorld: "We are angry and heartbroken about the murder of Sabina Nessa.
"There is an epidemic of violence unfolding in front of our eyes and all we are getting from the Government are empty words and reports.
"The Government is fully aware of what is needed because countless frontline charities have been repeating it for years.
"We need a reformed criminal justice system that does not let women down – especially women of colour.
"Misogyny should be a hate crime.
"Rapes should no longer go unprosecuted and unpunished. Women should be able to walk into a police station confident that they will be believed and taken seriously.
"It is our responsibility, the public and the media's, to keep up the pressure for change until we don't have to mourn any more women taken by male violence.
"We need to stop putting the burden of staying safe on women. This is not a women's issue, it is everyone's responsibility."