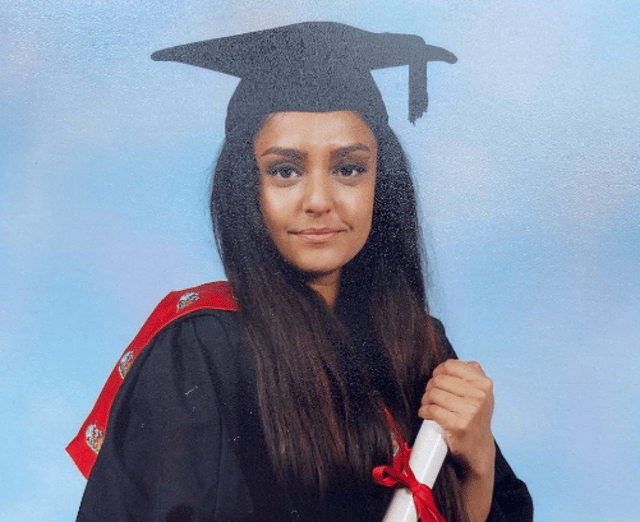 The body of Sabrina Nessa, a primary school teacher, was found in a park in Kidbrooke. Credit: Met Police
The sister of Sabina Nessa has paid tribute to the teacher who was killed a week ago, describing her as "beautiful, talented and caring".
Her family, from Sandy, Beds, are said to be devastated, and Sabina's sister took to social media to pay tribute.
The woman, who goes by the name Jax, said on Twitter: "My beautiful, talented and caring sister.
"My inspiration to always put myself first and never let anybody put me down.
"Never in my life did I or my sisters or my Mum or Dad think this could happen to us.
"May Allah grant her Jannah. Ameen."
She heartbreakingly added: "Three sisters down to two.
"Please make dua for her.
"No mother or father should have to go through this, may Allah grant my parents ease."
The police scene in Kidbrooke, where Sabina Nessa was killed. People have been leaving flowers in tribute. Credit: Lynn Rusk
Her cousin, Zubel Ahmed, said her family was "inconsolable".
He told ITV: "The shock has not sunk in.
"She was a beautiful, kind, caring soul.
"I express my deepest sympathies for her sisters, mum and dad are absolutely devastated.
"Nothing is making sense to us, why was she taken from us we just don't know.
"She was the sweetest person, sweetest girl, I don't understand how someone can do this it's a big loss to our family."
Sabina was a teacher at Rushey Green primary school, in neighbouring Lewisham.
Headteacher Lisa Williams said: "We are devastated by Sabina's tragic death.
"She was kind, caring and absolutely dedicated to her pupils.
"She had so much life ahead of her and so much more to give and her loss is desperately sad."
What have the police said?
Scotland Yard believes that the 28-year-old left her home address in Astell Road, Kidbrooke, near Eltham, just before 8.30pm on Friday September 17.
Ms Nessa lived inside the £1billion regeneration project, which was recently built in Kidbrooke village.
Police understand she crossed the bridge from Astell Road and began walking through Cator Park.
She was thought to be heading to the Depot Pub, on Pegler Square, which is at the north end of the park, by Kidbrooke railway station.
Sabina was due to meet a friend at the pub, but never arrived.
Detectives think she was killed while walking through Cator Park.
Her body was found by a dog walker at 5.30pm Saturday September 18, covered by leaves near the OneSpace community centre - which is in the middle of the park.
Sabina Nessa murder graphic. Credit: JPI Media
Det Insp Joe Garrity is leading the murder investigation - and has appealed for further witnesses.
He said on Thursday morning: "Our investigation is making good progress and specialist officers remain at the crime scene carrying out intensive searches and enquiries.
"We are incredibly grateful for all of those who have so far come forward and spoken to us but we believe there are still others out there who may have information that could help.
"If you think you saw Sabina or any suspicious behaviour in or around the park on Friday evening please speak to us.
"Sabina's journey should have taken just over five minutes but she never made it to her destination.
"We know the community are rightly shocked by this murder – as are we – and we are using every resource available to us to find the individual responsible."
Anyone with information should call the incident room on 0208 721 4266 or Crimestoppers completely anonymously on 0800 555 111.