The family of a 15-year-old stabbed to death in a south London park have told of their pain at the loss of "a beautiful soul".
Friends heard a scream as they made their way to meet him, a court heard, and police officers attempted first aid in vain.
Relative Olivia Aimable-Lina said: "Zaian was a beautiful soul, loved by many and had a huge influence on so many lives."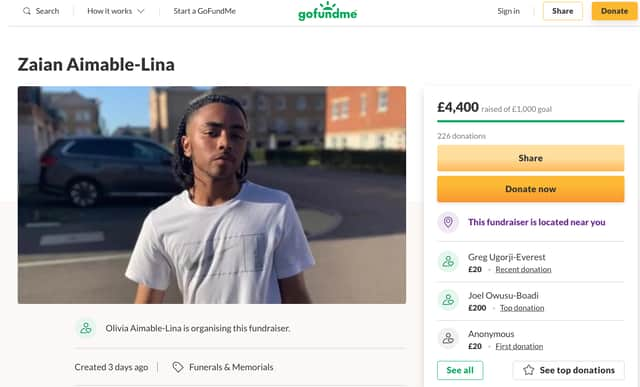 Ms Aimable-Lima shared her tribute to the youth on a crowdfunding page in his honour.
"Our family have been encouraged to start this GoFundMe to give everyone who wishes to contribute to his memory the chance to do so," she said
"At only 15 years old he still had so much left to do.
"We are all in pain at this loss but know he will live on in all of our minds and hearts. We all have a lot to do to make him proud - we know he'll be watching.
"Please keep him in your thoughts and prayers."
Donations to the page, which had an initial target of £1,000, has topped £4,400 in just three days, after donations poured in from 226 wellwishers.
Renee Okuefuna wrote: "Zaian, RIP. I am heartbroken. My thoughts and prayers are with his family."
While Hermine Ngo Bissai commented: "Our hearts go out to this family and we hope they find much needed strength and courage during this difficult time. May Zaian rest in peace."
And Nadia Mussani posted: "[I] am deeply traumatised and shocked with yet another life lost at the hands of youth violence.
"No one deserves this, may his parents find the inner strength to get through this.
"Love to you all. May Allah rest his soul and bring him peace to another."