Drivers have been slammed as "careless and inconsiderate" after cars were filmed avoiding a road closure by driving around and onto the pavement.
Footage filmed in Southall, Ealing, showed a string of vehicles bypassing roadworks by slowly moving their vehicles onto the footpath, past orange roadblocks and traffic cones.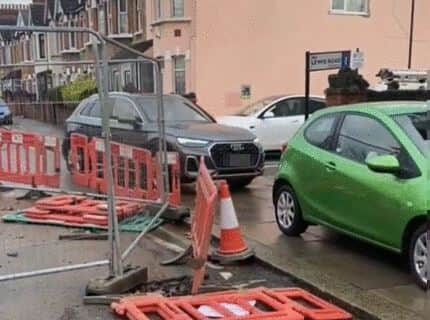 Twitter account UB1 UB2 Southall which shared the video wrote on social media: "A week later, the roadworks still haven't been lifted so people continue to drive on the pavement."
Ealing Council said the works had been carried out by Affinity Water which had closed the carriageway - and that it blocked the footpath after being alerted.
A council spokesperson said: "Affinity Water put in place appropriate 'no entry' signs which covered the carriageway section and the council closed the footpath once we were made aware of this driver behaviour.
"However, these were removed and careless and inconsiderate drivers continued to put pedestrian lives at risk by driving on the pavement."
They added: "The police were alerted to this dangerous behaviour. The works were completed earlier this week."