London has been revealed as the most dog friendly city in the UK. A survey conducted across 48 UK cities saw the capital taking the top spot against the likes of York, Manchester, Glasgow, Cambridge and more.
The study was carried out by Lords and Labradors who set out specific parameters to determine which city was deemed the most dog-friendly. These include:
Number of dog-friendly restaurants and cafes        
Number of green spaces and parks in each city  
Number of vets per city that treat dogs  
Number of local pet shops  
Number of dog walkers and sitters  
Number of dog groomers  
Number of dog-friendly shops   
London achieved the coveted top spot as the capital boasts 3,000 parks and green spaces as well as 513 dog-friendly restaurants and cafes. It is also home to 141 dog-friendly stores, scoring London 331 points and a dog-friendly percentage of 99 percent.
Founder of Lords and Labradors, Johanna Buitelaar Warden, has also shared their top tips for dog owners keen to explore more of what the UK's towns and cities have to offer. Offering a dog's-eye-view of a trip away, Johanna said: "Much like with humans, visiting busier locations can be somewhat of a sensory overload for your four-legged friend due to all the new sights, smells, and noises that come along with them."
Full list of dog-friendly cities in the UK
London
York
Glasgow
Manchester
Cambridge
Derby
Leicester
Nottingham
Bristol
Gloucester
Northampton
Oxford
Leeds
Cardiff
Sheffield
Durham
Edinburgh
Aberdeen
Liverpool
Norwich
Birmingham
Newcastle upon Tyne
Swansea
Plymouth
Brighton
Exeter
Kingston upon Hull
Southampton
Peterborough
Belfast
Coventry
Warrington
Newport
Bath
St Albans
Bradford
Chelmsford
Blackpool
Carlisle
Dundee
Wrexham
Portsmouth
Wolverhampton
Walsall
Sunderland
Lisburn
Middlesbrough
Derry
Tips for taking your dog to the city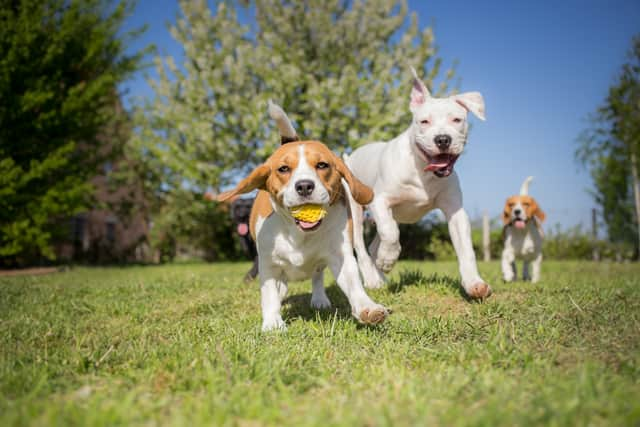 Cities can be noisy, overwhelming and full of distractions for our four-legged friends so Johanna recommends making sure you arm your pooch with some simple training to keep them safe and under control.
Here are the basic commands they recommend working on ahead of any outing with your dog:
Sit: This one is a staple command in the world of dog training. It's a great cue for your pooch to master, as this will come in hugely handy for those moments where you would like your dog to wait quietly, such as on public transport or in restaurants and cafes.
Wait: Similarly to 'sit', 'wait' is another key command for your canine to learn. This can be pivotal for traffic safety, with increased road and foot traffic in the busy city.
Leave: City streets can be full of unsafe objects, litter, and germ-ridden food remnants. Teaching your dog to drop anything that could be dangerous to them can be crucial to their health. Top tip: remember to reward with a treat!
Curbing: Encouraging your dog to do their 'business' on the curb instead of the pavement is the essence of this term. Essentially, this ensures that your dog doesn't leave a mess in the middle of the path where people tend to walk. To achieve this, gently lead them towards the curb when you see your pooch sniffing around for a place to go."