Collier Wood TikToker: 'I love my hairy pits and feel liberated showing them off in a bikini'
"Screw you all" - TikTok star Jo Brown says she won't change for internet trolls.
Watch more of our videos on Shots!
and live on Freeview channel 276
Visit Shots! now
A woman who "couldn't be bothered" to shave embraced her furry armpits and feels "liberated" showing them off in a bikini - despite being trolled for her "gross" body hair.
Jo Brown, 28, used to shave each time she found her hair growing, before she decided to embrace her natural body hair during the pandemic.
Since ditching the razor, Joanna now hardly removes any of her body hair - instead flaunting her natural dark hair under her armpits, along with her bikini line and on her legs in skimpy bikinis and is urging others to do the same.
Jo, a nanny, from Colliers Wood, south west London, said: "I got a lot of trolling. A lot of very mean comments saying it's gross. I then, as a rebuttal, came back like 'screw you all'. I'm not going to change for them.
"It wasn't even a conscious decision. It was lockdown. It was summer and I couldn't be bothered to shave.
"I feel very proud of my body, very appreciative, I love the way it is, and I love being me."
Jo started shaving at the age of 11 - after seeing her older sisters remove their body hair.
She said: "I would only really shave as a child because I thought that's what being a grown up is. I thought I couldn't go out without shaving - which is sad really and I wish I hadn't had cared so much."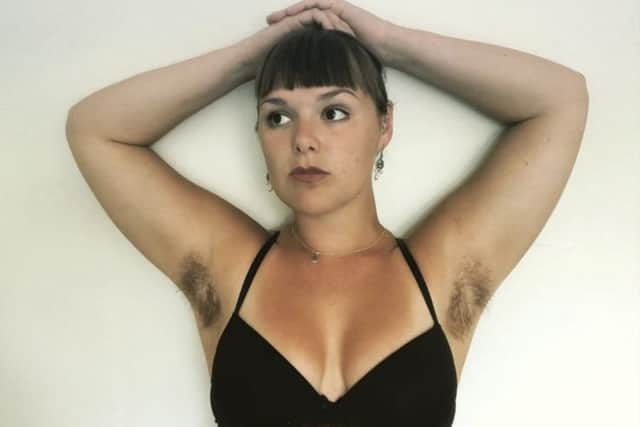 Jo ditched the razor during lockdown - when she wasn't going out - and has now found the confidence to leave her natural hair.
She is now an advocate from the health benefits which come with ditching the razor.
She said: "Shaving is actually really painful. It can actually cause some nasty rashes and skin problems. It is inconvenient.
"Women are removing everything. There's a lot of pressure which started in the 80s porn industry. I definitely felt that pressure. I think most women sadly do.
"Everyone went from having big bushes to waxing and shaving body hair and since then there has been an increase in UTIs, thrush and bacterial infections.
"Ironically, it's actually much better for your body to not shave. The hair is there for a reason it wicks the sweat away. It draws the sweat away, so it actually prevents body odour."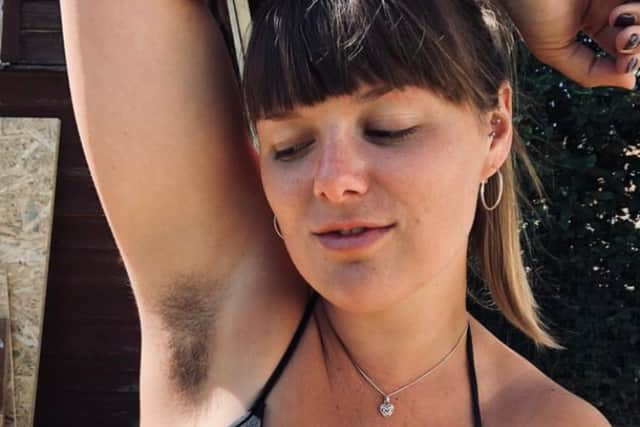 Jo said she now feels liberated by her body hair and happily dons a bikini in summer – showing off her hairy pits and legs with pride.
She said: "It is all about loving yourself and loving your body. Your body should be praised for allowing you to share good times with good people, go awesome places where you can meet amazing new humans to celebrate life with.
"It is confidence. That is all you need. I do care that people stare still a bit, but it happens way less than you think.
"Confidence plays a big part. I am lucky in that sense. Sometimes strangers just stare but I have quite dark hair. When I don't shave it's obvious. I feel comfortable in places such as the countryside or Brighton, but I do feel less comfortable in London."
Jo wants to encourage others to stop shaving if it's something that feels right for them.
She said: "You must do what's right for you at the end of the day. It's seen as a non-feminine thing to have body hair and it's just a social expectation that women should remove it all - which I think is ridiculous considering men are allowed to have it anywhere they want.
"Do what feels right for you. Do what makes you feel comfortable and who cares if someone is that bothered by it?
"It's their problem not yours. It is usually down to their own insecurities on body image and beauty. It is nothing to do with you at all, it's their own trigger. I always have been quite confident, but I have definitely had to work on it and just remind myself of the values I have.
"Don't let anyone change your beliefs or change you as a person - especially aesthetically."
Jo hopes education can change to inform young women that it is okay for them to embrace their body hair.
She said: "There needs to be a lot more education and encouraging women to do what is right for their body and it is with everything. Your body your choice is really important in present day. There is so many lifestyle pressures."