The Tory backbencher suggested struggling Brits are only using food banks because they "can't budget" and "can't cook a meal from scratch".
Mr Anderson's comments have been criticised as highly offensive to many families struggling through the cost of living crisis and chefs slammed him for being extremely unrealistic.
In light of this, LondonWorld decided to come up with some meal ideas to keep costs low - while scrapping the unrealistic 30p cost.
And while 30p was definitely impossible for a meal for one or for a family, we managed to come up with a simple vegan recipe that came in at around 75p per person.
This however doesn't include any seasoning, olive oil for cooking with and also butter or margarine for the potatoes - which shows how unrealistic Mr Anderson's batch cooking idea was for families.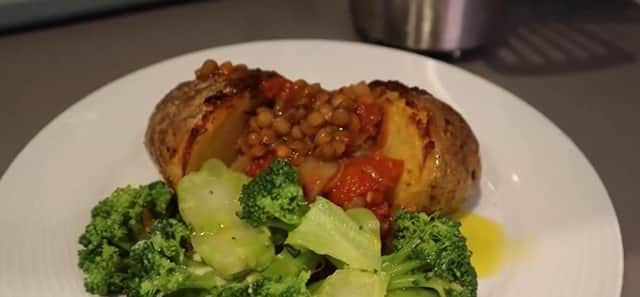 Lentils baked potato with broccoli recipe
First of all cook the potatoes in the oven for one hour or microwave for 10 minutes (and finishing off in the oven).
Finely slice a large onion and fry in a frying pan or saucepan over a low heat.
When they've started to colour, drain and add the lentils with a little bit of cooking water.
After about five minutes add the chopped tomatoes with a pinch of sugar and salt, and then cook for around 20 minutes.
Steam the broccoli for around five to 10 minutes, depending on how cooked you like it.
Then when the potatoes are finished, piled the lentil stew on top and serve the broccoli at the side.
This should be enough food for two, with some onions and a broccoli spare.