Winter pressures on the health service continue to grow, with staff also treating cases of Covid-19 and Strep A.
Patients have reported waiting hours or days in A&E departments or on trolleys, while medical staff tell of "unbearable strain" as they carry out intimate examinations in cupboards.
Data from NHS England has revealed there were 3,746 patients in hospital with flu each day in the week up to Christmas and 267 in critical care - compared to just 520 on November 27.
Hospitals in London were treating 285 flu patients between December 19 and 25 - an increase of 49% on the week before, when just 191 patients were hospitalised with flu.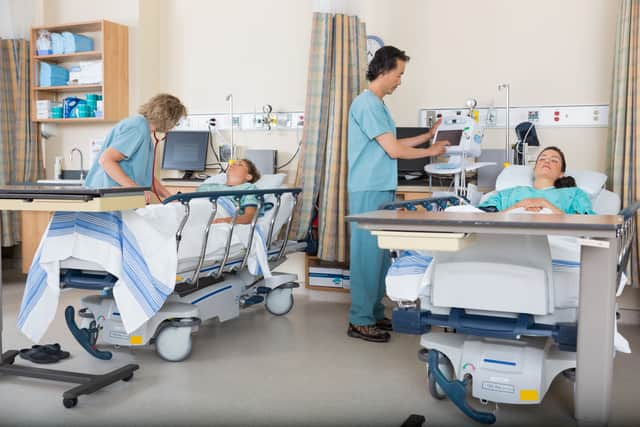 There were 77 critical care patients between December 19 and 25 - up by 64% on the previous week's figure of 47.
King's College Hospital was treating 105 flu patients as of December 25, with eight in critical care - up from 59 patients and eight in critical care the previous week.
Homerton Healthcare NHS Trust was treating 54 patients - all in critical care - up from 30 the week before.
While 15 children - six in critical care - were being treated for flu at Great Ormond Street Hospital was treating 15 children for flu - six in critical care - as of Christmas Day, compared to 10 and four the previous week.
This time last year there were only 34 patients in hospitals in England with flu - just two of them in critical care - according to NHS England.
NHS bosses warn bed occupancy is especially high, with over 93% of spots filled. Delayed discharges, including long waits for elderly patients to have social care support arranged at home, are contributing to the intense pressures on the system.
Professor Sir Stephen Powis, NHS medical director, said: "Sadly, latest flu numbers show our fears of a 'twindemic' have been realised, with cases up seven fold in just a month.
"The continued impact of Covid is hitting staff hard, with related absences up almost 50% on the end of November."
He added: "As well as flu, the NHS continues to be under significant pressure, with high bed occupancy, more than 12,000 beds taken up by patients medically fit, and 111 demand remaining high, so please make the most of 111 online, and only call 999 or visit A&E in an emergency.
"It is clear this is no time to be complacent and the risk of serious illness is very real.
"With nearly 350,000 available vaccination appointments next week it is important that everyone eligible comes forward and gets their Covid and flu jabs at the earliest opportunity."
While the UK Health Security Agency's (UKHSA) chief medical adviser Professor Susan Hopkins has stressed that adults should stay at home or wear a face mask when feeling ill.
People are also advised not to see "vulnerable people unless urgent" if suffering symptoms.