Results day 2022: what is clearing, when is deadline, grade boundaries - how to apply to London universities
Clearing is happening at these London universities
Watch more of our videos on Shots!
and live on Freeview channel 276
Visit Shots! now
A Level results day is just around the corner for Londonstudents, in what is one of the biggest days on the academic calendar.
Results day can change lives, and is the result of months and years of learning, hard work, revision and more.
For students who didn't receive the grades they needed though, concern will immediately take over.
Students who also have changed their minds about the course they wish to undertake or the university they want to attend can still go through clearing.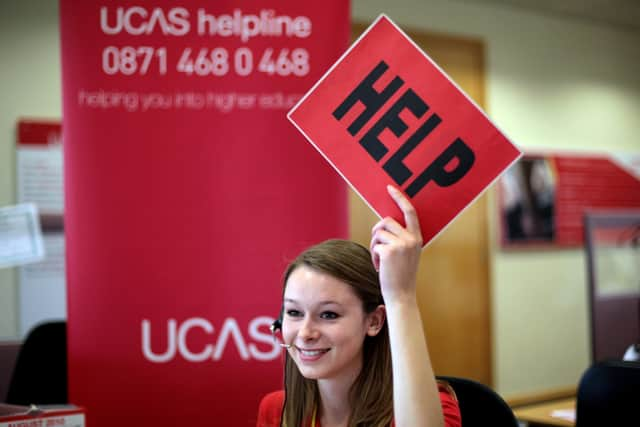 When is A Level results day?
Students in London will not have to wait too much longer to receive their A Level results.
A Level results day in England is Thursday, 18 August 2022.
What is Clearing?
Clearing allows people to have more control over their future, and can be utilised if, for example, you don't get the required grades you need.
You can apply for a course through Clearing if you fail to get onto the course from your chosen university.
You can use the Clearing service if you have done any of the following:
completed a UCAS application
do not get any offers
your offers are not confirmed
you've turned down all the offers you received
When is the deadline for Clearing?
The Clearing service opens from mid-July and runs through to the end of 18 October, giving you plenty of time to get your affairs in order if results day doesn't go your way.
You can find out which courses have Clearing spaces through UCAS from mid-august through to late September, and pick what best suits your needs.
London is considered the hub of students, with many universities in and around the capital, with many of them offering Clearing spaces.
These are all the UCAS codes and phone numbers you need if you'd like to enquire about a Clearing place in a London university.
Middlesex University London
Clearing phone number: 020 8411 6565
University of East London
Clearing phone number: 020 7365 6240
Buckinghamshire New University
Clearing phone number: 0330 123 2023
Clearing phone number: 01895 714637
Birkbeck University London
Clearing phone number: +44 (0) 20 3907 0700
Clearing phone number: 0300 303 8320
University of Westminster
Clearing phone number: 0800 027 9777
Kingston University London
Clearing phone number: 0800 0483 334
Richmond The American University In London
Clearing phone number: +44 (0) 208 332 8330
Clearing phone number: 020 7388 8877
City - University Of London
Clearing phone number: 020 7040 5060
Clearing phone number: 020 8331 9000
London Metropolitan University
Clearing phone number: +44 (0)371 468 0468
London South Bank University
Clearing phone number: +44 (0)20 7815 6161
Queen Mary University of London
Clearing phone number: +44 (0) 20 7882 5555
SOAS University of London
Clearing phone number: +44 (0)20 3510 6974
University of West London
Clearing phone number: 020 8231 2525
Coventry University Dagenham
Clearing phone number: 020 3873 0700
Clearing phone number: +441326 213730
St Marys University Twickenham
Clearing phone number: 020 8240 4225
Clearing phone number: 020 8308 2620
Clearing phone number: 0151 909 9000
Regents University of London
Clearing phone number: +44 (0)20 7487 7625
South Thames College Group
Clearing phone number: 020 8546 2151
Clearing phone number: +44 (0) 20 7514 7015
Ravensbourne University London
Clearing phone number: 0203 040 3991
Royal Veterinary College London
Clearing phone number: 020 7468 5000
Goldsmiths University of London
Clearing phone number: 03335 774 608
New College of the Humanities
Clearing phone number: +44 (0)207 637 4550
Clearing phone number: 0330 135 9000
Clearing phone number: 01932 797 900
Clearing phone number: 020 7450 1889
Institute of Contemporary Music Performance
Clearing phone number: 020 7604 2336
Conde Nast College of Fashion and Design
Clearing phone number: 020 7152 3435
Clearing phone number: 0203 925 9407
The London Institute of Banking & Finance
Clearing phone number: 020 8059 8569
Clearing phone number: 0207 326 8049
St George's University London
Clearing phone number: 020 8672 9944
University College of Estate Management
Clearing phone number: 0118 921 4696
Barnet and Southgate College
Clearing phone number: 020 8266 4000
London School of Management Education
Clearing phone number: 0208 5948 462
European School of Economics
Clearing phone number: 020 7935 3896
Hult International Business School
Clearing phone number: +44 20 7636 5667
Staffordshire University London
Clearing phone number: 0800 590 830