Holland Park School, whose previous pupils include education secretary Nadhim Zahawi, AJ Tracey and the children of Tony Benn and Michael Gove, was one of the most sought after education establishments in the capital.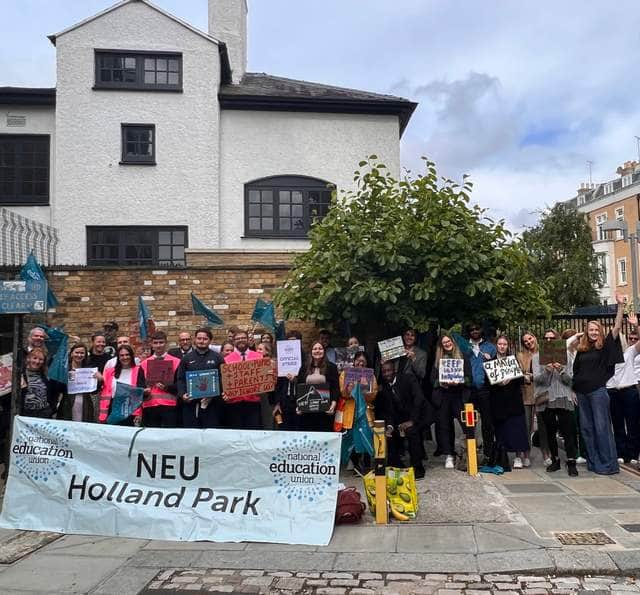 Now staff and parents are fighting against a decision for the school to join United Learning.
The group has applied for a judicial review the education secretary, James Cleverly, regarding the multi-academy takeover. A hearing is due to take place on November 1.
The claim, issued in the High Court last week by a group of parents and the National Education Union (NEU), argues that the secretary of state failed to consult lawfully on plans to move the school from a single-academy trust (SAT) to a multi-academy trust (MAT).
Mr Cleverly argues that he was not obliged to consult.
A representative from Holland Park School parent collective said: "We've come together as a group of over 350 concerned parents to challenge the decision to give our school to the massive MAT, United Learning.
"We are fighting for a proper consultation and to have a voice to influence the future of our school, our children and our community."
Parents and teachers want the school to join forces with another nearby secondary school instead.
Dr Mary Bousted, joint general secretary of the National Education Union, said: "The move towards pushing Holland Park School into a multi-academy trust has at no point been conducted in good faith.
"Holland Park parents, teachers and students alike, have had to endure a mockery of consultation, and a complete lack of consideration for due process.
"It has been an uncertain, disruptive and thoroughly despairing time for many.
"The government is quite prepared to turn a blind eye, but we are not.
"The NEU is proud to support this legal challenge."
In May, a summary of an independent investigation released by the school's governors said there had been a "culture of fear and favouritism".
Kids were allegedly targets of public humiliation and shouting at the school, the investigation found, and there were also safeguarding breaches.
The report also said there had been sexist, Islamophobic and racist discrimination at the school.
The complaints and evidence from the report spanned from 2004 to December 2021.
Ofsted also downgraded the school from "outstanding" to "inadequate" - the worst possible rating - after April inspections.
Colin Hall, the previous headteacher, was the highest paid head of a single academy trust at £280,000-a-year. He was replaced this year by Arwel Jones.
A school spokesman previously said the current governors are "fully committed" to resolving the schools' problems and to "ensuring that Holland Park School has a positive future in which all students succeed".
LondonWorld has contacted United Learning for comment.