A teachers' union leader called the government's leaked WhatsApp messages from during the pandemic "appalling and abhorrent" at a Camden strike event.
Texts leaked to the Telegraph newspaper reveal that former education secretary Gavin Williamson wrote that some teaching unions "really do just hate work".
The comments in the messages faced a furious backlash as the National Education Union (NEU) staged a second of seven planned days of strike action on Thursday.
Union president Louise Atkinson addressed supporters from Camden and Barnet assembled at Cecil Sharp House, one of 15 demonstrations happening across London.
Referencing Mr Williamson's messages, she said: "I just find it appalling and abhorrent actually.
"It's shortsighted as well because we talk about levelling up, we talk about kickstarting the economy, and you are only ever going to do that if you invest in the education of children and young people, and that requires investment in the teachers that teach them."
Ms Atkinson talked about the dual challenges of being an educator and a parent, saying: "My own daughter is currently doing her A levels. She's doing an A level in politics and repeatedly comes home and says to me: 'The teacher is actually trained in teaching drama. Why is he teaching me politics?'
"And I'm sure that would be a good teacher who's working very, very hard - but is having to work even harder because he's learning as he's going along with the students in that subject. And that's not really what we want in a world-class education system."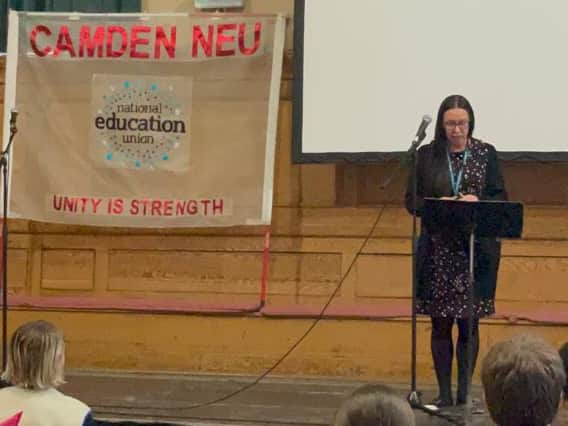 GCSEs and A levels 'should be scrapped'
Madeleine Holt founded Meet the Parents to convince parents to send their kids to state schools. She uses her experience as culture correspondent for BBC Newsnight for 10 years in making films about innovative schools.
She said: "When they (the government) say there's no more money to raise teachers' salaries or anything else, two key thoughts come to my mind. The first is just how much this government does not care about state education.
"You only have to look at the cabinet - two thirds of them from private schools."
She added that a "good number of them continue to send their children to private schools".
She was critical of the current education system and said money could be saved but not in the way "that the government's always going about, you know, the trimming here, there and everywhere".
She said: "If we ran a more humane and less standardised system, there could be some resources that could be redirected to where it really wants us.
"Get rid of the vast factory of high-stakes tests in primary school. SATs alone, when they were reformed in 2016, cost 44 million pounds. The utterly useless baseline assessment apparently costs £10 million a year."
She added: "Schools have to pay vast costs every year for GCSEs, for A levels, for retakes, all the rest of it. Let's reform the assessment system and make it more humane, and less high stakes."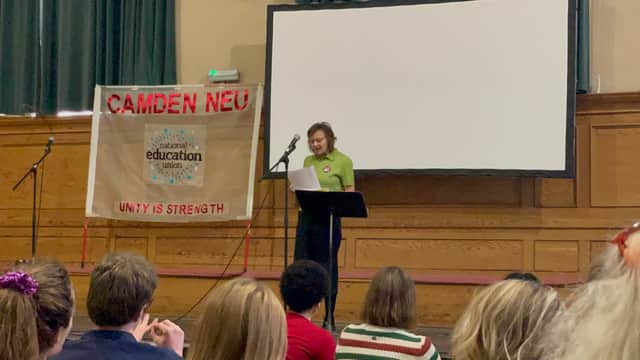 Debra Murphy has been a teacher for over 20 years and said she is at the end of her career and fighting for young teachers entering the profession during the recruitment crisis.
She agreed with Ms Holt, and told LondonWorld: "We had that opportunity throughout the Covid period to look at alternatives [to A-Levels and GCSEs]. I think people were really disappointed that we've just slotted back into the old system."
Government 'has no stake in' the public sector
John Hayes, headteacher at Gospel Oak Primary School, spoke about being a part of education unions for 39 years and the difficult situation faced by schools and educators.
He told LondonWorld: "It's a really frightening situation in schools right now and at some point, we just have to stand up and say, no more. That's what we're doing and I'm really proud of the turnout today. It's been great.
"The side that we are really on is the children's. They get one go at education and we've got to make it the best we possibly can."
He said he was not too shocked by the former education secretary's texts and said: "They don't really have a stake in what we do."
He added: "Given how all of my staff went so far above and beyond during the pandemic, the idea that we were hiding from work, very clearly illustrates how incredibly out of touch they are and how not really very interested in what we are doing.
"We've seen this across the public sector - they don't need to use it. It's for the rest."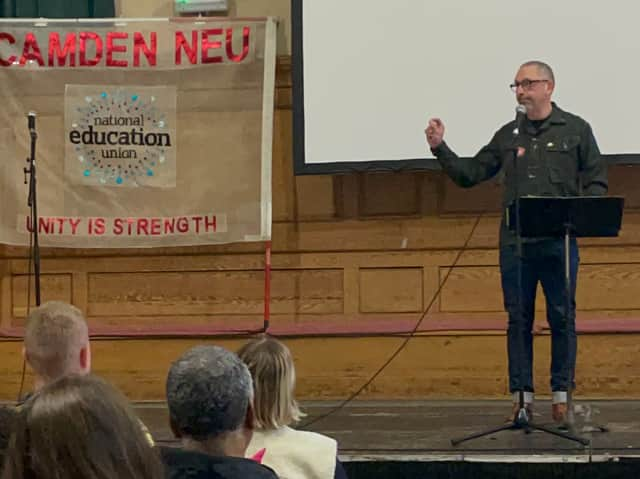 More teacher strikes
NEU members will be on strike again on March 15-16 if a deal is not reached with the government.
Education secretary Gillian Keegan said on Thursday that the government has made a "serious offer" to the NEU and expressed disappointment the strikes were going ahead.
Gavin Williamson
WhatsApp messages were handed to the Telegraph by the journalist Isabel Oakeshott, who was given them when she helped Matt Hancock assemble and publish his Pandemic Diaries.
Mr Williamson says his messages - one of which claimed teachers were looking for an "excuse" not to work during the pandemic - were about some unions, rather than teachers themselves.
Mr Hancock has said the leak is a "massive betrayal" but Ms Oakeshott says the messages' publication is in the public interest.