Property investment leads to new career for London businesswoman who says training was her best decision ever
Disclaimer: This article is paid for, sponsored content and does not reflect the views of LondonWorld or National World. People should always seek independent advice in matters of finance and investments.
Watch more of our videos on Shots! 
and live on Freeview channel 276
Visit Shots! now
Anyone who's ever wondered if striking property deals can really pay the bills and more has a rare chance to find out when an expert comes to town.
Millionaire Samuel Leeds is bringing one of his popular crash courses to London for two days this month and tickets are now on sale priced at just £1 per person.
The events are part of a UK tour which will see the businessman share his strategies for success with anyone who wants to learn more.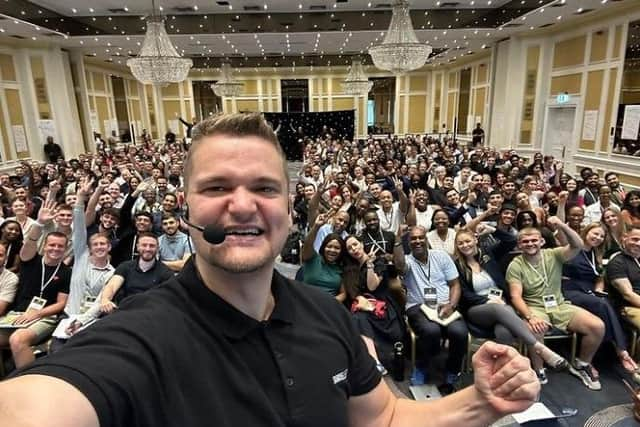 Designed to cover various elements of property investment, the courses aim to demonstrate that people can get involved in property and improve their finances even if they don't initially have money to invest.
Samuel, who grew up on a West Midlands council estate and left school with few qualifications, is keen to help people realise their potential and earning power no matter what their background or circumstances might be.
As well as building up a successful property business, the young entrepreneur also runs a training academy for investors and says thousands of students have gone on to achieve financial freedom after completing his year-long programme.
London-based Jodi Reynolds counts as one such success story after she took a gamble to improve her own future, partly prompted by the sad loss of a close relative aged just 50.
Jodi describes her late aunt as someone who did everything for everyone but says she died before having chance to think of herself. The tragedy made Jodi reassess her own life and she was determined to live it differently. She left her job, sold her house and took time out to go travelling and enjoy life.
But when she came back a year later, the reality of being out of work and sleeping on other people's sofas hit home and she became depressed.
But things were set to improve when her boyfriend suggested that she'd be good at managing an Airbnb, told her about Samuel Leeds and encouraged her to go on one of his introductory courses.
After that, it was all systems go for Jodi. "I saw Samuel and thought I need to be all in," she says. "I put the money on the table and it was the best decision I ever made."
And she didn't have long to wait for positive progress, landing her first property deal while she was still in training. She picked a four-bedroom house in Hull that could offer five bedrooms after conversion and was an opportunity for someone to buy, refurbish and then refinance.
Although she had to share the commission for her first venture as she had no links to investors, that gradually changed as she made connections and solo deals began to follow.
Jodi says she has also established some rent-to-serviced accommodation and settled on building her property portfolio on home ground in London after exploring other locations. "I'm just going to grow in that area and hopefully build more business there," she explains. "I feel so much better now that I'm down south in one area."
Jodi says both the academy training and support network have been vital to her success. She stays in regular touch with other students and mentors which is often the source of lucrative deals.
"I get a lot of business from social media or through Samuel Leeds' academy group chats. You get a lot from networking events too, but I would say the group chats are where I get most of my business from."
Building trust and confidence
Jodi also has accommodation of her own and thinks that helps to build investors' confidence. "I've got properties myself and when people see that, it shows them I must know what I'm doing. They want to get involved with me."
The future is now looking bright for Jodi who says she's happy to be out of the rat race and is currently considering projects just north of London. "I've got a few places there at the moment. I'm hopefully taking on a whole brand new development of 15 apartments soon which I'm really excited about," she adds.
Samuel believes Jodi has achieved great things. "A lot of people think to get into property you've got to have £50,000 or £60,000 as a deposit to buy a house.
"Jodi had nowhere near that so she turned to strategies which don't require that much money to get started in property," he explains.
Two chances to attend crash course
To hear more about Samuel's investment strategies, you can catch him in South Kensington when he hosts two events on Friday and Saturday, November 17 and 18.
Attendees will learn specifically about the rent-to-rent process which involves renting accommodation from a landlord and then letting it for a profit, often on a room by room basis.
The courses take place at the Millennium Gloucester Hotel, 4-18 Harrington Gardens, SW7 4LH and you can reserve a place today. Tickets cost just £1 (although late cancellation/no show fees apply) and can be booked online
This article is paid for, sponsored content and does not reflect the views of LondonWorld or National World. People should always seek independent advice in matters of finance and investments.