A money saving expert says he shaves a huge £2,000 a year off his household bills by enforcing a "blackout hour" every day - where his kids read or do their homework.
Emmanuel Asuquo, 37 - who lives with partner, Mariam, 38, and their four children, Malachi, 10, Ethan, nine, Elle, seven, and Mia-Rae, three - switches off all their appliances for an hour each day.
Emmanuel also says the family watch TV together and eat at the same time to avoid extra energy costs.
The dad-of-four has seen their energy and electricity bills soar from £200 to £450 and shared some fun ways his children keep their consumption low.
He even has a rewards system for turning the lights off and turning the tap off.
They have also swapped expensive cinema trips for at home movie nights and spend time doing free outdoor activities such as walking.
The financial advisor also recommends getting the boiler serviced and investing in draft proofing to keep costs low. As well as getting a smart metre and putting the heating on timer.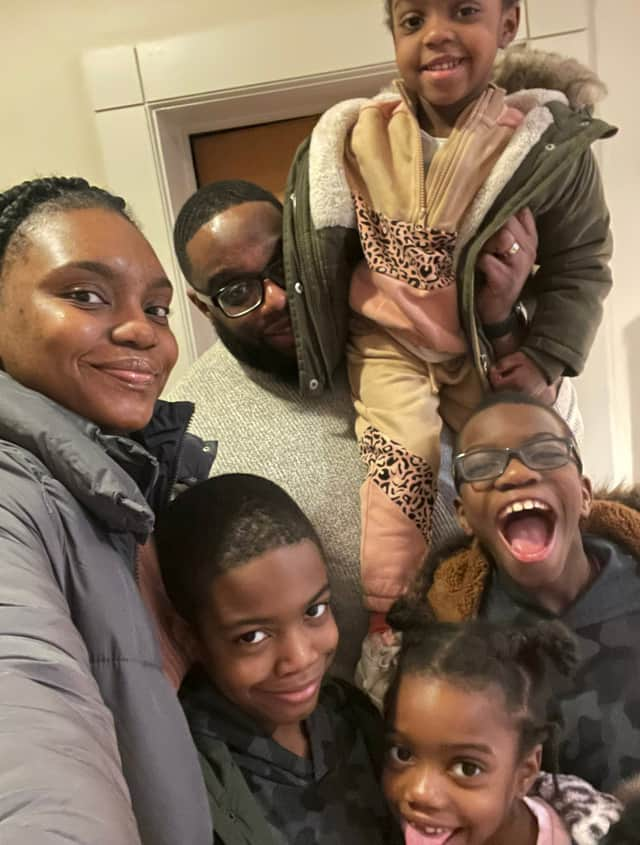 Emmanuel, of Bromley, south east London, said: "After dinner every night we have black-out hour.
"We turn all appliances off and read or do homework.
"There are six of us in the house and we had to learn how we can manage as a family.
"We eat together and rather than everyone being on their own appliances and charging everything at once, we will use one appliance together.
"It's brought us closer together and by making these changes we have reduced our energy consumption by 45% and I would say we are saving around £2k over the year."
This week Martin Lewis advised Brits to try and lower their consumption between the energy rush hours of 4pm and 7pm - and said one way of doing this is by not putting a wash on.
Emmanuel said: "I completely agree with Martin Lewis's advice to try not to wash between the hours of 4 and 7pm as they are the peak times for demand and it's putting a strain on the energy grid.
"You just have to ask yourself - 'do I really need to wash my clothes at this time?'
"If not, perhaps you could wash them overnight or in the morning to reduce the likelihood of a power cut."
Before March 2022 the Asuquo family paid £200 a month for their electricity and energy bills and now they have more than doubled to £450 and will increase to £500 next month.
To save as much as possible, the family of six have taken to doing things together rather than individually in different rooms.
They have a 'blackout hour' every night and the children do their homework or read.
Emmanuel said: "Reading has become such a big thing in our family, we go to the bookshop and buy physical books.
"My daughters read to me and I read to them.
"We don't need so much influence from social media and the outside world."
In September 2022, Emmanuel paid £600 to have his boiler service and for draft proofing - making his home more energy efficient.
The dad-of-four claims his consumption has reduced by 40% by making these changes.
Emmanuel said: "You have to ask what is in your power to change.
"We have our heating on less and have it on timer - the kids now wrap up in hoodies and jumpers instead of having it on all the time."
Installing a smart meter has helped the family visually see their consumption and the kids compete to be the biggest saver each week.
Emmanuel said: "We have a points chart and whoever doesn't leave a light on or turns a tap off gets a point.
"Every week the person with the most points gets to pick a treat for the rest of the family, for example sweets or doughnuts."
The family have swapped expensive cinema trips for at-home movies - with popcorn and snacks.
Emmanuel said: "We book things further in advance, for example we booked Chessington World of Adventures off season and it was a lot cheaper.
"We go for a lot more walks now and we're still creating so many memories.
"It's not about how much you spend, it's about how much time you spend with them.
"It's a really hard time and don't put too much pressure on yourself, everybody can do their small part to make a difference."
Emmanuel's top tips for saving money
- Put your heating on timer
- Spend time doing things together in one room, rather than using appliances all over the house
- Try not to wash clothes between 4 and 7pm
- Have a "blackout" hour every evening
- Have your boiler serviced
- Reward your kids with a chart for saving energy