The amount of shoppers hitting London's West End for the Boxing Day sales was down by nearly a half compared to 2019, as the Omicron variant sweeps Britain.
Central London's high end shops in upmarket Oxford Street, Bond Street, Regent Street and Mayfair have been devastated by the rising virus case numbers and uncertainty over the course of the pandemic, retail experts warned.
The latest data showed footfall in this area was down by 44%, compared with 2019's Boxing Day figures and reduced by 16% on last week.
Across the whole of central London the amount of shoppers on Sunday was down over 67% from 2019, figures revealed.
In previous years, the Boxing Day sales have seen bargain hunters queue round the block and scramble for a deal at the West End's fashion boutiques.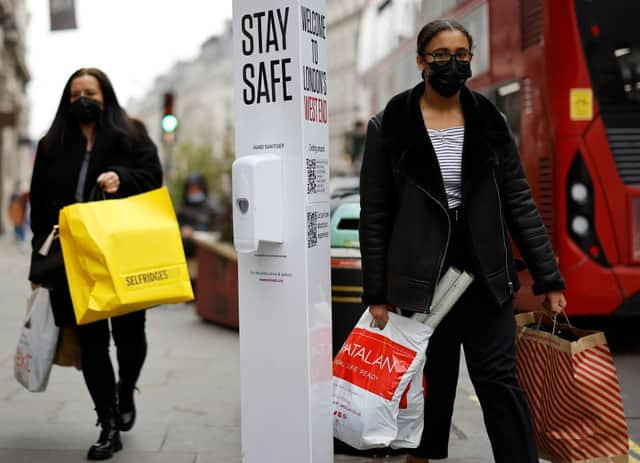 But these numbers were greatly reduced compared to previous years, experts said.
Jace Tyrrell, chief executive at New West End Company that represents 600 business around central London, said the latest coronavirus strain was causing many shoppers to stay at home.
He added: "As expected, footfall for Boxing Day remained down on pre-pandemic levels as London continues to feel the effects of the Omicron variant, with swathes of people choosing to remain home to browse the sales online rather than risk travelling into city centres.
"This, combined with the limitations of Sunday Trading regulations saw a muted start to the post-Christmas sales period.
"We hope that the prime minister will provide further clarity on possible restrictions this week to ensure that businesses are given enough time to prepare for any further changes."
Shoppers over the whole of Boxing Day across all retail in the UK was down 41% compared to 2019, the figures showed.
Other key data showed the amount of shoppers hitting the high streets was down by 37.7% compared to 2019, with those in shopping centres reduced by 48.4% and retail park figures were down 40.2%.
However, footfall yesterday was 47.6% above last year's level across all UK areas - when the tier system was in place and the country was braced for another lockdown.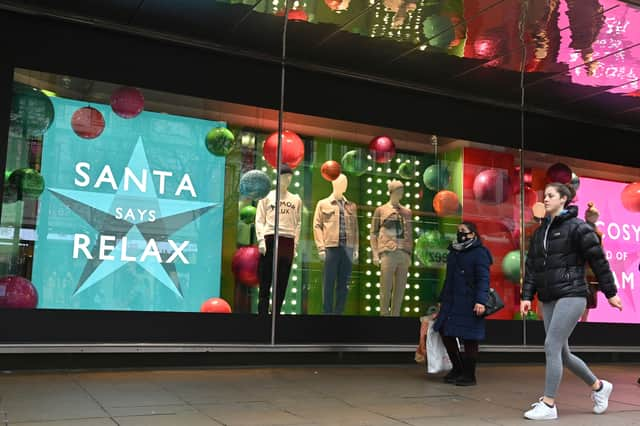 Mr Tyrrell added: "Anticipating a further announcement from the prime minister on next steps to tackle Omicron, we urge the Chancellor to deliver tangible relief for the retail industry, alongside more substantial measures for leisure businesses.
"Business rates remain the biggest burden on West End businesses and we implore Government to introduce support that is inclusive of all businesses that are paying the price of the lack of customers over the winter months.
"It is vital that businesses, particularly those in city centres across the UK, are given the right financial support if they are to bounce back strongly in 2022."
Up to midday on Boxing Day, footfall was down 7.4% on the 2019 levels in outer London, figures showed.
The data also revealed a staggering 67.3% reduction in footfall from 2019 in central London and down 58.2% in major cities outside of the capital.
But as the day progressed some shoppers did venture out to larger retail destinations, with footfall in central London and other large city centres rising to being 41% and 42% of the amount on Boxing Day two years ago.
Diane Wehrle, insights director at Springboard that collected the data, said: "A major reason for the significantly lower footfall compared with 2019 will be due to consumers' ongoing nervousness about the Covid infection rate.
"This will have been compounded by the fact that a few multiple retailers opted not to open on Boxing Day which will have deterred some shoppers.
"In addition, Sunday generally has the lowest footfall on any day in the week so a comparison with 2019 when Boxing Day fell on a Thursday will always have meant that footfall would be lower than two years ago.
"Despite this, most multiple retailers still opened their doors to shoppers, and the mild weather should have meant that it was easy for shoppers to visit stores and destinations."