New fantasy fiction novel: Meet the author and read this exclusive extract from the book
American author Jonathan N. Pruitt has high hopes for his debut novel, dark fantasy The Amber Menhir.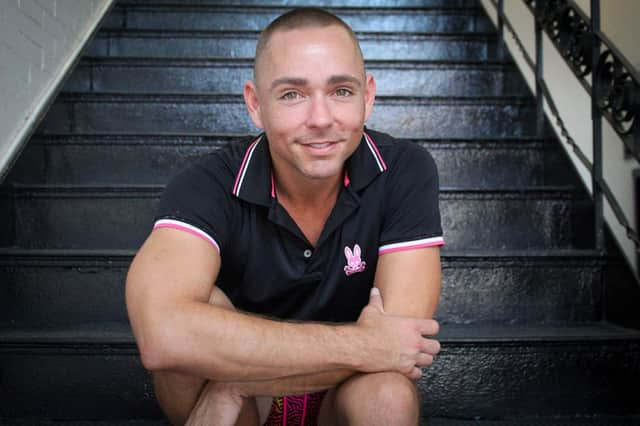 The first entry in his The Shadows of the Monolith series, it invites the reader into an ancient magical institution which is noble on the outside but rotten with corruption within its oppressive walls. We witness the menhir's innards through the eyes of three new students, who may one day join the ranks of scholars, or perhaps sooner, their long list of victims.
Here we put questions to him to find out more about the novel and we publish an exclusive extract to give you a taste of what to expect.
Q. If you had to write a travel guide to your fantasy world, how would you describe it?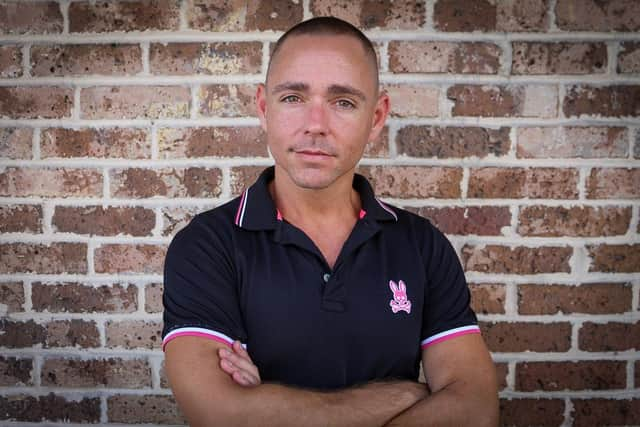 A. Come luxuriate among the finer things in life, as any scholar should. Witness humbling fissures of liquid earth about the Amber Menhir; enjoy fortified wines after a hike atop glaciers beside the Onyx Menhir; then ride in a palanquin carved from a giant pearl into the Emerald's rainforests, where friendly beast and vindictive plant flourish in equal measure.
Throughout your journey, a retinue of the most nubile and sycophantic servants will wait upon your every whim. No fancy too taboo or obscure.
Q. The novel is predominantly set within the titular 'Amber Menhir'. What is a menhir in your novels, and is the Amber Menhir the only one of its kind?
A. Menhirs in our world are tall upright stones erected in ancient times, and evidence societies and technologies where they have long since vanished. Menhirs in my fantasy world are echoes of our own. They are giant institutions of magical learning and discovery that cast long shadows across the land. They formed to educate those with hereditary magical abilities and to discover new kinds of magic (thaumaturgy) which will help humanity circumvent an oncoming apocalypse. According to scholars in my literary world, the five menhirs have stood as citadels of hope for humanity for thousands of years and always shall.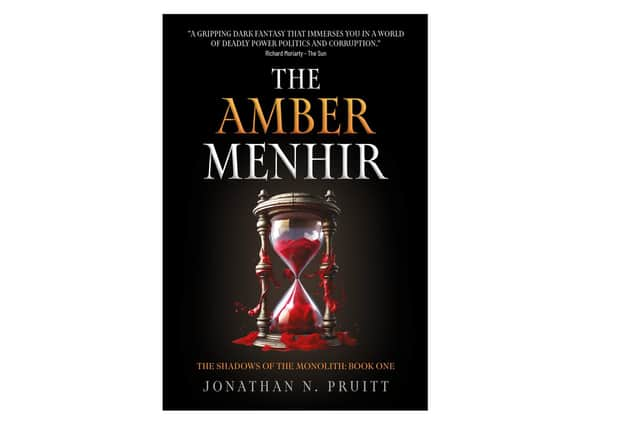 Q. The novel follows three new students ('ascendants') entering the menhir. How are ascendents recruited, and what sort of environment are they entering?
A. Ascendants are recruited from bloodlines that pass hereditary magics down families. Barring medical concerns, ascendants are recruited in their 19th or 20th years. This only occurs after they have received basic education and political training from their families. According to menhir scholars, ascendants enjoy a rich three-year training regime, including a general thaumaturgical training in first year, during which each ascendant's thaumaturgical abilities are verified. Thereafter, they receive specialised training from their factions. In the unfortunate case where an ascendant fails to show an aptitude, he/she/they are harvested of useful information as to how genetic blemishes such as themselves emerge. While, on occasion, some have conveyed that menhir training is too harsh or dangerous, such complaints are quickly remedied. Nothing useful is ever safe and easy, right?
Q. Every scholar is accompanied by a mau, a pet-cum-bodyguard. How would you best describe a mau, and where did the idea for these fierce creatures come from?
A. Scholars are forever ensnared in selfless acts of education and research. It can be an isolating and dangerous sort of existence. It was therefore decided that each faction of scholar within the menhirs should have a devoted companion animal. Mau were cultivated through the interbreeding of wild felids and domestic cats. Mau are roughly the size of caracal from our world, with the dispositions of the most capricious of housecats. Each breed also bears mild magical aptitudes of their own, which are unique to each faction. I am myself a cat enthusiast, which spawned an interest in featuring felids in this series. I've just a single cat myself. For now. Gremlin is her name. She doesn't have the killer instinct necessary to be much of a defender though … alas.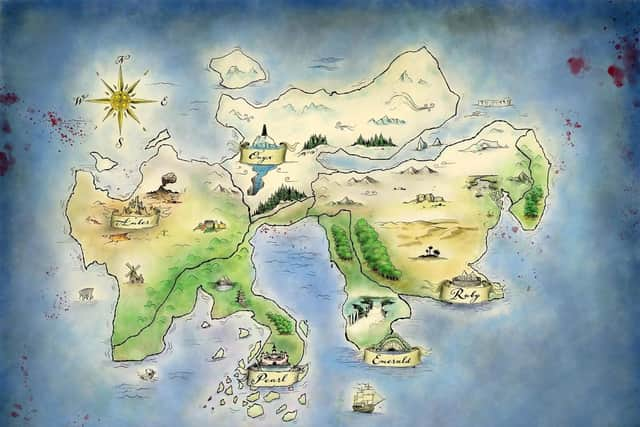 Q. The menhirs are divided internally into six noble factions, each controlling a different type of magic. Which faction would you most like to join if you had the necessary magical talents?
A. I'm a little self-conscious to say that I'd almost certainly reside among The Delvers of the Mind. They're something of the boogiemen (boogiepersons?) of the menhirs. They use a subtle flavour of thaumaturgy to gleans bits of information about the mental states of others. They can, should a person be susceptible, nudge another's will. Their faction argues that disciplining of the mind and extracting possible grounds for disagreement will foster an Edenic utopia. Sound good? Well, bear in mind that your utopia is a dystopia for the person beside you.
Q. The Amber Menhir could best be described as 'dark fantasy', but what does that term mean to you?
A. Well, it isn't a seafaring adventure where all a character's dreams come true. There aren't intercessory hands of gods nor wells of power that can snap a finger to see society's problems go away. The foibles of humanity in our own world are very much alive in this one. But it's against that backdrop that cleverness, planning, and the strength of the human spirit prevail. There is no evil than cannot be made right, but I do not envy our heroes' path to get there.
Dark fantasy often luxuriates in murder, sex, drugs, and rampant sin of every sort. While I do not shy away from these themes, one needn't write a snuff scene to render a reader aghast. One needn't showcase forced copulation to show a reader how imperilled and powerless a character must be. I deliver the horror elements that dwell in dark fantasy, but I think a few lean strokes of the pen takes you far.
Q. How does your novel go against standard fantasy tropes?
A. Well, for starters, I take aim at the country rubes who always seem to be the objects of portent and power in classic fantasy. I wink at 'the prophesy' trope that weasels (or, does it stoat?) its way into many a storyline. I don't treat my characters with great reverence, nor do I gut them for Madonna-eque shock value at regular intervals. There's a deliberate cynicism to the writing, and I feature older adults too, because I disfavour linking fantasy to blithe naivete. All that being said, humanity's hope for something more, and the strength to get there, are forever present in my stories.
Q. Having spent all this time writing the novel, what element or elements are you most proud of as an author?
A. Well, that's a difficult question to answer. I mean, I enjoy writing and reading snappy dialogue best. But I won't know which parts I'm most proud of until I know what parts people enjoy. I wanted to entertain with these novels. I wanted to make a reader think, or chuckle, or gape appalled at a page. Whichever parts turn out to be a reader's favourites will render me proudest.
Q. What has been the one writing lesson you have sworn by?
A. Oh boy. For every writing lesson or rule someone professes, one of my favourite authors disposes of it outright. That being said, I agree it's editing that brings writing to life. Removing ornaments from an outfit or a Christmas tree works the same. Editing is an iterative process. It takes many, many passes to get yourself to a moment that you can feel proud of. That's true for me, anyhow, though I freely accept that I might have more weaknesses than most.
Q. What can readers expect from you next?
A. Hmm … Book 2 of this series should be reader-ready by year's end. I'd like to have that out to the public by late summer or early fall 2024. Book 3 is already drafted too, and that should arrive a year thereafter (summer 2025). There will be five books in this series. If readers really like them then, maybe, I'll have a medium-sized character or two gallivant off on their own tales. Though, truth be told, I don't know my future after this weekend. And I don't want to.
The Amber Menhir (Book One of The Shadows of the Monolith) by Jonathan N. Pruitt is out now on Amazon in paperback, hardcover, and eBook formats, published through Spinner Loom Press and priced £15.34, £28.58, and £9.99 respectively. For more information, visit TheShadowsoftheMonolith.com or follow the author on Instagram.
AN EXCLUSIVE EXTRACT FROM THE AMBER MENHIR BY JONATHAN N. PRUITT
In this exclusive excerpt from Jonathan N. Pruitt's The Amber Menhir, ascendent Peony Bianchi discovers just how deep and deadly are the rivalries between the six noble factions of scholars within the menhirs.
When the kettle was empty, Peony finally asked, "What happened? Was I sick? Am I in trouble?"
Ms. Ash's brow knitted. "Sick enough. You had a fever for a week." She let out a breath. "Better to focus on the future, I say. Primara Okondo has requested that you clerk for the Weavers. That's mixed news, if you ask me. I've never heard of someone clerking so soon after their arrival at the menhir. It's demanding work. I don't think your instructors will cut you any slack either." She flashed Peony a sly smile. "Especially Weaver Peebles."
Peony flinched at his name. "You know," she replied, "before I came to the menhir, I got along with most people. For whatever reason, since coming here, I can't seem to make anyone happy." She dabbed at her eyes before mist could gather in them.
"Don't worry about him," Ms. Ash assured her. "With luck, he won't be yours or anyone else's problem for much longer. I'd like to blame his disposition on his age, but he's been like this for as long as I've known him. He's just a bully, and threatened by progressive students. Though, the truth is that most scholars favor the status quo. They resent anything or anyone who jeopardizes it. Just being who you are will anger many."
Peony sighed. "I was so happy to become an Architect, because it meant I'd see less of Weaver Peebles. Now you're telling me all the scholars are the same?"
"Not all of them," countered Ms. Ash with a subdued smile. "Though you'd best learn not to speak ill of any scholar aloud."
Ms. Ash scoffed. "The network of alliances and false alliances among scholars in the Amber is ever changing. It won't be long before half of the new ascendants are caught up in plots too. Schemes and machinations, girl—those are the real bones of the menhir. Best you realize it now, before you land yourself in even more trouble."
Peony's mind drifted to Lavinia. Ms. Ash's idea of the Amber Menhir seemed like just the sort of place where someone like Lavinia would thrive.
"Ms. Ash?" Peony began. She didn't want to seem vain by asking the question. "Did anyone come to visit me?"
"Indeed," said Ms. Ash with a wink. "The Ward boy, and that icy Langcraw gal. Seems they've become the new targets of Weaver Peebles's fury in your absence too. I'd say you three are peas in a pod now, if you weren't before!"
"Are they in trouble?" asked Peony.
"Not yet, but they've been sentenced to labor of their own," replied Ms. Ash. "Frankly, you might learn a thing or two from them. That Langcraw barely says anything. That gives scholars less to use against her. And that Ward boy, well, I think he's got a great many more thoughts drifting around in his skull than he ever expresses." She lifted three fingers at Peony. "Three years, girl. You can survive anything for three years. Trust me.
Take your licks, learn what you can, and escape. You've got a life outside of this place that's worth preserving."
"As you say," whispered Peony, though she doubted her life following her time at the menhir would be as rosy as Ms. Ash assumed.