Styles was a prominent member of One Direction, and has had a successful solo career since 2017.
The tour is in aid of his new studio album, and his third as a solo artist, named 'Harry's House' which was released in late May 2022.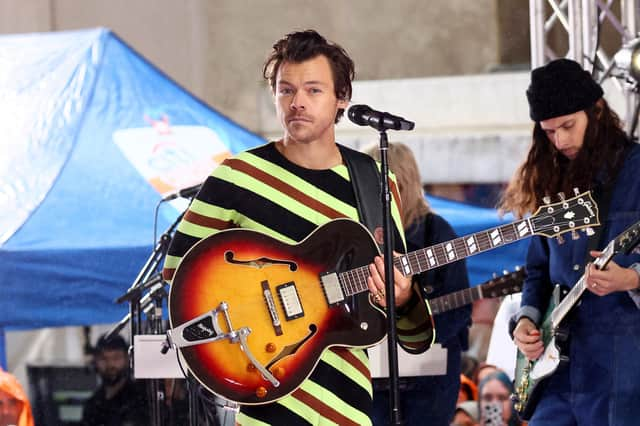 When is Harry Styles performing in London?
Due to his great popularity, Styles is to perform two nights in London. He will belting out songs from his new hit album at Wembley Stadium on 18 and 19 June 2022.
Styles, due to being part of one of the biggest boy bands in UK history, has performed in London many times.
As a solo artist, his most recent stint in London was as recently as 12 June, as he was one of many artists to perform at the 2022 Capital Summertime Ball.
Where else is he performing?
Before arriving in London, he has just two shows to perform in Manchester, before travelling over to Dublin and then heading on to Germany after that.
The remaining dates of his UK and Ireland tour are:
15, 16 June: Manchester, Emirates Old Trafford
18, 19 June: London, Wembley Stadium
22 June: Dublin, Aviva Stadium
How do I get tickets to his London performances?
Due to his popularity, tickets are completely sold out on Ticketmaster.
However, tickets are still available on Viagogo. A ticket for his first London show will cost £136.
The cheapest tickets for his second and last London show are slightly cheaper, and will cost you £128.
What is a possible set list?
According to setlist.fm, a possible set list for Styles' shows in London could be:
Music for a Sushi Restaurant
Golden
Adore You
Daylight
Cinema
Keep Driving
Matilda
Boyfriends
Fine Line
Satellite
Lights Up
Canyon Moon
Treat People With Kindness
What Makes You Beautiful (One Direction song)
Late Night Talking
Love of my Life
Sign of the Times
Watermelon Sugar
As It Was
Kiwi
This setlist was compiled from his performance in Scotland, at Ibrox Stadium on 11 June 2022.
Who is Harry Styles?
Harry Styles is a British pop star, who is most known for being one of the members of former boyband One Direction.
His ride into the band wasn't smooth, in 2010, Styles entered the X factor as a soloist but was eliminated, and only brought back to help form One Direction.
After leading One Direction to becoming one of the best-selling boy bands of all time, Styles has enjoyed great success as a solo artist.
His first studio album was released in 2017, and debuted at number one in the UK and the US and became one of the world's top-ten best-selling albums of the year, and a single from "Sign of the Times" topped the UK singles chart.
His second studio album, Fine Line was released in 2019 and once again was chart topping. It topped the US Billboard 200 charts and was the biggest first-week by an English male artist in chart history, with Rolling Stone listing it in its 500 Greatest Albums of All Time.
A single from the album "Watermelon Sugar" topping the US Billboard Hot 100.